Are you traveling to Cabo San Lucas anytime soon?  Well, you've come to the right place.  In this article, uncover the most exciting activities in Cabo San Lucas before you travel there.  That way, you'll create a good plan.  And, you'll be prepared to have the time of your life, stress free.  So, read on to learn about the top 5 exciting things to do in Cabo.
1: Visit the Arch of Cabo San Lucas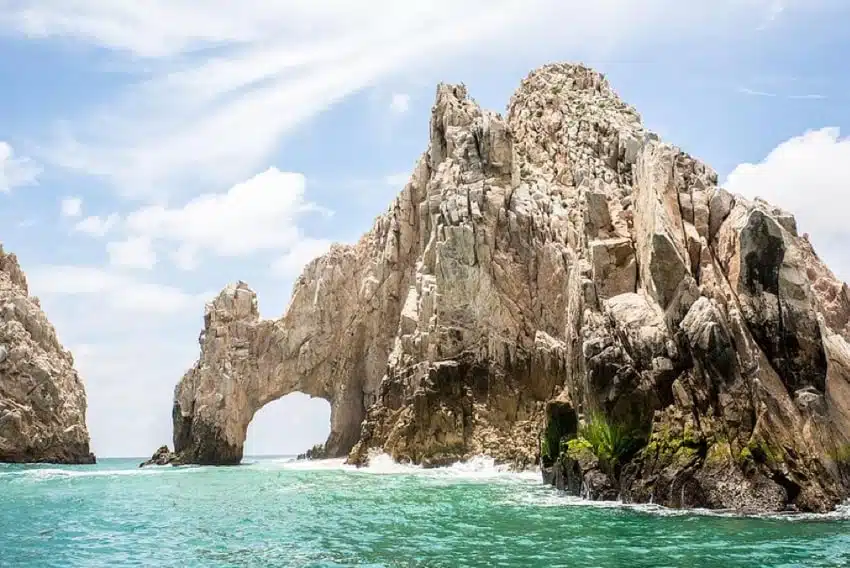 Be sure to reserve a boat trip to the Arch of Cabo San Lucas before you travel to Cabo.  Then, when you get there, you'll discover a beautiful rock formation with an arch named the "Arch of Cabo San Lucas."  And, this famous rock formation is located on the southern tip of the Baja California Peninsula. Called "Land's End," this location is where the Pacific Ocean meets The Sea of Cortez.
When you arrive by boat, you'll enjoy the many sea creatures, including friendly sea lions that spend time bathing in the sun. On your way there, your boat captain will inform you about everything you can expect to see. So, be sure to bring your camera.
Beaches at the Arch of Cabo San Lucas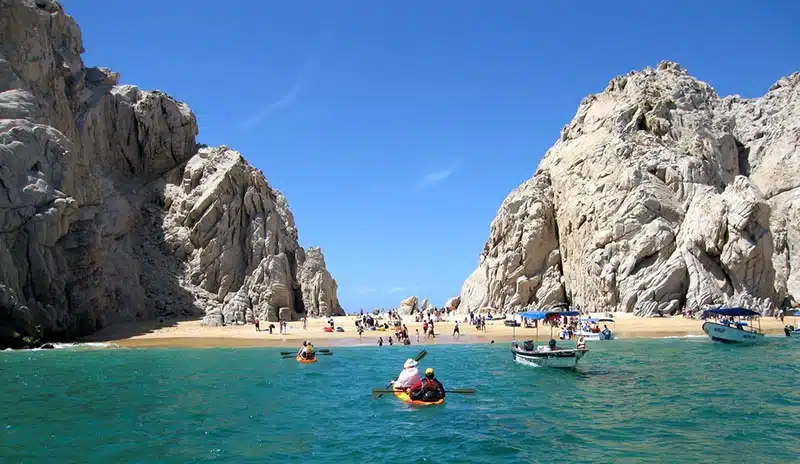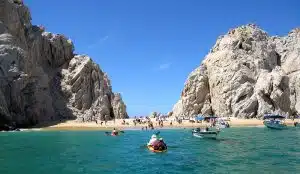 There, you'll discover two beaches:  Playa de Amore – Lover's Beach, and Playa Divorcio – Divorce Beach.  As you can guess, Playa de Amore is generally calm.  And, it's a great place to swim and go snorkeling.
On the other side, you'll find some dangers afoot, if you ever venture into the waters of Playa Divorcio.
Playa Divorcio is beautiful.  And, it's great for laying on beach.  But, it's a very dangerous place to swim.  For example, there are strong currents, crashing waves, and rip tides that can quickly pull you out to sea.  So, stay out of the water along this beach!  And beware, there are no lifeguards at that beach.
2: Cabo San Lucas has famous nightlife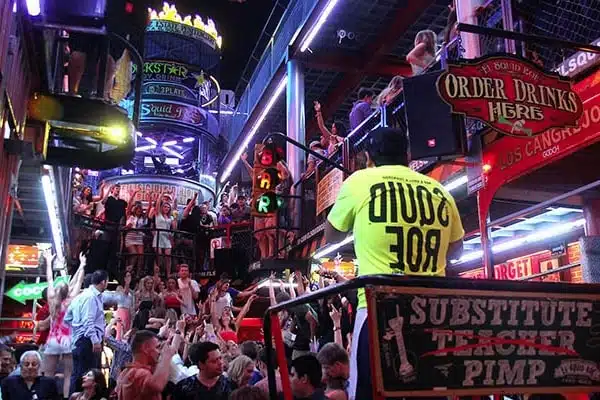 There's no place quite like Cabo San Lucas when it comes to exciting nightlife.  From Sammy Hagar's Cabo Wabo, to El Squid Roe, which boasts three stories of pure party adrenaline, Cabo San Lucas provides some of the most exciting things to do in Cabo throughout the night.
To uncover more things to do in Cabo at night, check out Cabo San Lucas nightlife REVEALED!
3: Play a round of championship golf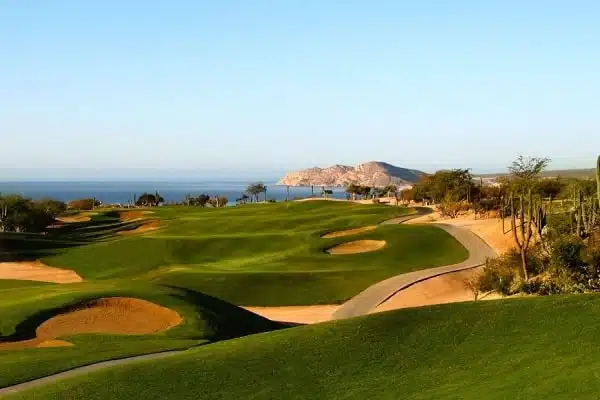 If you haven't considered Cabo San Lucas for your next golf destination, you will, after you uncover the breath-taking Cabo golf courses at Land's End.  And, these amazing golf courses provide the best in panoramic views, luxury real-estate options, and exquisite course layout.
Some of these world-class Cabo golf courses are located in the same golf resort or real-estate development.  That's a testament to the popularity of Los Cabos as a famous golfing destination.  And, once you read about these top-ten championship courses in Los Cabos, on the southern tip of Baja California, you'll definitely consider this Mexican paradise your next golf destination.
4: Snorkeling in the Sea of Cortez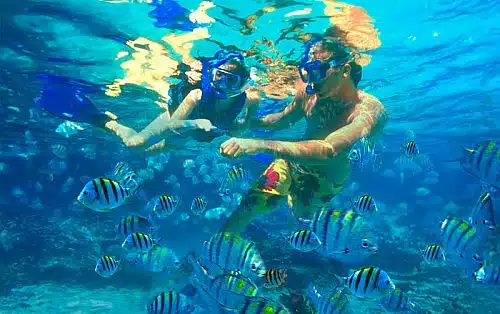 It's one thing to just swim the great swimming beaches in Cabo.  But, if you want to experience something truly extraordinary, get in the water and start snorkeling in Cabo.
Once called "The World's Aquarium" by Jacque Cousteau due to its huge biodiversity, the Sea of Cortez is the most biologically diverse body of water on Earth.  In other words, there's a vast array of sea life to see below the water.  So, put on your mask and snorkel, slip your feet into some fins, and jump in the water.  You may make a new friend or two while you're down there.
Best season for snorkeling in Cabo
Since the water temperature really starts dropping in November, the best time to snorkel in Cabo San Lucas is April through October.  So, come for snorkeling in the spring, summer and fall.  Of course, serious snorkelers and divers swim all-year-round.  But they don't mind the cooler temperatures of the mild winters in Cabo.
Cabo snorkeling tours
There are several snorkeling tours that leave from Cabo San Lucas.  Most of the tours take you to Playa Santa Maria.  There, they spend an hour in the bay before returning.  On the way, you'll enjoy a tour of various coastlines along the Sea of Cortez with drinks and snacks.  And if you want to go in style, book your trip with Cabo Sailing.
To discover the best snorkeling locations in Cabo, check out Top 5 Spots for Snorkeling in Cabo San Lucas.
5: Visit Todos Santos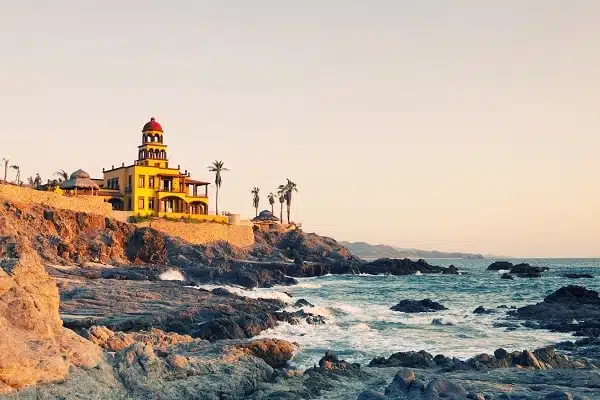 Todos Santos is a retreat for those who want to slow down and smell the roses.  And, it's a haven for those who crave outdoor adventure.  Therefore, dine at a fine restaurant, take a siesta, and enjoy the natural beauty Todos Santos has to offer.  Or, explore miles of unspoiled beaches, go exotic bird watching, take an exhilarating hike, kayak, surf, snorkel, scuba-dive, and go fishing.  The sky is the limit!
Learn more about this magical retreat by reading Todos Santos: A Mexican oasis of palms and fruit trees where desert meets the Sierra Laguna mountains.  It's located about one-hour north of Cabo San Lucas.  Todos Santos provides a superb contrast to the fiesta life in Cabo San Lucas.
Cabo Sailing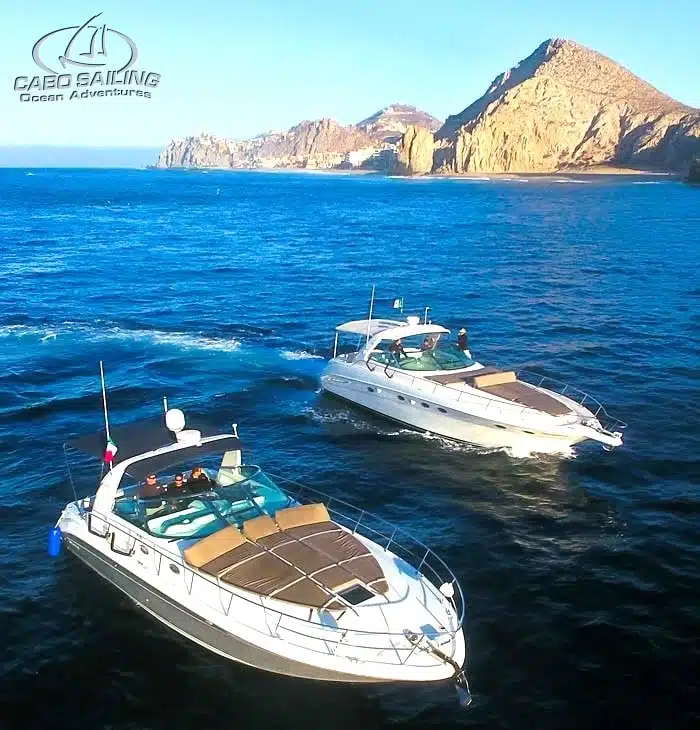 Relax on a comfortable yacht while your captain navigates the enchanting waters of the Sea of Cortez and the Pacific Ocean.   To elaborate, enjoy an array of incredible sailing experiences including day sailing, diving, sunset cruises, whale watching and visiting great locations like El Arco de Cabo San Lucas.  And, consider a cruise for family reunions, romantic cruises, or celebrating an event.
Cabo Sailing operates only with well-equipped, high-end luxurious sail boats and yachts.  All their vessels come with custom-made padded lounging areas, large shaded seating and other amenities to make your experience safe, fun and comfortable.  Also, Cabo Sailing has over 10-years of experience on the waters around Los Cabos, so you can be assured of having the best and safest adventure.
To inquire or to book a sailing adventure, click CONTACT CABO SAILING to send us a message.  We'll get back to you right away!