If you're planning a trip to Cabo San Lucas, including snorkeling on your agenda.  It's one thing to just swim the great swimming beaches in Cabo.  But, if you want to experience something truly extraordinary, get in the water and start snorkeling in Cabo.
Once called "The World's Aquarium" by Jacque Cousteau due to its huge biodiversity, the Sea of Cortez is the most biologically diverse body of water on Earth.  In other words, there's a vast array of sea life to see below the water.  So, put on your mask and snorkel, slip your feet into some fins, and jump in the water.  You may make a new friend or two while you're down there.
Best season for snorkeling in Cabo
Since the water temperature really starts dropping in November, the best time to snorkel in Cabo San Lucas is April through October.  So, come for snorkeling in the spring, summer, and fall.  Of course, serious snorkelers and divers swim all year round.  But, they don't mind the cooler temperatures of the mild winters in Cabo.
Cabo snorkeling tours
There are several snorkeling tours that leave Cabo San Lucas' marina. A majority of the tours take you to Playa Santa Maria. There, they spend an hour in the bay before returning. On the way, you'll enjoy a tour of various coastlines along the Sea of Cortez with drinks and snacks. And if you want to go in style, book your trip with Cabo Sailing.
Exploring the Best Cabo Snorkeling Tours
Cabo San Lucas snorkeling tours are an excellent way to experience the breathtaking underwater world that awaits you in this enchanting paradise. These tours offer a unique opportunity for snorkelers of all skill levels to explore the abundant marine life, stunning coral reefs, and incredible rock formations that make Cabo a top snorkeling destination.
Cabo Snorkeling Tours: A Variety of Options
Cabo snorkeling tours offer a range of options, allowing you to choose the perfect experience for your preferences and skill level.
From guided tours that visit several of the top snorkeling spots in Cabo to private yacht charters that allow you to customize your adventure, there's a Cabo San Lucas snorkeling tour for everyone.
Guided Cabo San Lucas Snorkeling Tours
One of the best ways to explore the underwater world of Cabo is by joining a guided Cabo San Lucas snorkeling tour. These tours, led by experienced guides, will take you to some of the top snorkeling spots in the area, such as Playa Santa Maria, Pelican Rock, and Chileno Bay. In addition to snorkeling, these tours often include a sightseeing cruise along the beautiful coastline, with drinks and snacks provided on board.
Private Cabo Snorkeling Tours
For a more personalized experience, consider booking a private Cabo snorkeling tour. These tours can be tailored to your interests and skill level and may include stops at several of the top snorkeling spots in Cabo San Lucas.
Private tours often come with added perks, such as the opportunity to enjoy a delicious lunch on board, and the flexibility to spend more time at your favorite snorkeling locations.
Cabo San Lucas Snorkeling Tour with Cabo Sailing
If you're looking for a luxurious and unforgettable snorkeling experience, consider booking a Cabo San Lucas snorkeling tour with Cabo Sailing. Their well-equipped, high-end sailboats and yachts provide a comfortable and safe setting for your adventure. With over 10 years of experience, the knowledgeable crew will guide you to the best snorkeling spots and ensure an incredible experience.
Top 5 snorkeling spots in Cabo
Now for the best part!  You've got your snorkeling gear.  And, you're almost ready to book your tour boat.  But first, read each of the top 5 snorkeling spots in Cabo.  Then, you'll know exactly where to go to experience the best snorkeling in Cabo San Lucas.
1. Pelican Rock and Lover's Beach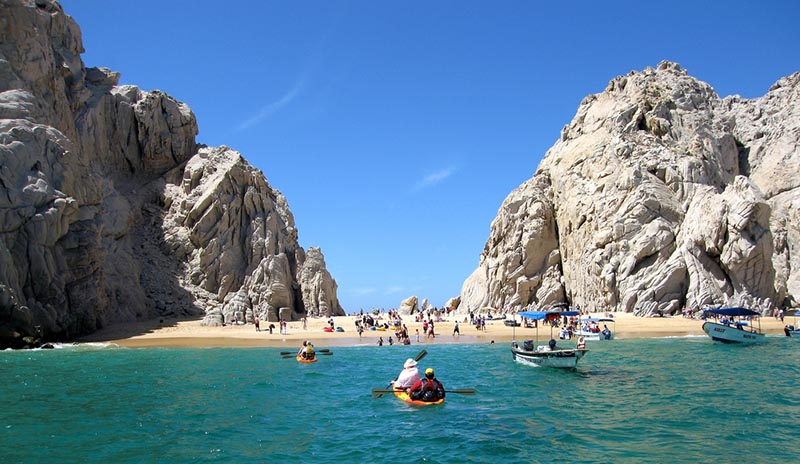 Located near The Arch of Cabo San Lucas, this is a busy region with water taxis coming and going throughout the day.  And, although Pelican Rock offers spectacular snorkeling experiences under the water, it can get quite turbulent.  Of course, this depends mostly on the season and day of the week, since the higher boat activity during the weekend adds to the waves.  Therefore, confirm the conditions while you're there and ensure they match your abilities.
Lover's Beach on the other hand is fantastic!  Playa de Amore in Spanish, Lover's Beach is generally calm.  And, it's a great place to swim and go snorkeling.  Also, the features and sea life below the water are very beautiful indeed.  So, be prepared to be inspired by the awesome rock formations as you approach by boat.  Then, plan to create some lifelong memories while exploring under the water.
2. Playa Santa Maria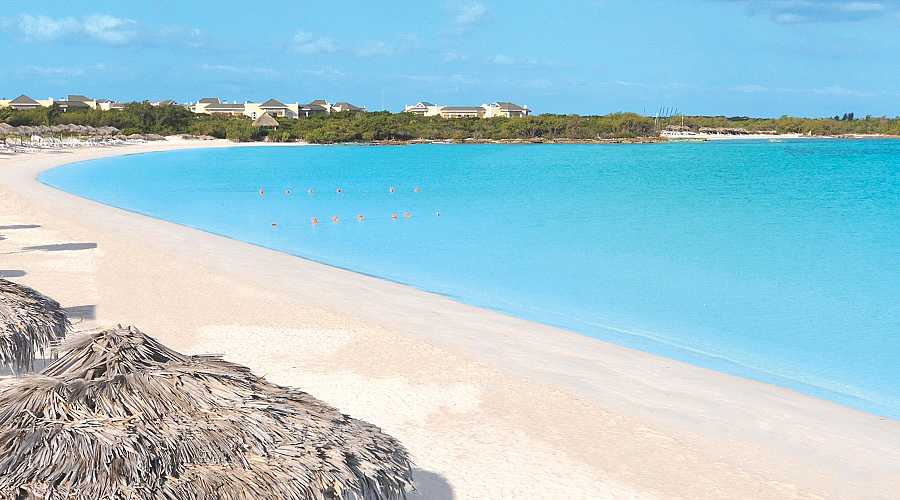 This beautiful beach has three outhouses near the parking lot.  Also, it has one cove, pebbly sand, and an amazing snorkeling spot on the southwest end.  After you arrive at the parking lot of Playa Santa Maria, expect to walk about a half mile to get to the beach.  Then, head southwest to find the number-two spot on this list of great spots for snorkeling in Cabo San Lucas.
The waters in Santa Maria Cove are crystal clear.  You can see tiny iridescent blue fish from over 50 feet away.  And, this protected, horseshoe-shaped beach is flanked by craggy rock formations, which shelter the clear waters.
3. Playa Chileno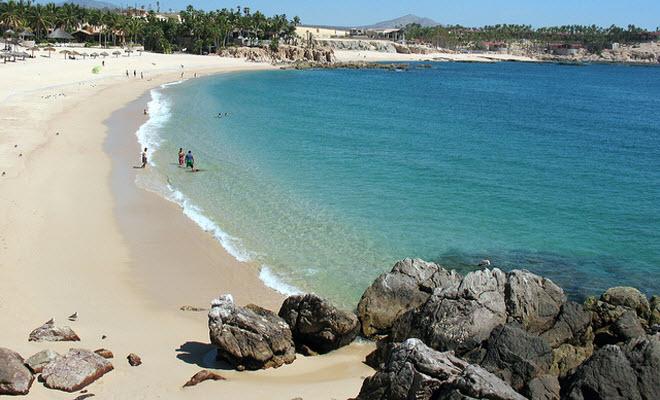 Stretching about a one-half mile out to sea from popular Chileno Beach, the Chileno Reef is a paradise for snorkelers.  To explain, it has pristine water and incredible coral formations that are brimming with beautiful marine life including giant manta rays, tuna, starfish, urchins, eels, and more.
Chileno Bay is also located along the Golden Corridor, between Cabo San Lucas and San Jose del Cabo, in Los Cabos.  So, plan your morning snorkeling adventure in Chileno Bay, and then head to Santa Maria Cove, to end your wonderful day of snorkeling in Cabo San Lucas.
4. Hilton Cove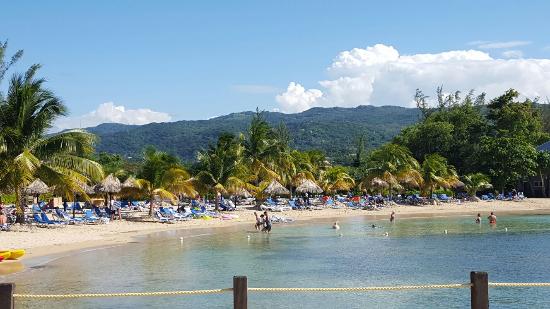 This quaint cove is almost always swimmable.  And, the closer you get to the jetty, the calmer the waters become.  At Hilton Cove, enjoy a family-friendly day on the beach while you're there.
The best snorkeling area of Hilton Cove is towards the left around the submerged rocks.  Make sure not to snorkel right where the hook is located. This is because there are fewer fish and more jet skis buzzing around.
5. Cabo Pulmo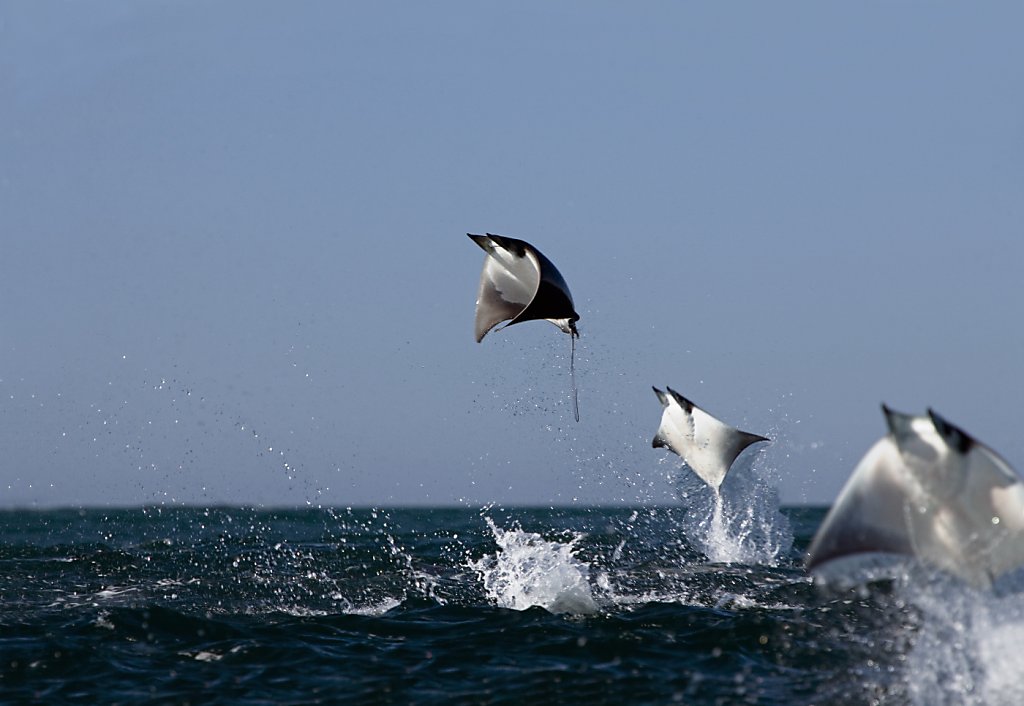 This is a premier snorkeling destination which is around two hours trip from Cabo. The best shore for snorkeling here is Los Abolitions. It is 2 miles south of the town. The tours generally take you to the Sea Lion Colony, Mermaid Cove, and 1-2 reefs which are used by scuba drivers.  Be careful though, during windy times, the water can be choppy.
Cabo Sailing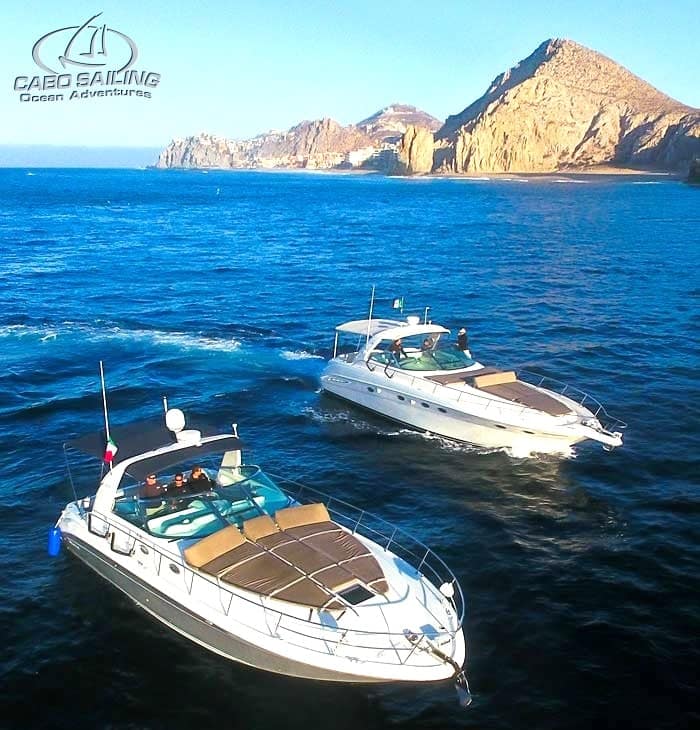 Relax on a comfortable yacht while your captain navigates the enchanting waters of the Sea of Cortez and the Pacific Ocean.   To elaborate, enjoy an array of incredible sailing experiences including day sailing, diving, sunset cruises, whale watching, and visiting great locations like El Arco de Cabo San Lucas.  And, consider a cruise for family reunions, romantic cruises, or celebrating an event.
Cabo Sailing operates only with well-equipped, high-end luxurious sailboats and yachts.  All of their vessels come with custom-made padded lounging areas, large shaded seating, and other amenities to make your experience safe, fun, and comfortable.  Also, Cabo Sailing has over 10 years of experience on the waters around Los Cabos, so you can be assured of having the best and safest adventure.
To inquire or to book a sailing adventure, click CONTACT CABO SAILING to send us a message.  We'll get back to you right away!