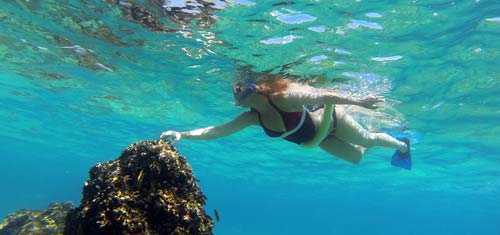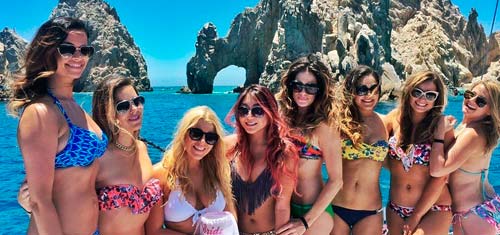 We had such an incredible experience on our snorkeling excursion today Both crew were phenomenal hosts who kept us laughing and thoroughly engrossed in their historical tales of the area! Fabulous luncheon post snorkeling and unlimited, delicious refreshments! ¡Gracias por una experiencia increíble juntos en Cabo San Lucas!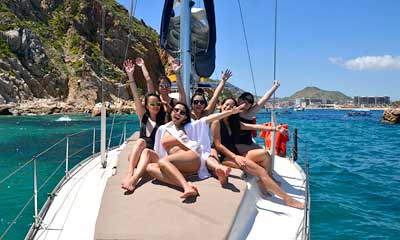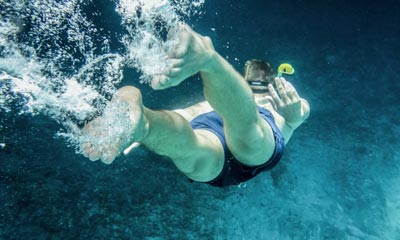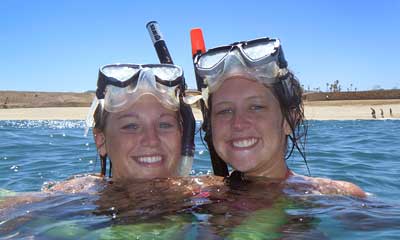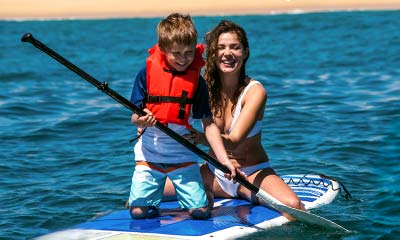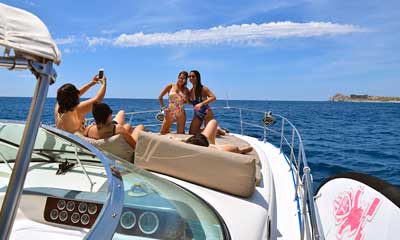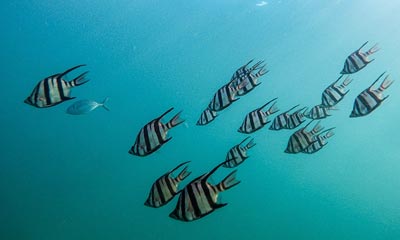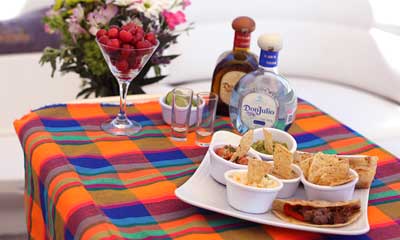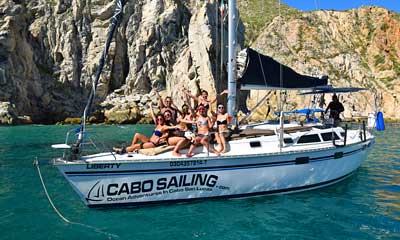 Morning & Mid-Day cruises are 3 hours long and include light luch, free unlimited bar, snorkel equipment, towels and free wetsuits in winter.
Sunset cruises are 2 hours long shared and 3 hours long private, includes free unlimited bar, and great snacks.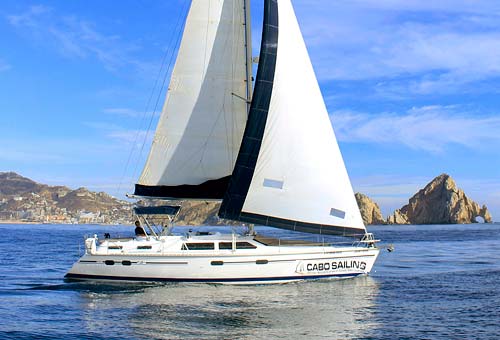 Share Cruise Rates
38' & 42' sailing yachts
Shared - Max. 15 guests
Adult

$90

$76
Child (5-12)

$45

$38
Infant (0-4)
FREE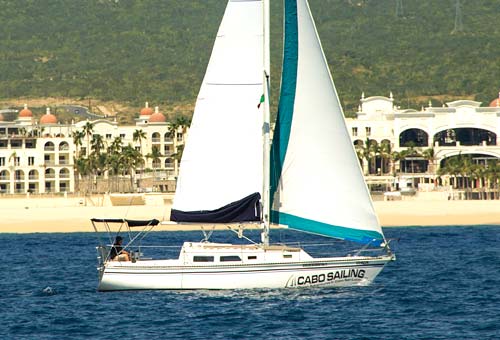 30' Sailing
Private Cruise - Max. 6 guests
1-4

$

530

$450
Adult

$90

$76
Child (5-12)

$45

$38
Infant (0-4)
FREE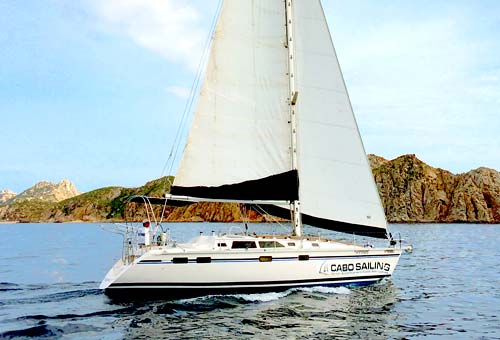 38' Sailing Yacht
Private Cruise - Max. 12 guests
1-4

$630

$535
Adult

$90

$76
Child (5-12)

$45

$38
Infant (0-4)
FREE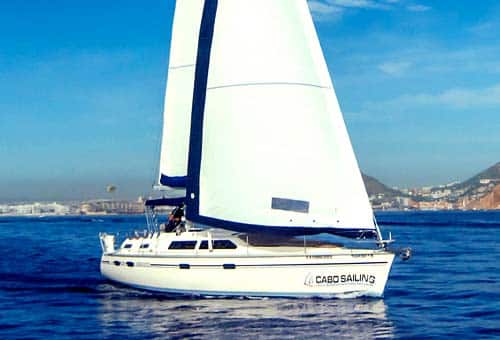 42' Sailing Yacht
Private Sailing - Max. 15 guests
1-4

$820

$697
Adult

$90

$76
Child (5-12)

$45

$38
Infant (0-4)
FREE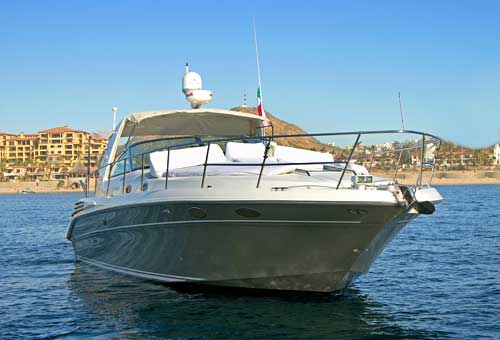 42' Cruiser Yacht
Private Cruise - Max. 18 guests
1-4

$995

$845
Adult

$90

$76
Child (5-12)

$45

$38
Infant (0-4)
FREE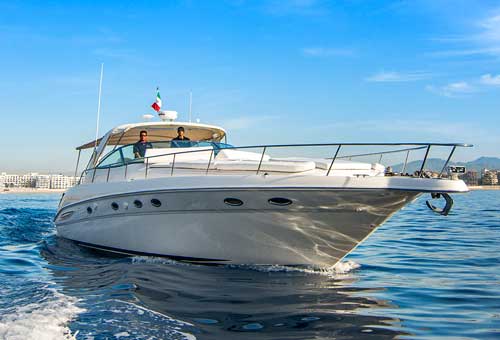 46' Cruiser Yacht
Private Cruise - Max. 20 guests
1-4

$1,270

$1,079
Adult

$90

$76
Child (5-12)

$45

$38
Infant (0-4)
FREE
Snorkeling in Cabo San Lucas
The sparkling turquoise Sea of Cortez invite you to explore under the sea surrounding Los Cabos, at Land's End of the Baja California Sur peninsula! Thousands of colorful tropical fish make their home in these crystal clear waters. Moderate water temperatures allow comfortable snorkelling and swimming to nearby white sand beaches.
(3 hour cruiser or longer)
You must check out Pelican Rock when you are in Cabo! Sea lions, Frigates, and of course Pelicans all hang out on this popular landmark, along with a wide variety of other birds and sea-life. Pelican's Rock is located in the sheltered Cabo San Lucas Bay, a short 15 minute boat-ride from the marina.
Santa Maria & Chileno Bays
Two of the most popular and swimmable beaches in Los Cabos are Santa Maria and Chileno Bay. These protected white sand bays offer great snorkelling and swimming in the turquoise water of the Sea of Cortez. We visit these bay on our private cruises. 
Sightseeing along land's end: The pelican's rock, the Arch, the sea-lion colony, both Pacific and sea-of-Cortez beaches.
Picture taking in front of the Arch (using your camera if wished).
Snorkeling with abundant of tropical fish:

Sailboats site: The pelican's Rock.
Yachts sites: Santa Maria or Chileno bays.

Personal, up-scale service.
Smooth sailing and cruising around and out of Cabo San Lucas bay.
Light lunch and unlimited premium bar
Unlimited bar includes: red & white wine, margaritas, beers, rum, vodka, tequila, whiskey, juices, sodas, bottled water.
Shared Cruises:

Tortilla Chips, Mexican salsa, homemade guacamole, fresh baguette sandwiches, selection fresh cut fruits platter, sweet bite.
Vegetarian options upon request.

Private cruise option:

Shared cruise menu.
– OR –
Mexican option ($10 usd per person): Tortilla chips, salsa & homemade guacamole, beef & chicken corn tortilla burritos, quesadillas and dessert.
Contact our office team for many other options.
Your own private  modern sailing / sport yacht.
Shared cruise: Semi private, up to 14 guests on board.
3 hour cruise.
Complete snorkeling gear: 

Mask, snorkel, fins and flotation device.
Wetsuits (winter months).

Fresh towels.
Educated, professional and bilingual crew.
Light lunch & unlimited open bar.
All fees and taxes (excluding gratuity for the crew).
Celebrating birthday, anniversary, family reunion? we are ready to fulfill your special requests to make this cruise memorable. Please contact our agent for ideas and requests.
Check out our free stuff & monthly specials!
Cabo Sailing Ocean Adventures - Luxury Sailing & Boating in Cabo San Lucas, Mexico