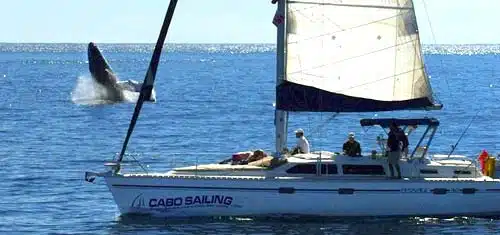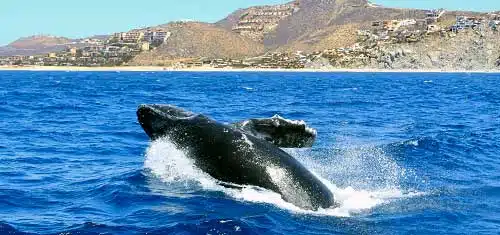 Embark on a Cabo whale watching adventure and experience the best sightseeing and wildlife viewing that Mexico has to offer! Cabo whale season runs from December through April when our annual California Gray Whale migration comes to the southern Baja peninsula. This is an unforgettable experience that all visitors to Cabo San Lucas should see. Book your Cabo San Lucas whale watching tour early and save 10% online. Trips fill up quickly, don't miss out!
Book your spot for winter 2023-2024 Now!
Enjoy these magnificent whales on board one of our luxury yachts or sailboats.
Season starting from December 15th thru March 15th.
Cabo Whale watching Boats & Rates
Morning & Mid-Day cruises are 3 hours long and include light luch, free unlimited bar, snorkel equipment, towels and free wetsuits in winter.
Sunset cruises are 2 hours long shared and 3 hours long private, includes free unlimited bar, and great snacks.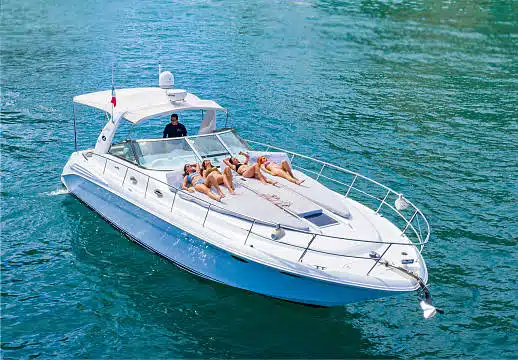 1-4 pax:

$1,120

  $952 USD
Adult:

$90

$76.5 USD  Child:

$45

$38.3 USD
3 hour cruise / Cap. 18 guests.
Enjoy Cabo San Lucas on a luxurious 42 feet Sundancer yacht. With a large padded cabin-top cushions and a shaded cockpit, this luxury sport cruiser will accommodate you with style while enjoying snorkeling or sunset cruise in Cabo San Lucas.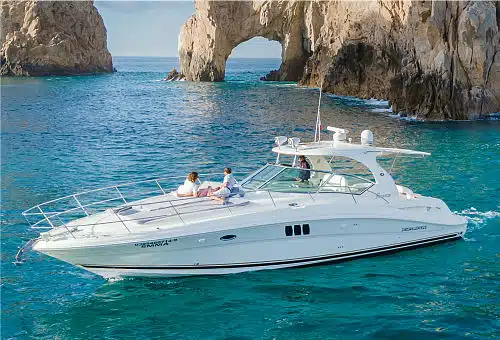 1-4 pax:

$1,400

  $1,190 USD
Adult:

$90

$76.5 USD  Child:

$45

$38.3 USD
3 hour cruise / Cap. 12 guests.
Experience a truly modern & luxurious yacht. Our 45' is a perfect combination of a comfortable and stylish yacht with all the amenities you need for a fun and memorable time on the water.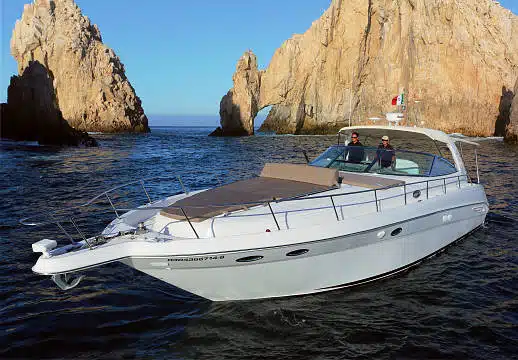 1-4 pax:

$1,400

  $1,190 USD
Adult:

$90

$76.5 USD  Child:

$45

$38.3 USD 
3 hour cruise / Cap. 20 guests.
Our top notch 46' luxury yachts are wide and spacious holding all the amenities needed for a truly magnificent day! Enjoy Los Cabos snorkeling sites and awing sunsets.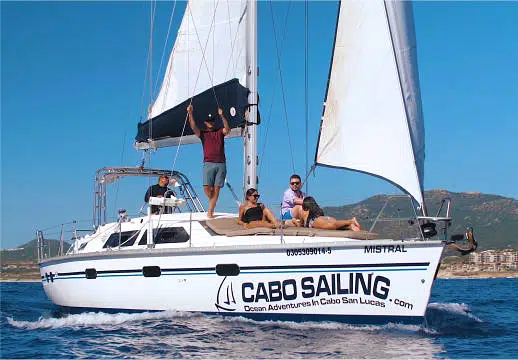 Adult:

$99

$84.2 USD / Child:

$49.5

 

$42 USD
3 hours Snorkeling & 2 hours Sunset cruise.
Cap. 14 guests.
Explore the sparkling turquoise waters of the Sea of Cortez on this sightseeing snorkel adventure or romantic Sunset Cruise of Los Cabos' Land's End Arch!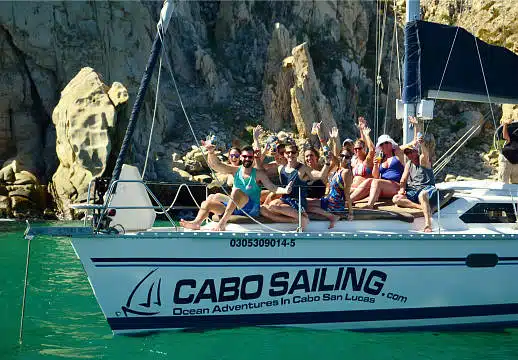 1-4 pax:

$700

  $595 USD
Adult:

$90

$76.5 USD  Child:

$45

$38.3 USD 
3 hour cruise / Cap. 12 guests.
Sail Cabo San Lucas on a beautiful private 38 feet sailing boat and snorkel in tropical waters alongside colorful sea life.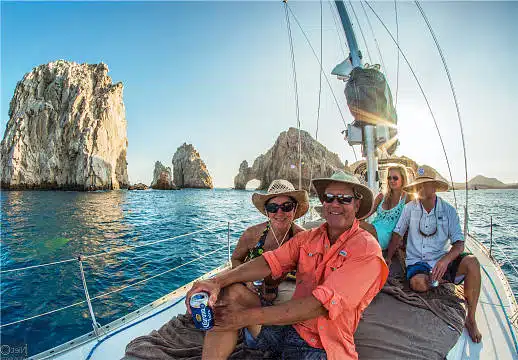 1-4 pax:

$920

  $782 USD
Adult:

$90

$76.5 USD  Child:

$45

$38.3 USD
3 hour cruise / Cap. 14 guests.
Out two 42' luxury sailing boats await for a fun day on the water. Great snorkeling at Cabo San Lucas bay and a relaxed sailing admiring a colorful sunset.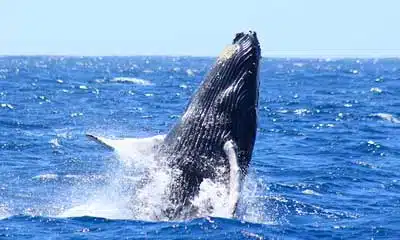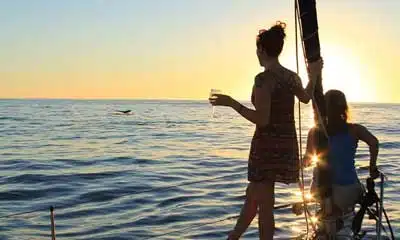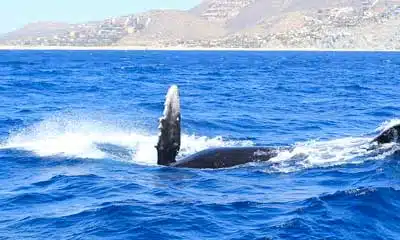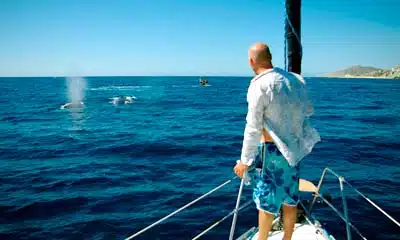 Cabo Whale watching details
Cabo San Lucas Whale Watching Cruises
Cabo San Lucas is well known for magnificent whale watching opportunities. From late December to late March, groups visiting Los Cabos can have the privilege of observing up-close the migration activities of Pacific Gray and Humpback whales. 
Think Green – Responsible Whale Watching
We follow environmental authorities guidelines in order to minimize our impact on the whales. We try not to interfere nor chase the whales rather than intercept them in their swimming pattern.  Crew will make sure no loose items are on deck to avoid losing items and littering.
Private Tour
Cabo Sailing private whale watching cruise departs the Los Cabos IGY Marina towards Land's End and Cabo's other major points of interest. During season, whales can be found close by therefor, there is no need to sail too far offshore. If you wish, you can even combine your whale watching cruise with snorkelling, or as part of a sunset sail. Eco Whale Watching means observing these giant mammals, while avoiding interference with their routine. Our educated and trained crew is aware of the importance of respecting sea life and will share their passion with you. We will discuss some whales' characteristics and behavior patterns as well as local historical points of interest. An up close and personal encounter with humpback and gray whales will stay with you long after your back home.
Shared Tour
Either a morning snorkeling and whale watching tour or a beautiful afternoon sunset and whales watching tour departs daily during winter months of December thru March. you will have an excellent opportunity to view the largest creatures on earth. Cabo Sailing provides a fun and safe way to experience a close encounter with these incredible mammals.
A public three hour Snorkelling & Whale Watching cruise
A public (shared) two hour Sunset Sail & Whale watching cruise.
Both cruises departs Cabo San Lucas, IGY marina toward the main points of interest in Cabo San Lucas bay. Then, we hoist the sails for whale watching till after sunset. Cabo Whale watching is not to be missed. This cruise is a MUST!
Morning or mid-day 3 hour private tour: Can be combined with snorkeling.
Morning 3 hour shared tour: Always combined with about 45 minutes of snorkeling at the Pelican's rock.
Afternoon 3 hour private: Sunset and whale watching cruise.
Afternoon 2 hours shared: Sunset and whale watching cruise.
All cruises visit Cabo's famous arch, lover's beach, the sea-lions' colony and both sides of Baja's coasts: Pacific and Sea of Cortes.
 Unlimited bar includes: red & white wine, margaritas, beers, rum, vodka, tequila, whiskey, juices, sodas, bottled water.
Morning & Mid-Day: chips, salsa & guacamole, fresh baguette sandwiches, fresh cut fruits and dessert.
Sunset Cruise: chips, salsa & guacamole, selection of cheeses and cold meets served with fresh bread, sushi bar and dessert.
Mexican option ($10 usd per person) – chips, salsa & guacamole, beef & chicken burritos, quesadillas and dessert.
Vegetarian options upon request.
Morning or Mid-Day / combined with snorkeling:
3 hour cruise.
Experienced and bilingual crew.
Light lunch & unlimited open bar.
Snorkeling gear.
Clean towels.
Wet suits (winter only).
Afternoon / combined with sunset cruise:
2 hour cruise (shared) / 3 hour cruise (private).
Experienced and bilingual crew.
Appetizers & unlimited open bar.
Optional vegeterian menu.
Optional snorkeling (Private cruise only).
Wet suits (winter only).
This was my 4th trip with Cabo Sailing, and it won't be my last. We enjoyed the attention to detail, the safety, and the fun.
The smaller group size makes for a much nicer experience and the crew went above and beyond to provide a great experience; They kept us fed with snacks, always made sure we had beer, tequila and mixed drinks in our hands, and even took photos for us.
The highlight was spotting whales. The captain kept us close enough to enjoy watching them but not too close to bother them. I have been in Cabo several times in late April, but I have never seen a show like that one. I will sail again with Cabo Sailing when I return to Cabo.
Michael U, California

★★★★★
About Whales
 Every winter we have the privilege of hosting gray and humpback whales in our warm Cabo San Lucas waters. To properly enjoy Cabo whale watching with Sailing, we have gathered some interesting facts about whales, especially about Gray and Humpback whale, which are the most frequently sighted in Cabo. Whales are marine mammals. Like all mammals they are warm blooded, uses lungs respiratory system and feed their calves with milk produced by the mother glands.
Interesting Facts
All 75 species of whale are carnivores.
A mature whale can reach up to 50 feet in length and weigh up to 30 tons.
While humpbacks feed from suspended plankton, gray whales are bottom feeders. They turn to their right side and scoop the sand, filtering organic matters.
Both Humpback and Gray whales have two blowholes.
The blowhole, the whale's nostril, makes it easy for whales to breathe in air without fully surfacing. Since they can only breathe at the surface, whales have had to develop conscious breathing.
The "spout" or "blow" seen is caused by exhaled air (not water). Since the exhaled air is typically warmer than the surrounding air at the water's surface, the humid air immediately condensed into a mist, appearing as a spout of spraying water.
While the human body uses only 15% of oxygen inhaled, whales can use up to 90 percent of the oxygen they inhale.
Whales survive in sub-zero water temperatures, due to a fat layer called "blubber", under their skin, which insulates them from their frigid environment,.
While spending time in Cabo San Lucas waters, humpback whales rarely feed. Instead they survive by utilizing the blubber as stored energy.
Whales cannot sleep fully, as they must maintain their breathing. They overcome this by allowing one-half of their brain to sleep at a time.
Where they come from?
Whales can travel thousands of miles in only a few weeks. They travel the Pacific Ocean up and down the U.S. and Canadian coastline and as far west as Hawaii, returning to the same food-rich cold water areas year after year. They migrate with the change of seasons, enjoying the warmer waters at the southern tip of Baja California during the colder months, and the abundance of food in the Arctic during the warmer months. Whales have wide tail flanks, extended flippers and, in some species, dorsal fins. Swimming forward is done, like other marine mammals, by flexing their tails up and down. To change direction, they steer their flippers creating a side movement. Dorsal fins, if present, serve to stabilize the whale's body as it swims
Whales songs
Gray Whales and Humpback whales can produce a wide range of sounds, which they use to communicate with each other over long distances. Whale's songs can last as long as 30 minutes. Only males sing!! suggesting one purpose is to attract females With no vocal cords, whales generate their songs by forcing air through their nasal cavities.
Breeding
Humpback and Gray whale breeding occurs mostly during winter to early spring, near the water's surface, and in warm waters. Pregnancy lasts up to one year. The calf is born tail first near the surface in warm and safe shallow waters. The newborn instinctively swims to the surface for its first breath; helped by its mother, using her body and flippers. Within 30 minutes after birth, the baby whale can swim. The mother and calf may stay together for a year or longer. Calves drink 100 pounds of milk each day. Humpback whales reach puberty at 4-7 years old and maturity at 15 years.
Cabo Sailing's commitment: Eco-friendly whale watching
If not conducted considerately, Whale watching can be harassment for the whales. We are committed to respecting the whales' territorial freedom by following few basic "rules of engagement". We will be sure to best position you for observing this living magic up close. Please, do not forget that these are wild animals swimming in their natural habitat. Safety is everyone's responsibility.