Food is an elemental aspect of society in every country.  It expresses its history and culture through every characteristic dish of the place.  When you try a local meal in a place you like there's just one thing that could be better than that: to be able to cook it yourself!  Cooking is a unique experience that emanates the traditions of a country and speaks deeply of its culture.  Take home the flavors of Mexico when you take one of these unique cooking classes.  Keep reading and learn more about cooking classes in Los Cabos!
So you love Mexico, its colors, culture, and people.  You've been around a few times probably and one of your favorite things is the Mexican cuisine.  Gastronomically speaking, Mexico is one of the best and most diverse around the world.  You're now ready to take the next step and learn deeper into Mexican food and how to make it yourself.  Discover traditional Mexican recipes and how to make amazing dishes for you and your loved ones!
The best cooking classes in Los Cabos
Regardless of your experience in cooking, these options will embrace your eager to learn to cook some Mexican dishes.  Acquire the basics and little by little improve your skills and flavor when it comes to cooking.  Master your own kitchen and impress everyone around you, friends or family, with some traditional Mexican food.
Most of the special places where they offer cooking classes will take to visit local markets.  Some of these schools even have their own backyards and crops with fresh fruits and vegetables!  This assures a great experience that goes from scratch to building something incredible with your own hands.  After having everything you need in hand you'll go on the experience to encounter the flavors, aromas, spices in a flavorful family-style cuisine.
You'll also have the opportunity to meet people, the culture and history of Mexico. These Mexican cooking classes are totally interactive and designed for you to learn "hands-on" how to cook the authentic home recipes.  Take this knowledge back home!  Keep reading and see the options for you to choose the best cooking classes in Los Cabos.
This is one of the most authentic farm-to-table experiences.  Immerse yourself in a unique culinary journey, enjoying the colors, textures, and aromas of a Mexican farm while harvesting your own vegetables. You'll live and learn this experience in a beautiful kitchen terrace built with stone walls and wooden ceilings.  They'll teach you different 4-course meals in this very special cooking class.  Guided by the hand of one of the talented chefs they have in their roster you'll take a ride for a full Mexican gastronomical experience.  After class then you share a common table with your classmates tasting the results of your labor while enjoying the views and landscapes of the Sea of Cortez.  Truly, one of the best cooking classes in Cabo!
Cookin' Cabo
With Cookin' Cabo be ready to enjoy an incredible experience in Cabo San Lucas with Chef Issi Radilla.  Your cooking day there will start with the chef guiding you through the local Mexican markets where the native families find the freshest product options.  In this cooking class, they also take you to a tortilla factory from where you'll pick the freshest dough to make your own tortillas by hand.  Make them the traditional way!
Once you're ready to cook, they won't only teach you about Mexican dishes, but also hot to make salsas and special sidings to complement dishes.  You'll be able to sip on some drinks while you enjoy the outcome of your efforts in a very authentic local experience.  Get ready for a very fun experience for the whole family with Cookin' Cabo!
Culinary program at Pedregal
Learn how to make authentic Mexican dishes with cooking classes at The Resort at Pedregal.  Go from ceviche, tamales to salsas and mole. learn how to prepare each dish in an oceanfront view setting.  One hour classes that are held in a hacienda-style kitchen.  Learn not only how to cook, but also, about the endemic ingredients and how they're used in local cuisine.
The different thing about this culinary program is that it doesn't only go for cooking.  There's also cocktail classes and tequila tasting tours.  Join a bar team in the same place at a different schedule and be amazed by all the tips and techniques you can learn for the cocktail experts.  Craft your drinks to a new level!  Furthermore, be a part of a centuries-long tradition with Mexico's finest tequila.  Go around some tequila tastings and learn more about Mexico's traditional drink.  A complete experience immersing yourself into this interesting country's culture!
Here you have!  Learn to cook classic Mexican dishes from a diverse selection, be guided by the best chefs in Los Cabos and get a cultural insight into the local gastronomy.  Every one of these places includes transportation, ingredients and the equipment you'll need for a perfect experience.  The classes take around three to four hours, so you're up to a fun afternoon.  Take the knowledge back home from the best cooking classes in Cabo!
Cabo Sailing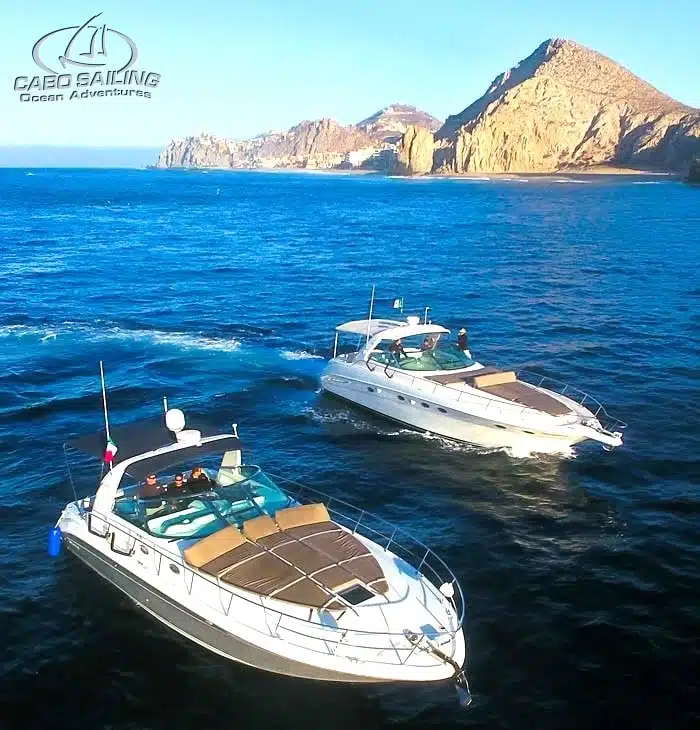 Relax on a comfortable yacht while your captain navigates the enchanting waters of the Sea of Cortez and the Pacific Ocean.   To elaborate, enjoy an array of incredible sailing experiences including day sailing, diving, sunset cruises, whale watching and visiting great locations like El Arco de Cabo San Lucas.  And, consider a cruise for family reunions, romantic cruises, or celebrating an event.
Cabo Sailing operates only with well-equipped, high-end luxurious sailboats and yachts.  All their vessels come with custom-made padded lounging areas, large shaded seating, and other amenities to make your experience safe, fun and comfortable.  Also, Cabo Sailing has over 10-years of experience in the waters around Los Cabos, so you can be assured of having the best and safest adventure.
To inquire or to book a sailing adventure, click CONTACT CABO SAILING to send us a message.  We'll get back to you right away!