Los Cabos Open of Surf is one of the greatest professional surfing events in Mexico music festival included too!   Since its first edition in 2013, this party started as a 6-star event.  This means that the competitors show their techniques but also for the skills and preparations to achieve specific goals.  This speaks loud about the quality of the event!  All of this was possible and certified by the Association of Professional Surfers back in 2013.  It is thanks to this organization that it has evolved into the huge party and sports event that it is now.  Read on and learn more about the incredible Los Cabos Open of Surf.
Although it started as a little get-together by some surfer friends trying to make some movement about surfing it has now become a massive yearly event.  Thanks to the great organization of the event, it was even nominated for excellence in the 2013 Sports Travel Awards of Sports Travel Magazine.  This is a really prestigious magazine specialized in the industry of sports-related trips.  Truly an amazing event you should give an opportunity visiting whether you surf or not.
How Los Cabos Open of Surf started
Los Cabos Open of Surf is not one, but the only main professional surf and music event in Mexico.  It grew and evolved after starting in 2013 as a Top-quality surfing event for men.  Not only this but right after, in 2014, it became the first women's competition in the same grade as men's category.
 Furthermore, into 2015 this tournament incorporated the qualifying tournaments category for women and Junior Pro also
.  It has
really
made a name on its own!
And with this also in 2014, Los Cabos Open of Surf earned an award for the incredible experience for competitors and spectators
.
Although, after six years of the Los Cabos Open of Surf, the organizers have decided that in 2019 they're taking a one-year break
. But this is only from putting on the traditional women events.  The reasons are that is to focus more on creating and celebrating the only surf culture in Los Cabos. With a one-weekend surf, fashion, food, and music festival.  What else could you ask for?
 Where all the magic happens
 The main site of the event takes place in the world-famous surf spot, Zippers.  This spot is located in Costa Azul, San José del Cabo, in Baja Sur.  Los Cabos Open of Surf is the only surf contest happening in a World-Class Five Star Luxury Hotel with its own exclusive access to a sea special for surfing. Unlike other surf contests, we're talking here about a fully immersive experience of live music, fashion, and world-class cuisine.   All this held exclusively at ''The Cape'', an amazing destination resort overlooking the World Famous 'Land's End' Cabo Arch.  You aren't getting a better view than this!
Another main point of this sporting event that it's the weekend of the prestigious, invitation-only surf competition.  Including swimsuit fashion shows, live contemporary music, and fine cuisine.  Undoubtedly one of the main points is music.  After the competition at nightfall, fun concerts are held on the beach with international bands and DJs.
Los Cabos Open of Surf ''Zippers''
Zippers, one of the world-famous surf spots, which is also the host of this outstanding event.  In front of this beach in addition to surfing and waves, there's also a gastronomic fair where participants and spectators can experience the Mexican local cuisine.
It's all about riding the wave
Keep in mind that this is a friendly exhibition tournament, where every participant gives its best to put up a nice show
. 
And, it goes without saying, that they are all experts in wave-breaking moves achieving spectacular jumps and stunts
. 
Imagine keeping all this well balanced to end earning the applause of the public while having fun
.  That's the surfer life.  This event has the participation of great surfing legends every year. Get so see icons in this sport such as Rob Machado Conkin, Sage Erickson, Josh Kerr, and Kalani Robb. These among many other famous surfers that always make this sport a very attractive art. 
This event
is considered
the only one in America where stars of the Association of Professional Surfing join and have fun
. You'll see them showing all their talent in this attractive sport. And it is with this that they make Los Cabos an important destination for culture and economy as well.
With these events, you'll see the promotion and economy spills in different business sectors of the city
. 
It has gotten to the point where it accumulated a bag of 200 thousand dollars of economy spillage on the city every year
.
Also even in recent years, the tournament carries out a series of activities, including concerts with international guests for conferences, gastronomic and art shows, among other attractions
.
Don't miss the opportunity to have fun at the Los Cabos Open of Surf!
Cabo Sailing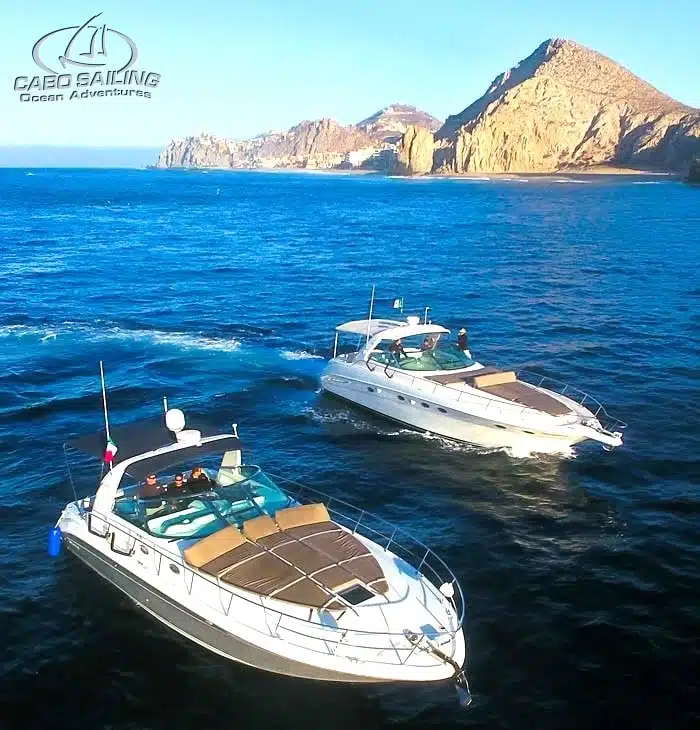 Relax on a comfortable yacht while your captain navigates the enchanting waters of the Sea of Cortez and the Pacific Ocean.   To elaborate, enjoy an array of incredible sailing experiences including day sailing, diving, sunset cruises, whale watching and visiting great locations like El Arco de Cabo San Lucas.  And, consider a cruise for family reunions, romantic cruises, or celebrating an event.
Cabo Sailing operates only with well-equipped, high-end luxurious sailboats and yachts.  All their vessels come with custom-made padded lounging areas, large shaded seating, and other amenities to make your experience safe, fun and comfortable.  Also, Cabo Sailing has over 10-years of experience in the waters around Los Cabos, so you can be assured of having the best and safest adventure.
To inquire or to book a sailing adventure, click CONTACT CABO SAILING to send us a message.  We'll get back to you right away!