Babymooning is the term given to ''the last vacation before the new baby joins the family''  When you're looking for one last vacation before a serious change like this, options seem to be limited.Parenting is an incredible experience that lasts a lifetime.  And it comes also with enormous responsibility. Your time parenting starts to become an important part of you and the time for you and you and your couple turns very limited.  If you're looking for the chance to get away one last time together, Cabo is the place for you.   Enjoy some fun in the sun.  Luckily for you, Cabo is a great place to relax. Here are some of the things you might enjoy when you come babymooning in Cabo.
What's Babymooning?
Babymooning is a trendy activity for expecting parents, especially first-timers.  Couples go on an adventure within the 25-32 week range of pregnancy.  These, of course, are not wild adventure vacations. They're mostly focused on relaxation and enjoyment of beautiful landscapes.  The wild adventure will come after parenting!  Most couples will choose beach locations, with mountain views and scenic sunsets.  This allows comfortable short but fulfilling hikes. Some enjoyment of local gastronomy should be on the list too.  Making the best out of the time as a lone couple for a few years!
Babymooning in Cabo
Cabo San Lucas offers everything you could wish to live in a babymoon.  Gorgeous beaches, some of the clearest waters in the Sea of Cortez.  And, also this is one of the world's most diverse ecosystem around its reefs and corals.  You can be sure to find beautiful scenery all year long, so no matter when your baby's coming!  Cabo San Lucas, located at the southern tip of the Baja Peninsula in it's fun in the sun, all year long.  Keep reading and learn what kind of adventures await for you in Cabo San Lucas.
Sailing
The most famous activity to do down there, and how not with the amount of ocean surrounding the luscious beaches: Sailing.  Take advantage of the ride and turn them into a tour.  From the beach to the reef, and back to visit downtown Cabo and the cultural delights around there, you can travel by sailboat and discover the gorgeous ocean sights.
As the top activity in Cabo, there are sailboat cruises all day long, concluding with breathtaking sunset cruises in the evening.  Morning and Mid-day cruises last around three hours and include light lunch and snacks on the boat.  Once on the open water, there's the opportunity for snorkeling along the way.  Enjoy the beautiful sights not only above but also below the water.  Or, you could end an adventurous day on the city with the sunset cruise.  These are two to three hours long and offer some of the best sunset views in the world.  Book ahead of time and live this romantic experience with your significant other. 
Downtown Food Excursions
Cabo San Lucas has plenty to offer when it comes to the Mexican cuisine experience.  And not only local but international top-grade chefs specialized in several regional dishes.  Cabo is world-famous for its fish tacos, and there's nothing like authentic Cabo San Lucas fish tacos. There you'll also find a unique delicacy named chocolate clams, which are stone cooked with a local herb known as "Romerito."  A succulent dish worth trying.  Furthermore, other of their famous dishes is smoked marlin is one of the major places for marlin sports fishing.  Enjoy it fresh out of the sea and straight to your table.
The majority of the food scene in Cabo works around the ocean.  You can find lobster, shrimp, crab, squid, abalone, stingray, and many species of fish.  However, for those who'd rather other types of dishes, there are exquisite options too.  Cabo offers some of the best chicken and pork tamales, which they prepare with olive oil, raisins, and olives.  Food from the vine is the heart of authentic Cabo cultural delicacies, and they have unique ways of mingling olives and grapes that bring exciting new flavors to traditional Mexican dishes. 
Many more activities when babymooning in Cabo
As you look forward to calming activities in Cabo, there are plenty of activities to try outside of sailing. There's golfing, hiking, horseback riding, and even camel riding tours.  You can visit traditional haciendas on the outskirts of town and learn more about the history of this place.  Also, learn how to make tortillas if you're willing to learn.  Learn from scratch while engaging in the traditions of a rustic village on the Baja peninsula. Options are endless and you can't beat the scenery in Cabo San Lucas.  Few places in the world offer such fantastic views of the ocean, seashore, cliffs, mountains, and desert.  Best of all: it's all in one place!
If you are expecting your family to get bigger soon, and you're searching for one last adventure for two, try babymooning in Cabo!  An unforgettable experience you'll not regret.
Cabo Sailing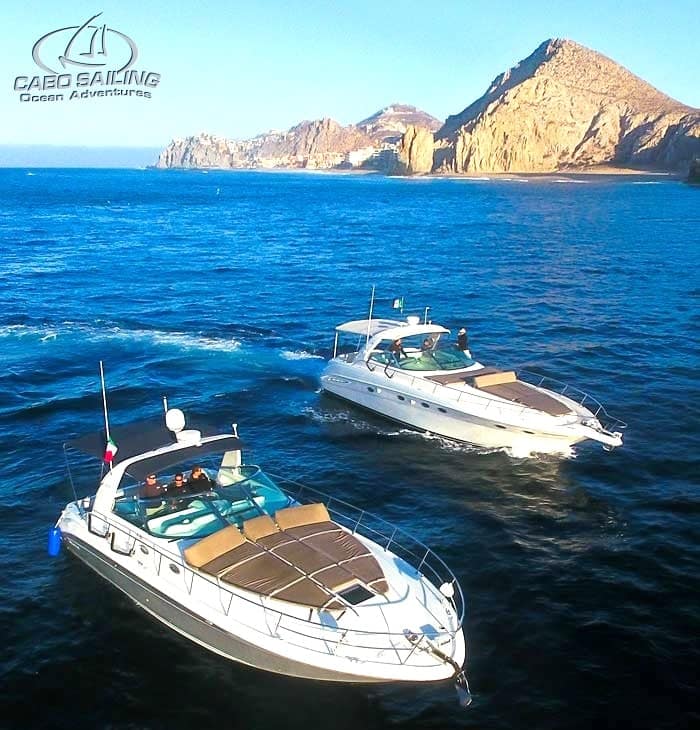 Relax on a comfortable yacht while your captain navigates the enchanting waters of the Sea of Cortez and the Pacific Ocean.   To elaborate, enjoy an array of incredible sailing experiences including day sailing, diving, sunset cruises, whale watching and visiting great locations like El Arco de Cabo San Lucas.  And, consider a cruise for family reunions, romantic cruises, or celebrating an event.
Cabo Sailing operates only with well-equipped, high-end luxurious sailboats and yachts.  All their vessels come with custom-made padded lounging areas, large shaded seating, and other amenities to make your experience safe, fun and comfortable.  Also, Cabo Sailing has over 10-years of experience in the waters around Los Cabos, so you can be assured of having the best and safest adventure.
To inquire or to book a sailing adventure, click CONTACT CABO SAILING to send us a message.  We'll get back to you right away!