Blessed with the gorgeous blue waters of the Pacific Ocean and the Sea of Cortez, Cabo San Lucas is a haven for activities both on and off the water.  For example, the biggest fishing tournaments in the world are held here. And, these two coastlines are famed for their stunning beaches, many of which are swimmable.  Hence, there are some exciting things to do in Cabo.  So, if you're planning to visit Cabo San Lucas soon, continue reading to see the seven best swimming beaches in Cabo.
Seven best swimming Beaches in Cabo
Before you head out to either coastline of Cabo San Lucas, there are a few things you need to know.  Most importantly, not all beaches are safe for swimmers.  To be specific, be wary as several beaches on the Pacific side of Baja have dangerous waves and strong undertows.
Fortunately, these beaches are well marked.  And, authorities are there to prevent unnecessary risks. So, enjoy the beauty of all the beaches in Cabo, but use caution when choosing a beach for swimming.
To make it easy for you, here are the seven best swimming beaches in Cabo.
#1 – Santa Maria: Best swimming beach in Cabo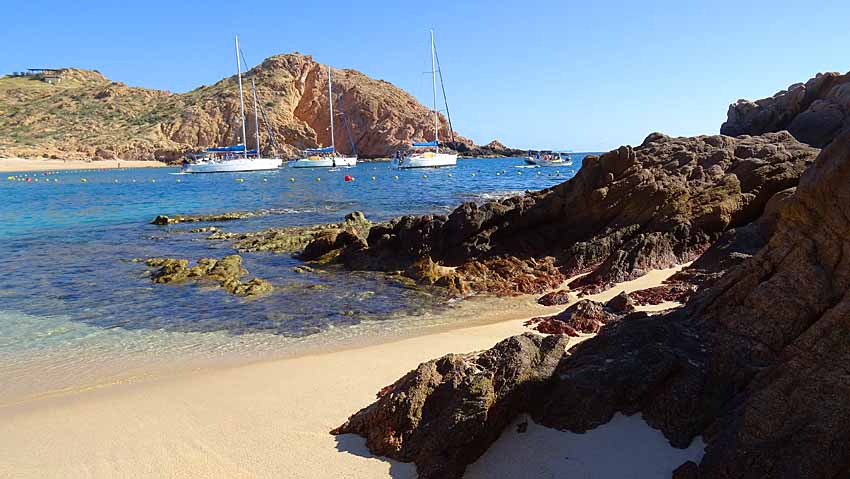 Topping the list of best swimming beaches in Cabo is Santa Maria Beach.  To begin with, this protected marine area is a tranquil place and relatively secluded.  And, it makes an excellent spot for swimming and snorkeling.  So, you may make a few "marine friends" during your swim!  Finally, Santa Maria Beach was awarded the international Blue Flag certification, which signifies the highest-possible environmental and water-quality standards.  That means you can expect to find both lifeguards and sanitation services there.
#2 – Palmilla Beach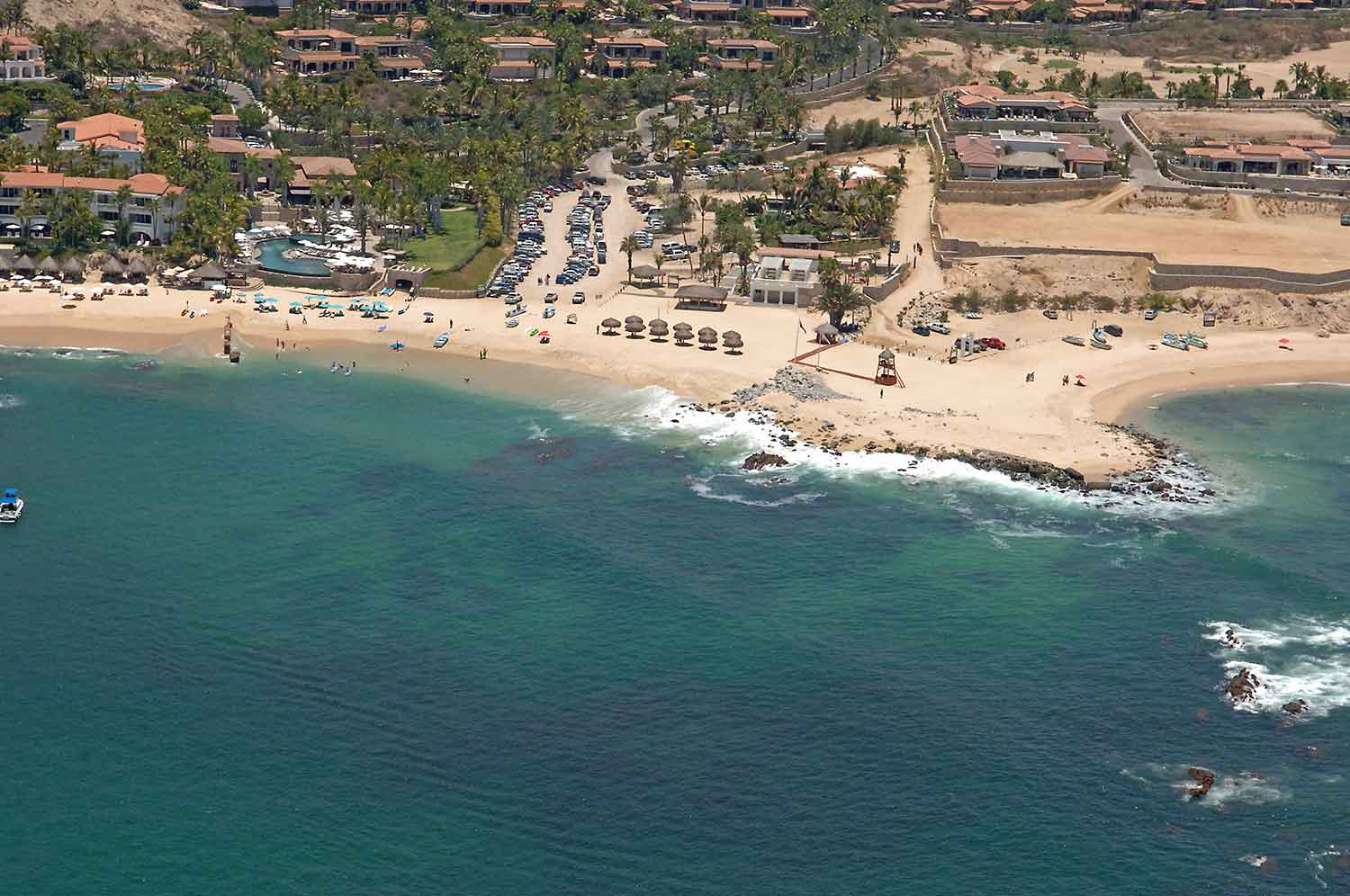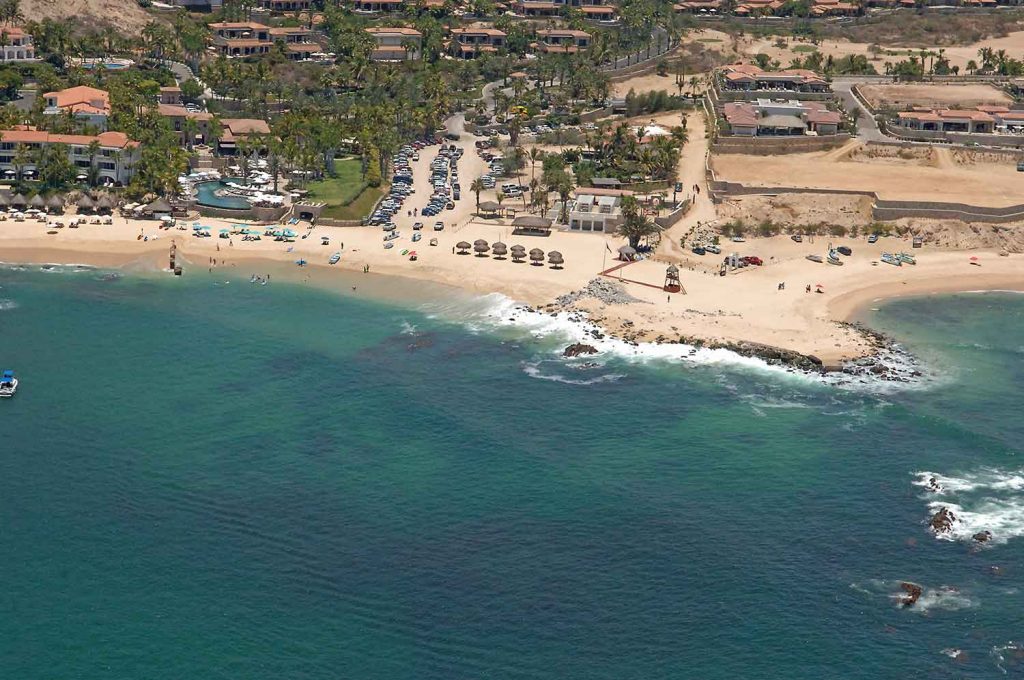 Just a short drive from Cabo San Lucas, Palmilla Beach is located along the Golden Corridor, nestled between Cabo San Lucas and San Jose del Cabo.  If you want to enjoy a peaceful swim with your family, Palmilla Beach is a great destination.  Spread out over a mile, this beach features calm waters that beckon you for a swim.
The beach is family-friendly and the backdrop comprises some of the most luxurious hotels and resorts in the region.
Palmilla Beach was also awarded the international Blue Flag certification, which means the water is crystal clear and you'll find lifeguards and bathrooms there.
#3 – Chileno Beach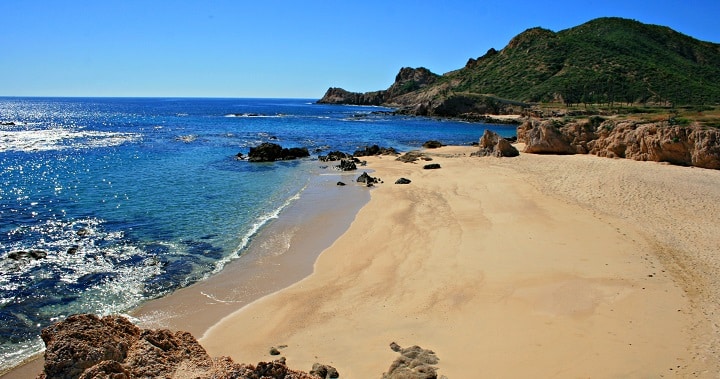 Chileno Beach ranks as one of the more popular of the best swimming beaches in Cabo San Lucas.  It also sits along the Golden Corridor, nestled between Cabo San Lucas and San Jose del Cabo. However, this short drive will certainly be worth it.  Chileno Beach is stunning and the perfect location for spending an entire day.  Swimming and snorkeling are very popular here.
The beautiful Chileno Beach is another "best swimming beaches in Cabo" that was awarded the international Blue Flag certification.  Therefore, you find beautiful clean water along with lifeguards and sanitation services.
#4 – Playa del Amor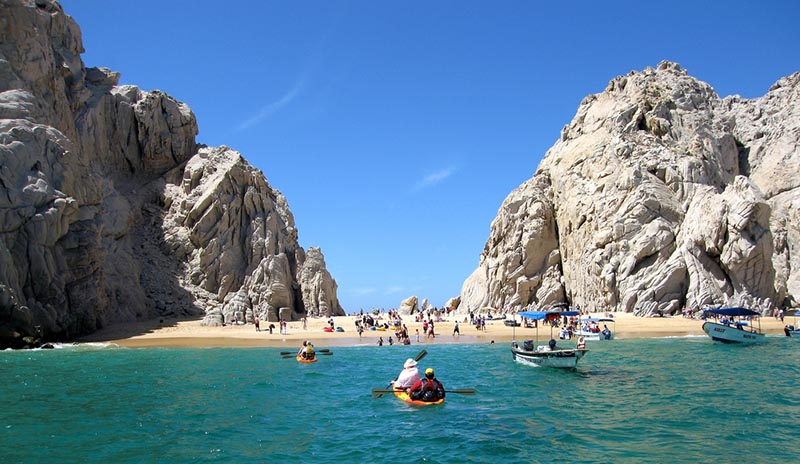 Also known as Lover's Beach, Playa del Amor is certainly worth a visit.  It's generally calm and it's a great place to swim.  Also, it's located near El Arco de Cabo San Lucas – the arch that marks Land's End.  But don't be fooled into thinking that Lover's Beach is a secluded area only for couples, however.  Nonetheless, the beach is quite picturesque and filled with awe-inspiring geographical formations such as the Neptune's Finger.
You can also head to the Playa Divorcio or Divorce Beach, which is connected to Lover's Beach.  However, Divorce Beach is unsafe and prohibited for swimming due to the powerful rip currents and waves that inspired the name of the beach.
A brief history of love and divorce beaches
There's an old superstition, that may be true, about love and tragedy.  As the story goes:  back in the 18th century, a beautiful local woman rescued a Japanese sailor near Lands End.  They fell in love and enjoyed their time together at Playa de Amor.  But then, the Japanese sailor was rejected by her father.  So, in an act of anger, her father murdered the sailor.  Then, she took her own life by committing suicide on Divorce Beach.
Get there by boat
Arriving at this beach is done by using one of the many "water taxis" operated from the marina or the main Medano beach.  So, just set a time with the captain dropping you off and he'll come back to pick you up.  And, make sure you bring your own shade and lunch, as this beach has no official services operating.  Finally, check with Cabo Sailing to reserve your own personal yacht and head out there in style.
#5 – Playa Bledito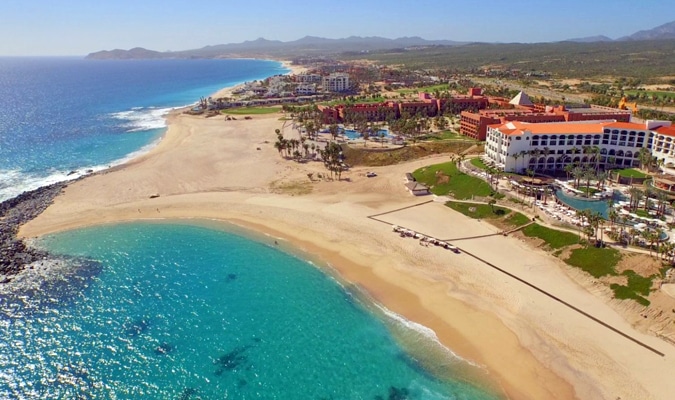 Also known as Tequila Cove, this is one of the best swimming beaches in Cabo that features a massive man-made breakwater.  Thanks to this feature, it's possible to swim in the waters safely.  Also, indulge in a few of the water activities there.  However, make sure you limit those activities within the protection of the cove.
Although this beach is located in front of the Hilton hotel, there is a public path and comfortable access to the beach.
#6 – Medano Beach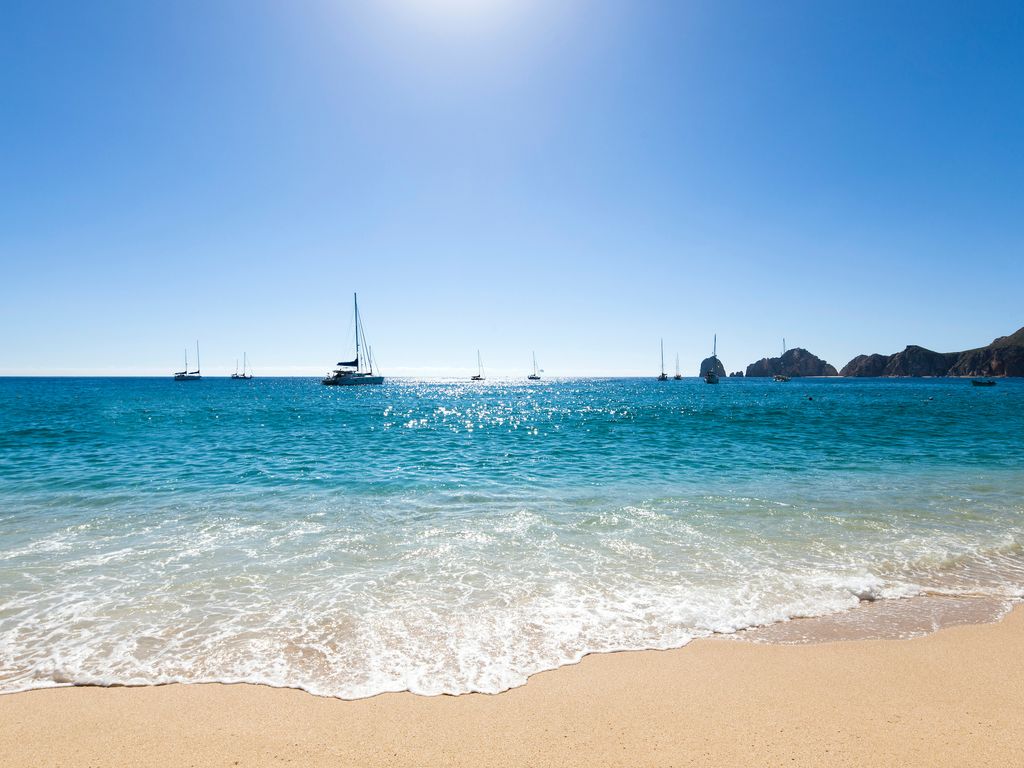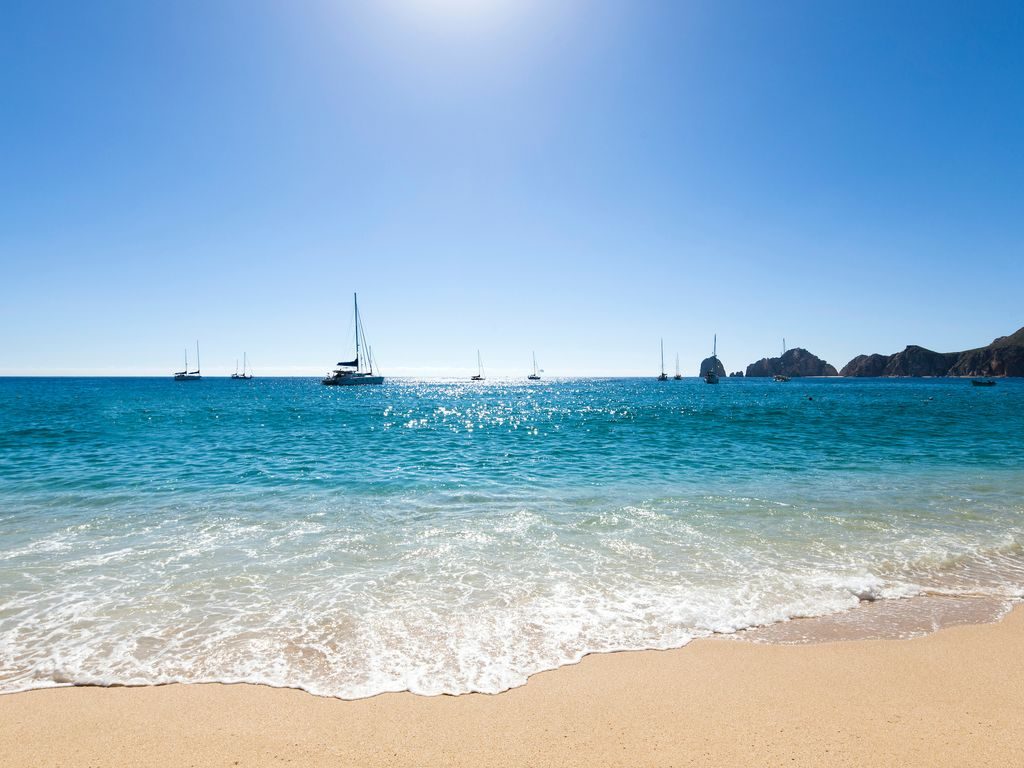 Medano Beach is another immensely popular beach in Cabo San Lucas. In fact, many consider it to be the main tourist attraction of the city.  No matter when you decide to visit, you're sure to come across tourists there.  Apart from being one of the best swimming beaches in Cabo, there is much to do there.  For example, enjoy water sports such as kayaking and parasailing.  Also, the beachside is peppered with several delicious restaurants serving a variety of delicacies.
#7 – Cerritos Beach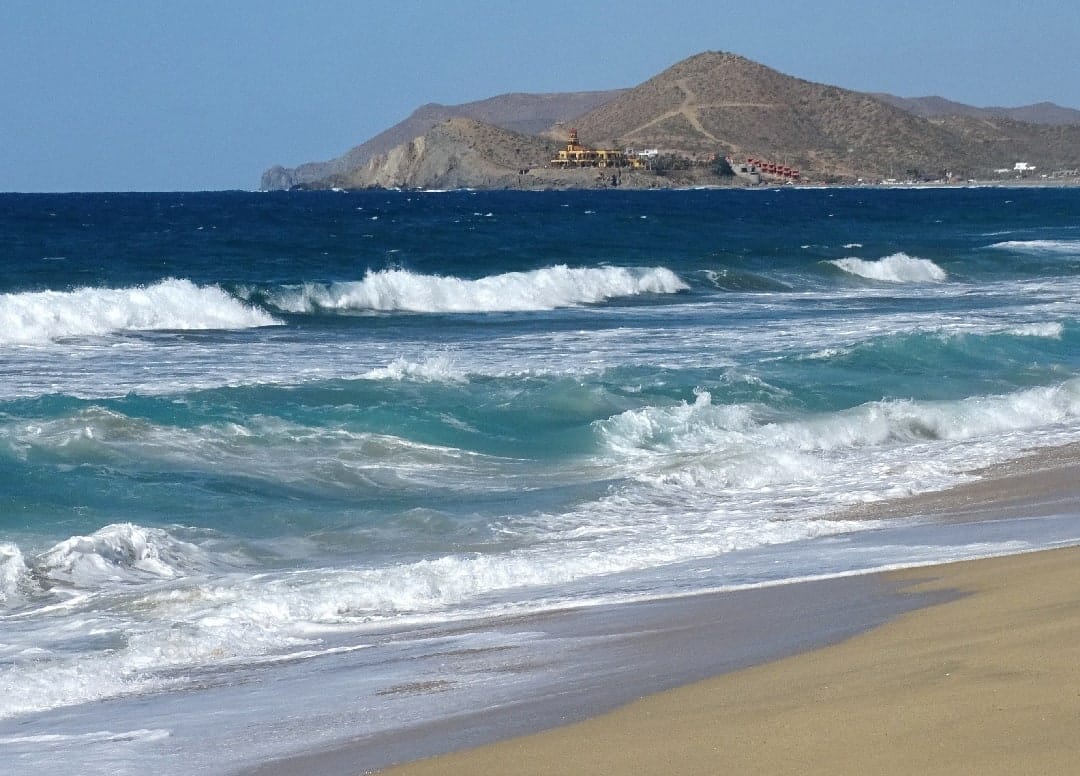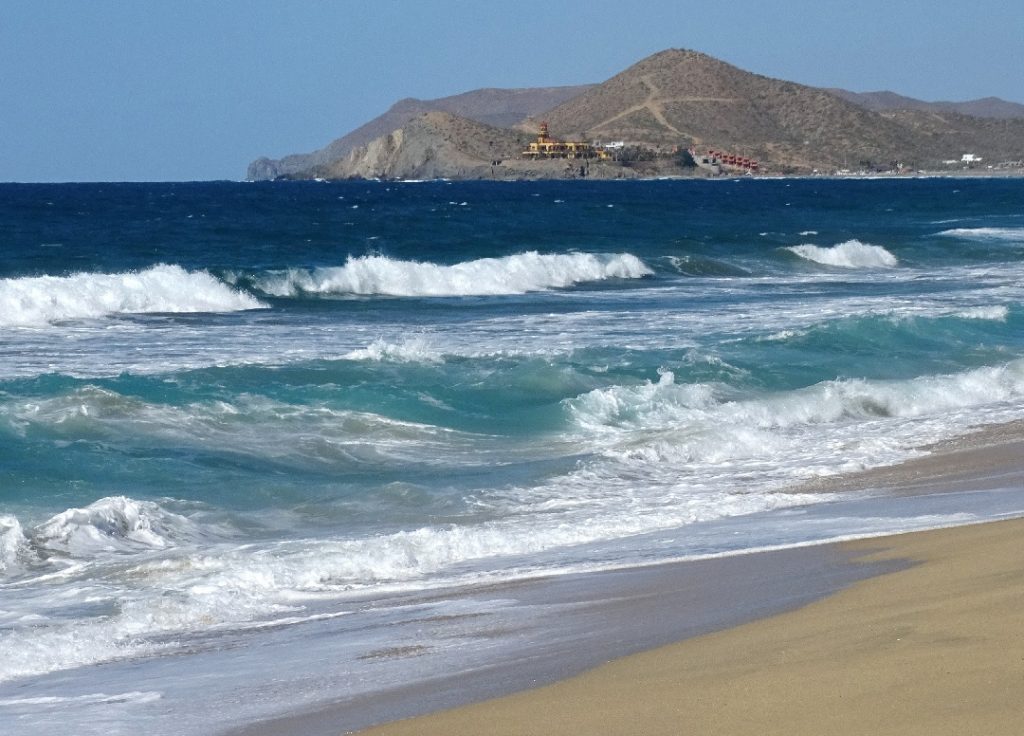 Cerritos Beach is the only safe beach for hundreds of miles along the Baja California peninsula, on the Pacific side.  And, it's got everything you'd want in a Mexican beach.  Yes, there's great year-round surfing due to the great waves, but this crescent-shaped beach has beautiful sand and lots of activities for your entire family.  There, you'll find horseback riding, kayaking, and jet-ski rentals, just to name a few.