Los Cabos San Lucas is an incredible place to spend your time and live awesome adventures.  You would imagine that as such it could be very expensive some times.  With so many things to do and in a place with travelers from all over the world, they'll charge a lot for everything right?  Wrong!  From the many options you have to do and try in Los Cabos, you can also find some adventures, for free!  Keep reading and learn more about the free activities in Cabo that you can live.
The 750-mile-long Baja California peninsula reaches its southernmost end at a half-mile rock formation at the tip of Cabo San Lucas.  This symbolic landmark is known as "Land's End".   This promontory of rock sets the demarcation point where the Sea of Cortez and the Pacific Ocean meet.  Such as this, there are many options that you can enjoy if you're adventurous enough, without the need for a big budget.  This is what makes Los Cabos San Lucas such an incredible place to visit.  Read on and find many other activities you can try in Los Cabos for free!
Free activities in Cabo you can live
It doesn't matter where exactly you start your day, or what do you prefer to do, there's something for everyone in Los Cabos.  Are you looking for some relaxing activities? No problem.  Bored and in look for a thrill? No problem!  Find what you'd love to try in Los Cabos and do it without a budget.  Here's a list of the free experiences you can live in Los Cabos.
Cabos' Marina: First of the free activities in Cabo
Touring around the Marina of Cabo San Lucas it's a must-do on every list.  Either it is during day or night; the marina is one of the iconic stops you can't miss during your stay in Los Cabos.  Be delighted by its charm, Mexican enchant and awesome views, there are many things to see around, just don't get lost!  Also, you shouldn't forget to take a photo of this iconic place.
Las Viudas beach
Las Viudas Beach is a hidden paradise for visitors.  It probably is one of the most private beaches you can find around.  And, the thing that makes it so special is the rock formations surrounding this sand nest.  It's also one of the main attractions for tourists and the best thing is that it's located right in the Golden Corridor of Los Cabos.  Right in the heart of the fun is where you'll see this place.  Have a look at the crystal clear waters and gentle waves. Have some drinks and snacks here, and enjoy a beautiful day without spending much.
Enjoy the famous sunsets
The sunsets in Los Cabos, to say it simply, have no comparison.  No matter the place you choose to be an observer of this unique moment, it will always be more impressive than the day before.  Pick your favorite beach and be a part of the ultimate sunset experience.  Some of the recommended places are like Migriño beach turns into the perfect spot to watch glorious sunsets.  Observe the mind-boggling colorful skies and with some snacks and the ones you care for, live a beautiful moment where the time just stands still and become an experience out of this world.
Climb the hill of Solmar
This truly is the mecca of nature lovers.  This is the ideal place for long walks and the ones who enjoy them.  The locals take this place as an exercise course since the road is well marked and clear to walk.  The greatest thing is when you reach the tip of the hill the reward is impressive.  With a view of both seas, the Pacific Ocean and the Sea of ​​Cortez this is a unique landscape you can't find anywhere else.  It's recommended that when trying this hike you should carry enough water bottles and even your camera to capture amazing snaps.  If you're of the adventurous kind then this hill (and climbing it) it's perfect for you!
Visit a bird Sanctuary
San Jose del Cabo's estuary is fed by the San José River.  This is truly an amazing place that is most commonly known for its bird wildlife.  Having such a variety of birds and so many of them this has become over time a   sanctuary and home to hundreds of species.  Get to this place really early or during the sunset to get the best times to view hundreds of colorful birds under the sun rays sparkling on their feathers.  Find here herons, pelicans, coots, cactus wrens, between many others.  This is one of the most beautiful walks in Los Cabos, and guess the great ''pro'': it's all for free!
Cabo Sailing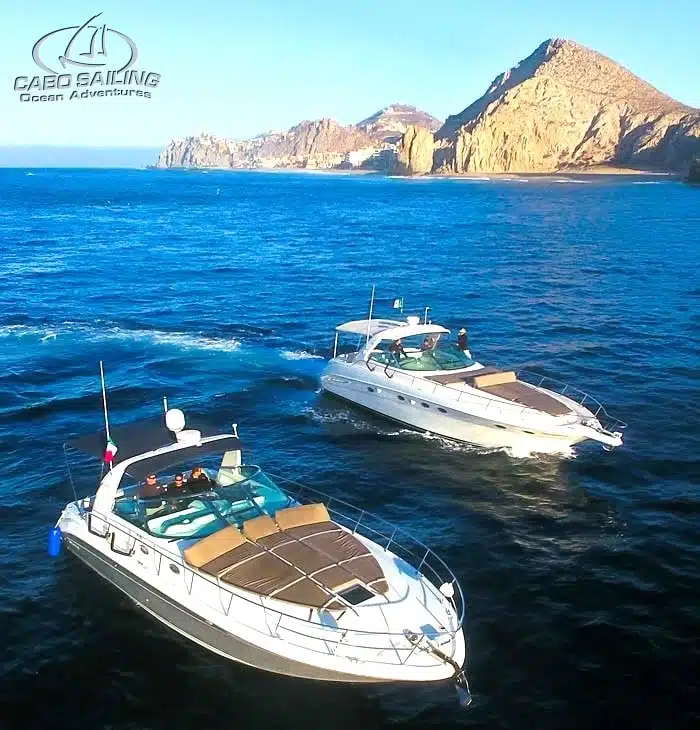 Relax on a comfortable yacht while your captain navigates the enchanting waters of the Sea of Cortez and the Pacific Ocean.   To elaborate, enjoy an array of incredible sailing experiences including day sailing, diving, sunset cruises, whale watching and visiting great locations like El Arco de Cabo San Lucas.  And, consider a cruise for family reunions, romantic cruises, or celebrating an event.
Cabo Sailing operates only with well-equipped, high-end luxurious sailboats and yachts.  All their vessels come with custom-made padded lounging areas, large shaded seating, and other amenities to make your experience safe, fun and comfortable.  Also, Cabo Sailing has over 10-years of experience in the waters around Los Cabos, so you can be assured of having the best and safest adventure.
To inquire or to book a sailing adventure, click CONTACT CABO SAILING to send us a message.  We'll get back to you right away!