Cabo its a city fulfilled with Mexican traditions and also home to a big number of festivals.  And it's especially here where you can enjoy a wide range of local music and food. While for many Cabo is a once a year place to visit (maybe more), for others it can be called a home 365 days a year.  Therefore, due to this cultural mixture and common tourism, you'll find a rich and vibrant lifestyle around.  This lifestyle and culture it's often celebrated, and how better to do so in Mexico with themed festivals!  Keep reading, and learn in this post what Cabo has to offer when it comes to traditions.  Take a closer look and don't miss the opportunity to experience these cultural events for yourself.  Find everything you need to know about Cabo San Lucas Traditions right here!
Traditional events in Cabo
As part of the Mexican culture, you'll see that there's always something to celebrate.  Cabo is no exception as you find here different festivals for each season of the year.  Although, the most traditional Cabo San Lucas traditions that happen in the region are just two.  Read on, and learn what they're all about!
San Jose Del Cabo Traditional Festival – March 16-22
Let's start going a bit further in this seven-day festival in San Jose del Cabo.  The dates for festivity fit perfectly with the schedule for whale watching in Cabo!  This festival is a vibrant celebration of local music, with some of the region's best-known stars performing.  Due to the big crowds coming to experience getting close to one of the biggest mammals in the world, this special event turns into a crowed party.  Catching this celebration is a must for any adventurous party seeker.  With a variety of different musical acts and other special amenities, this is the place to be if you want to wild a bit.
Saint Joseph
This is a yearly celebration and happens because of the celebration of Cabos' San José, or Saint Joseph in English.  It also commemorates the 1730's building of the Anuití Mission, one of Cabo's oldest buildings, and this one can be found at the very heart of San Jose del Cabo.  As part of the tradition, during this festival, the local community carries an effigy of ''San José'' on a huge pilgrimage across town.  We understand that maybe live music or historical tradition isn't your thing, but luckily the seven day-long event also boasts a wealth of local foods and delicacies, allowing you to taste authentic Mexican cuisine.  Furthermore, there are also even more adventurous activities to do!  These options are horse riding, mechanical games, and dancing competitions, amongst many others!
The Cabo San Lucas Festival – October 14 – 18th
This event goes more to the ones looking for a winter escape in Cabo.  This is a four-day fun-filled celebration open for everyone looking to spend a great time.  Unlike the traditional festival of San Jose, which is much more of a week-long, in here the event is held in the name of the city's saint ''San Lucas''.  It's because of this that this festival has a much stronger religious undertone.  Including a day-long event known as ''The great day'' in which the whole festival roams around.
If you're looking to experience this event in full, the best way to do it is waking up early!  The day starts for this event at 4:00am.  It is until the break of dawn, that locals take the statue of ''San Lucas'' out on a boat and into the water.  This trip is short but meaningful, and with this, it sets off around the bay, all the way to Land's End.  With this process, locals demonstrate their gratefulness for another healthy and productive year.  Involving all of the local's lives, this turns into a very insightful festivity fulfilled with a good meaning.  This ceremony is followed by flowers and songs which really encapsulate the culture of Cabo, and are certainly worth seeing.
Cabo San Lucas Traditions – party time
Expect a lot to do and see during these four days as there's a whole host of traditional foods to try.  Allow yourself to live and eat the local way while enjoying the colorful traditions of Mexico.  You don't have to worry if you love partying, as the people in Cabo really know how to party!  Come around in the evening, and it's about the time where the party begins.  There'll be a lot of different musicians and singers from around the globe to dance to!  This is one of Cabos' busiest events, with thousands of people flocking to the area to celebrate.  Best of it all, it's all for free.
Although, if you're not a fan of crowds, it might be best to enjoy the more reserved daytime celebrations before finding a place to relax for the evening.  And of course, you'll surely still hear the music from many locations in town, possibly, even when enjoying a sunset cruise!
Cabo Sailing with Cabo San Lucas Traditions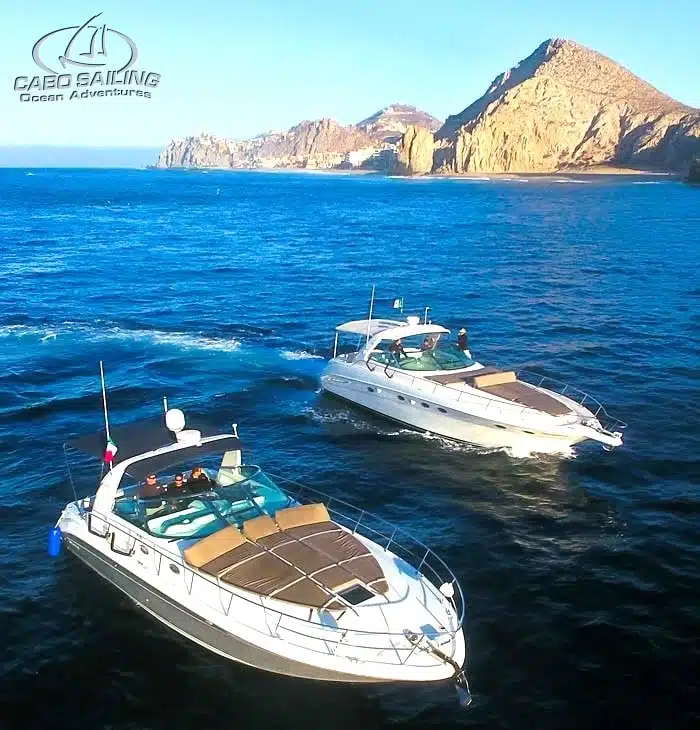 Relax on a comfortable yacht while your captain navigates the enchanting waters of the Sea of Cortez and the Pacific Ocean.   To elaborate, enjoy an array of incredible sailing experiences including day sailing, diving, sunset cruises, whale watching and visiting great locations like El Arco de Cabo San Lucas.  And, consider a cruise for family reunions, romantic cruises, or celebrating an event.
Cabo Sailing operates only with well-equipped, high-end luxurious sailboats and yachts.  All their vessels come with custom-made padded lounging areas, large shaded seating, and other amenities to make your experience safe, fun and comfortable.  Also, Cabo Sailing has over 10-years of experience in the waters around Los Cabos, so you can be assured of having the best and safest adventure.
To inquire or to book a sailing adventure, click CONTACT CABO SAILING to send us a message.  We'll get back to you right away!