Cabo has some of everything.  From swimming with whale sharks and extreme bungee jumping to unique sunsets and fun in hot springs, options are endless.  After some intense activities like these, you probably need to relax.  What about some picnic at the beach under in front of a colorful sunset?   Or instead, treating yourself with Spa-care that only Cabo can give you?  Cabo has everything you need to make your vacations peaceful and enjoyable.  If you're the type of person that enjoys thrilling activities that's fine, but if what you're looking for is to chill too, then you need to keep reading.  Here you'll read some ideas about the best places to relax in Cabo!  Keep reading to learn more about it.
Sail to sea, and see the sun…set
The sunset is beautiful everywhere, but Cabo is something else.  Watch the beautiful sunset from a boat, as the sea turns fills with the colors of the sky and sets peacefully under it.  Sounds amazing right?  Definitely, there's nothing as relaxing and beautiful than a soothing open water adventure.  Especially when sailing the tender waves of the Pacific Ocean and the Sea of Cortez.  Do you know what the best of it is?  You can do it privately or on a shared boat, it's up to you and your budget!   Also, there's an open bar and snacks to make your trip even better. This is by far a great option to make your memories in Cabo a magical experience.
Hidden hideaways
Sometimes a crowded place can make moments feel a bit rushed or to feel far from private. Cabo's main beaches tend to be lively but crowded, and not everyone enjoys to be around too many people.  If what you want is to make your Cabo trip your very own, and relax with a select company then read further on!  There are some lesser-known beach spots you can visit to make yourself feel like you're part of the amazing nature of Cabo.
Santa Maria Bay
This is a safe beach for swimming and snorkeling, surrounded by great rocky structures.  It's less than ten miles away from Cabo San Lucas.  Besides that, it's a protected nature sanctuary, an ideal place to connect with nature.
Las Viudas beach
A great option if what you want is a private time for you and your family.  The large rocks around the beach make private nooks you can be with family or company.
Migriño
Before getting into any details you need to know that this beach is not suitable for swimming. Beautiful and unknown, a private place perfect for relaxing ashore only.
Pampering places to relax in Cabo
We can't talk about relaxing without talking about the amazing spas around Cabo.  A lot of them you can find them right in your hotel.  All you need to do there is relax and let the trained staff take care of your body, skin, and mind. Some of them specialize in certain stuff like anti-aging problems and spiritual ceremonies.  Don't miss the opportunity to relax in someplace outside the routine.
Places to relax in Cabo includes a saddle
Imagine riding a horse on the shore with the sunset on the water and the sky looking radiant. Don imagine it! Go and make some space for you and your family in the horseback tours that Cabo has to offer. With staff highly trained, they'll be able to help you all along with the horse riding. Let yourself experience quiet and slow horseback riding with no galloping or effort required. If you're looking for something quiet and romantic this is it!
See the underwater life
There's so much to see in Cabo that one can easily forget one of the main wonders: the underwater life.  Having it so close yet being a completely different world that you can't see unless you get into it!  The incredible amount of wildlife that you can see underwater year-round in Cabo is astonishing.  You'll find there, lots of great snorkeling spots to choose from, and with tours guided by trained professionals too.  This way you never have to worry about your personal safety or comfort by yourself.  Leave your experience in the hands of professionals, and make it a magical adventure!  Whether you're trying to spend your whole vacation relaxing or looking to take a break between more adventurous pursuits, Cabo has plenty of relaxation waiting for you.  Enjoy it at the land or sea.  Remember this is a time you have to relax and unwind in one of the most beautiful locations on Earth!
Cabo Sailing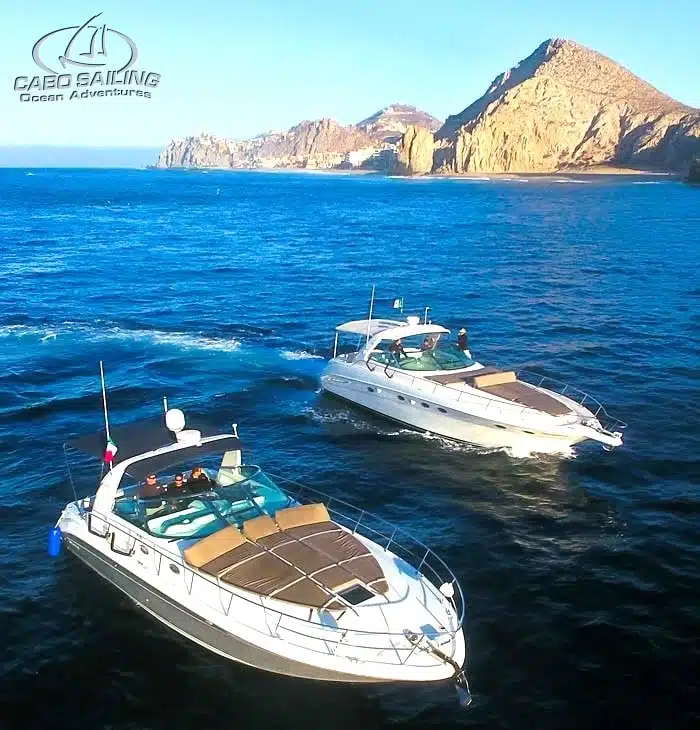 Relax on a comfortable yacht while your captain navigates the enchanting waters of the Sea of Cortez and the Pacific Ocean.   To elaborate, enjoy an array of incredible sailing experiences including day sailing, diving, sunset cruises, whale watching and visiting great locations like El Arco de Cabo San Lucas.  And, consider a cruise for family reunions, romantic cruises, or celebrating an event.
Cabo Sailing operates only with well-equipped, high-end luxurious sailboats and yachts.  All their vessels come with custom-made padded lounging areas, large shaded seating, and other amenities to make your experience safe, fun and comfortable.  Also, Cabo Sailing has over 10-years of experience in the waters around Los Cabos, so you can be assured of having the best and safest adventure.
To inquire or to book a sailing adventure, click CONTACT CABO SAILING to send us a message.  We'll get back to you right away!