Dive into the dazzling world of Cabo Snorkeling, where vibrant marine life and crystal-clear waters are waiting for you to discover. Our captains and crew will unlock the hidden treasures beneath the waves, ensuring you don't miss a single aquatic gem. So, gear up for an unforgettable underwater adventure that'll leave you wanting more.
Embark on a Cabo Sailing yacht charter for a unique and exhilarating snorkeling adventure in Cabo. Explore the underwater paradise of Cabo San Lucas, Santa Maria, and Chileno Bays. Experience the thrill of discovering hidden marine treasures.
Aboard a luxurious vessel, you'll have an attentive crew catering to your every need. This allows for effortless access to pristine and remote snorkeling sites, elevating your aquatic adventure.
The yacht charter provides unparalleled convenience and comfort. Additionally, knowledgeable guides offer their expertise, revealing hidden gems for a safe and enjoyable experience.
Set sail or come cruising with Cabo Sailing on a Cabo yacht charter. Prepare for an unforgettable journey through Cabo's finest snorkeling sites, where you'll be immersed in the breathtaking beauty of the region's vibrant marine life.
Cabo Snorkeling
Imagine yourself immersed in the crystal-clear waters of Cabo, exploring its vibrant underwater world teeming with colorful marine life. Snorkeling in Cabo is an adventure not to be missed, as the region's bays are home to some of the most breathtaking snorkeling sites.
In this guide, we'll explore the captivating wonders of Cabo San Lucas, Santa Maria, and Chileno bays. We'll reveal the hidden beauty beneath the waves, ensuring a memorable experience.
Cabo San Lucas Bay

Pelican Rock
A short boat rides away from the bustling marina, Pelican Rock is a popular snorkeling site known for its impressive underwater rock formations and abundant sea life.
With exceptional water clarity, snorkelers can easily witness myriad benthic creatures like colorful parrotfish, angelfish, and playful sea lions. Additionally, pelagic species such as manta rays and sea turtles grace the area, creating an unforgettable experience.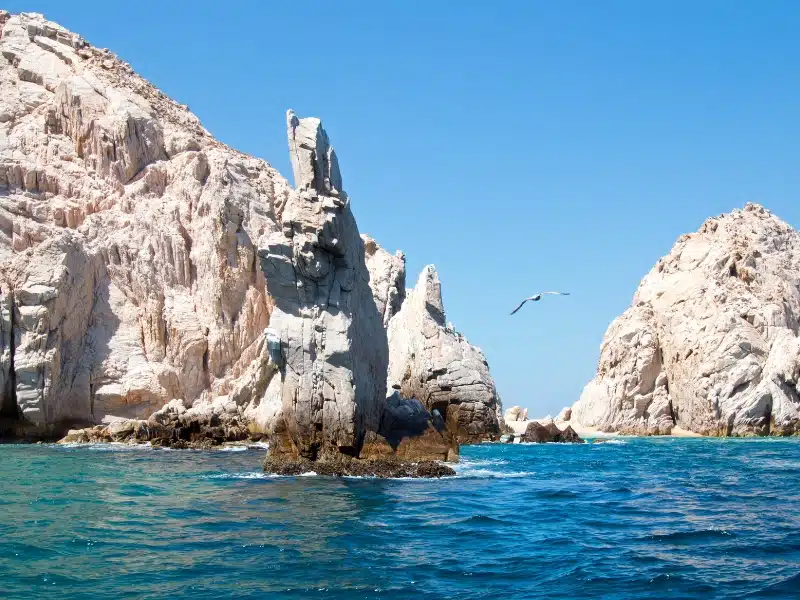 Neptune's Finger
Another gem in Cabo San Lucas Bay, Neptune's Finger, is named after its distinctive finger-like rock formation. Snorkelers can expect to encounter a wide variety of fish, including schools of snapper and jacks while exploring the coral reefs surrounding the site.
Additionally, the water clarity is exceptional, ensuring an up-close view of the mesmerizing marine life.
Santa Maria Bay
Santa Maria Cove
Santa Maria Cove, nestled in the heart of Santa Maria Bay, offers a pristine environment for snorkeling enthusiasts.
The horseshoe-shaped cove, surrounded by rocky cliffs, provides a sheltered haven for an array of marine species.
The clear water here showcases a diverse ecosystem, including benthic creatures such as sea urchins and starfish. Meanwhile, the vivid coral reefs teeming with pelagic life, including yellowtail surgeonfish, pufferfish, and even the occasional octopus.
Bahia Santa Maria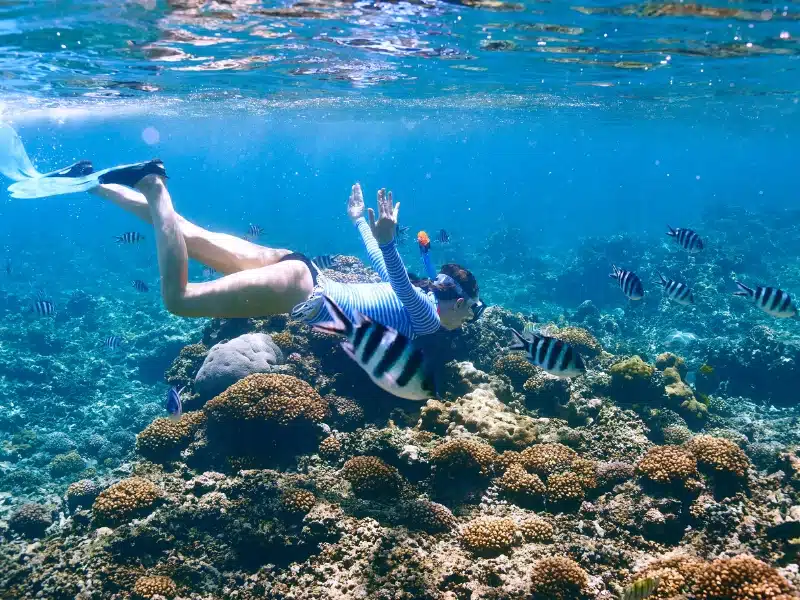 Bahia Santa Maria is another excellent snorkeling spot located in Santa Maria Bay. This tranquil site features a sandy seabed with rocky outcrops that provide refuge for various marine species.
Snorkelers can expect to encounter a wide variety of fish, including grouper, damselfish, and moray eels while marveling at the crystal-clear water and rich coral formations.
Chileno Bay
Chileno Reef
Chileno Bay is home to one of Cabo's most remarkable snorkeling sites, Chileno Reef. This site boasts an impressive coral reef teeming with life, including vibrant sponges, gorgonian sea fans, and an array of benthic creatures.
As they explore, snorkelers will be captivated by the striking underwater landscape. Furthermore, they'll encounter abundant pelagic species, such as snapper, hogfish, and colorful wrasses.
Chileno Beach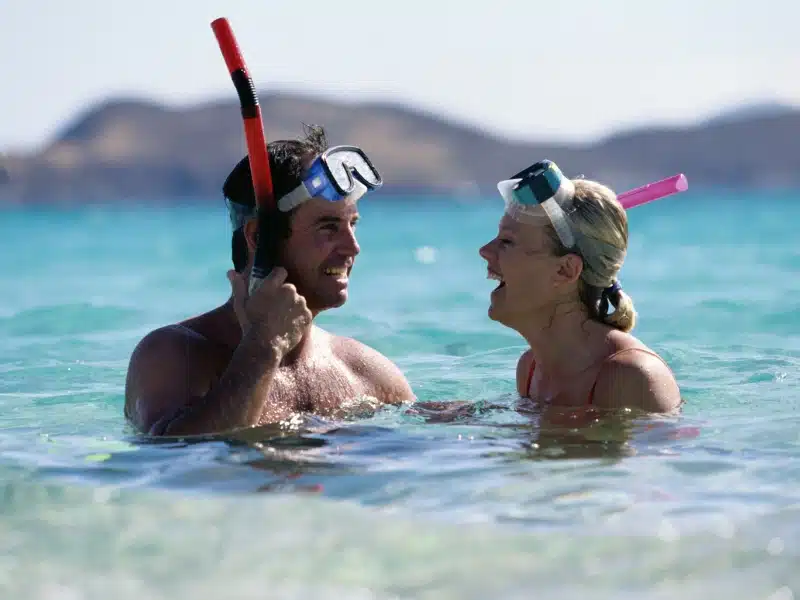 A haven for snorkeling enthusiasts, Chileno Beach offers a unique opportunity to explore the underwater world from the shoreline.
The calm waters and exceptional visibility make it the perfect spot to observe marine life, including stingrays, sea turtles, and an array of colorful fish.
Snorkelers can also enjoy the pristine sandy beach and soak in the stunning surroundings.
Conclusion:
Cabo's enchanting bays boast some of the world's most spectacular snorkeling sites. These sites offer visitors a unique opportunity to delve into the region's rich marine environment.
From the iconic Pelican Rock in Cabo San Lucas Bay to the mesmerizing Chileno Reef, snorkelers will be captivated by the diverse underwater world that awaits them.
To make the most of your snorkeling adventure, ensure you have the necessary equipment and follow safety guidelines.
In addition, consider joining a Cabo boat charter for a guided tour to some of the region's most remote and pristine snorkeling locations. Respect the environment as you explore these captivating sites. In doing so, you'll create cherished memories that last a lifetime.
So, pack your snorkel gear and embark on a journey to discover the hidden treasures of Cabo San Lucas, Santa Maria, and Chileno bays.
These unforgettable snorkeling experiences will leave you in awe of the natural beauty. You'll develop a profound appreciation for the vibrant marine life inhabiting these bays. With each adventure, you'll feel closer to their extraordinary underwater world.
Dive in and let the wonders of the underwater world unfold before your eyes, as you explore the captivating realm of Cabo's finest snorkeling sites.
Practical Tips
The best time of year to visit Cabo for snorkeling is from May to November when the water temperatures are warmer and the visibility is at its best. However, marine life can be enjoyed all year round, with different species making an appearance during various seasons.
Be sure to check local weather conditions before planning your trip for optimal enjoyment.
Cabo Sailing ensures that all local regulations and restrictions for snorkeling are followed to provide a safe and environmentally friendly experience for our guests. We offer well-maintained gear and equipment, including wet suits, fins, and masks, as part of the tour, ensuring that you have everything you need for a comfortable and memorable snorkeling adventure.
Review of the Cabo snorkeling tour
Discover the ultimate Cabo Snorkeling experience with this fantastic tour that takes you to the crystal-clear waters of Cabo San Lucas, Pelican's Rock, Santa Maria, and Chileno Bays. Get up close and personal with vibrant marine life, making memories to last a lifetime.
What's on the Cabo Snorkeling tour
Visit known and popular landmarks such as The Arch and Pelican's Rock
Snorkel at multiple prime locations, including Santa Maria and Chileno Beach & Bay
Enjoy a light lunch and unlimited premium bar
Top-notch equipment and bilingual crew provided
Cabo Snorkeling Specifications:
3-hour cruise
Complete snorkeling gear provided
Vegetarian options upon request
Private and shared cruise options are available
Dive into the breathtaking world of Cabo Snorkeling and let the underwater wonders unfold before your eyes. Don't miss out on this extraordinary adventure!