Most people love going to a tropical warm beachfront location.  Someplace like that could easily be considered ''A piece of heaven.''  And, this is exactly what The Cabo region is: a sunny place with lots of things to do in the open. Although this could be considered a heavenly place, it can get really warm and sunny sometimes too. Therefore, besides the fun and adventures, you can live here, you must not forget to take care of your skin's health.  As you have fun in Cabo, don't let the sun take you by surprise.  Read on through this article and learn ways for a proper sun safety in Cabo!
The list of attractions that draw options is as big as Cabo itself!  Many attractions draw visitors to the Cabo region.    Ranging from whale watching to various aquatic activities, the list is endless.  But it all happens under the sun, and as such, you should be very careful.  Los Cabos has an impressive record of around 350 days of sun a year.  And also temperatures ranging an average of high 90's in the summer.  With temperatures like this is imperative to practice and learn ways for a proper sun safety in Cabo.  Keep reading this guide for a fun and safe holiday in Cabo!
Safely enjoying the Cabo sun
The sun's ultraviolet rays can damage your skin in as little as 15 minutes. While out in the sun in Cabo, either relaxing on the beach or water, these are some basic practices you can do to be sun safe. Follow these recommendations to help protect yourself and your family.
Timing Tannings
Sunbathing is done by many when down in Cabo. On a tropical spot such as this sunbathing seems like fun, and it is! But if you don't want to worry about the next day's sunburn, be prepared! As long as you're responsible for sun protection every now and then you should be fine. Keep your sunbathing to short periods, to keep your skin as healthy as possible, avoiding painful sunburn on your days in heaven.
Look for relaxing shade
While you have a great time out in the sun, it's important to remember to give yourself some time to be in the shade too. Even if you feel fine at the moment, heatstrokes can come in hours after overexposure. Be sure to give yourself regular opportunities to rest and relax in the shade. With this, you'll reduce your risk of skin damage and skin cancer. Any kind of shelter you find, try to make it temporary relief from the sun. Don´t forget too that the best way for a proper sun safety in Cabo is to use sunscreen or wear protective clothing when you're outside.
Reflections hurt sun safety in Cabo
Any type of reflection, even from the water, can increase the intensity of the sun's' rays as if it was a magnifying glass! Be careful with the times under the sun. Also, don't forget the midday hours, when the sun in the zenith will particularly make potent reflections over any surface.
Always carry these for sun safety in Cabo
You can find everything you need for your skin-care in Mexico too. Mostly in Cabo when it's known the hassle of being under the sun all day. And, although you can buy what you need down there, the ideal sun-safe experience should be considering everything you'll need from before. Think and consider everything you'll need when packing for your holiday. Here's a list of articles that will improve the ways for a proper sun-care in Cabo.
Sun safety in Cabo requires sunscreen
Most of us go around using sunscreen. Often because of the slimy coating feel and how it makes us feel even more heat sometimes. But, don't forget that there are now an ample range of different sunscreen and applying methods. Going from the traditional creams to lotions and sprays, you can find something that fits your comfort no problem. So now you know and there's no excuse!  The thing is that most people will often choose the wrong sunscreen for the climate or activities they expect to do. The ideal thing should be to pick a sunscreen that offers both UVA and UVB protection.
Also, this being at least 15 on SPF (sun protection factor). Yet, for true sun safety, you really should be looking to use SPF 30 or above, with those of fairer skin tones and children using factor 40 or 50 sunscreen. Put on a broad-spectrum sunscreen with at least SPF 15 before you go outside. Don't forget to put a thick layer on all parts of the exposed skin. Get help for hard-to-reach places like your back. And remember, sunscreen works best when combined with other options to prevent UV damage. Most sunscreen products work by absorbing, reflecting, or scattering sunlight. They contain chemicals that interact with the skin to protect it from UV rays.
Hats and Sunglasses
As funny as it seems, really try to avoid straw hats with holes that are so famous in Mexico. These hats let sunlight through the holes and aren't very protective. A darker hat may offer more UV protection. For lots of face protection, you can wear a hat with a brim all the way around that shades your face, ears, and even your neck. Also wearing a regular baseball cap helps! But when using this type of hat don't forget to protect your ears and neck too.
Water
It is also important to keep yourself hydrated. Many people get dehydrated in their daily lifestyle without even realizing it! Imagine how it can be in a climate as hot and humid as in Cabo. Some forgetful attitude can become a heatstroke. While having a margarita by the beach don't forget to keep your fluids up. Keep in mind that alcohol actually dehydrates you, thus increasing the risk of sun dehydration. Feel free to have a drink, just make sure you hydrate with regular water while doing so!
Sun safety in Cabo requires proper clothing
In Cabo, it's always important to keep covered as much as possible. Consequently, long-sleeved shirts and long pants can provide protection from UV rays. Clothes made from tightly woven fabric offer the best protection. Furthermore into sun protection, don't forget about sunglasses. This is underrated protection for your eyes. These will reduce the risk of sight problems that can develop over time. And they also protect the tender skin around your eyes from sun exposure. Sunglasses that block UV rays offer the best protection. A wet T-shirt will offer much less UV protection than a dry one, and also darker colors offer more protection than lighter colors. If wearing this type of clothing isn't practical, at least try to wear a T-shirt or a cover-up every time you can. Keep in mind that a typical T-shirt has an SPF rating lower than 15, so use other types of protection as well.
Tours, cruises and other activities
Cabo offers has an ample range of tours and cruises for you to choose from. And, although as relaxing most of these activities can be you'll still be under the sun for plenty of time. And in these adventures, you should keep always in mind that your skin health its a must. As such, you should be aware of your skin and body's health. Furthermore, for this, we've written even more recommendations for you to keep the fun in the way of a proper sun safety in Cabo.
Be careful with the sun
Be prepared for any trip or tour. Always, make sure you have sunscreen with you. And, don't forget it should be constantly applied at least every two hours. Even more constant than that if you've been swimming much! In activities in the water like snorkeling, it's always important to make sure you're fully covered by the sunscreen. Every part of your body should be well protected as you'll be spending long periods face down in the water. And, although lobsters have a nice tasty color, I'm sure you don't want that same color over your back. You definitely want to take the proper sun safety in Cabo!
Drink lots of water
Once again, it's good to remember to stay hydrated. This is essential and luckily you can find water everywhere you go to Cabo. Many cruises, for example, offer tasty snacks and drinks to help you stay refreshed. Really there's nothing wrong with having a beer but it's important to always keep drinking water every other beer. This will keep your fluid levels always restored. Avoiding this simple way heath strokes and hangovers the next day
Stay in the shade
We all want to be as close as we can to these new exciting adventures. But, is important that we try to stay under a shady spot from time to time. Find it first and then use it! This will greatly help to avoid skin sickness or damage.
Now you know there's nothing that can get in the way of your time in Cabo. Follow these simple steps and enjoy without worries everything Cabo has to offer. Be careful with your health but most important, have fun!
Cabo Sailing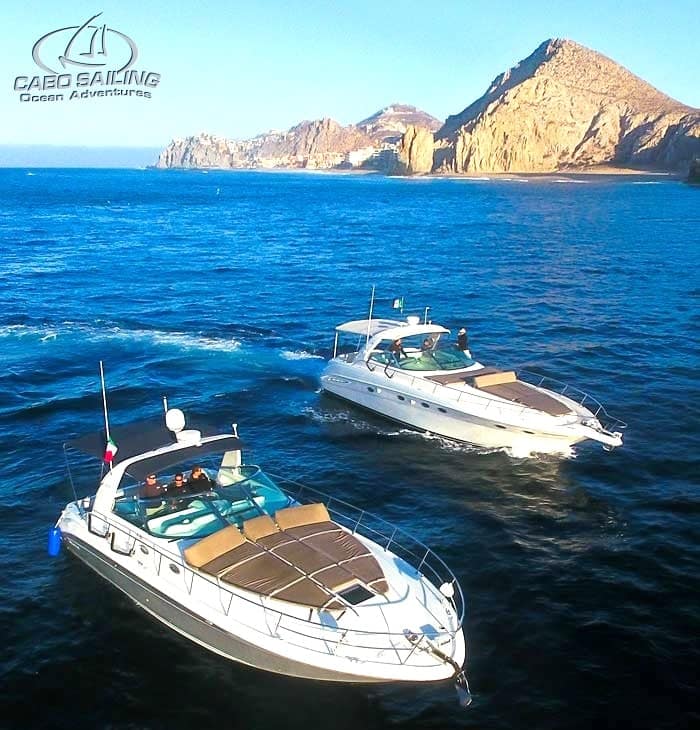 Relax on a comfortable yacht while your captain navigates the enchanting waters of the Sea of Cortez and the Pacific Ocean.   To elaborate, enjoy an array of incredible sailing experiences including day sailing, diving, sunset cruises, whale watching and visiting great locations like El Arco de Cabo San Lucas.  And, consider a cruise for family reunions, romantic cruises, or celebrating an event.
Cabo Sailing operates only with well-equipped, high-end luxurious sailboats and yachts.  All their vessels come with custom-made padded lounging areas, large shaded seating, and other amenities to make your experience safe, fun and comfortable.  Also, Cabo Sailing has over 10-years of experience in the waters around Los Cabos, so you can be assured of having the best and safest adventure.
To inquire or to book a sailing adventure, click CONTACT CABO SAILING to send us a message.  We'll get back to you right away!