Land's End in Cabo San Lucas is one of the main attractions that you should definitely visit.  It's a natural rock formation carved by time and the erosion from the Pacific Ocean and the Sea of Cortez.  And, It's one of the emblematic highlights around for sure.  This is a place only accessible by boat, that upon arriving beside the impressive views you'll find another pleasant surprise:  Colonies of sea lions!  These friendly animals have turned this place into its home.  It's a smart choice in such a beautiful environment.  So, keep reading and learn more about meeting Sea lions in Cabo!
In such calm waters with an imposing beauty, this is an amazing experience.  Come see a colony of sea lions in Cabo that reign under a blue sky over the rocks.  As you approach this place, you'll start to hear the howls becoming louder.  Then, the sea lions will approach the boat to say hi.  Undoubtedly, this is an incredible experience for everyone, especially the little ones!  Therefore, live the adventure of being surrounded by these friendly mammals and see them take some sun and rest on the rocks.  Meet and greet the sea lions in Cabo!
Sea lions in Cabo
If you're traveling to Los Cabos, this tour is a must on your itinerary.  Sea lions are aquatic mammals that usually inhabit diverse marine environments, from warm to cold waters.  In Mexico, there are four types of sea lions and Cabo has all four of them!  You'll be able to see playing around in the water, seals, California sea lion, sea elephants, and thin-skinned sea lions. Don't miss out, put on your snorkeling gear and jump into the water as you explore and swim around these friendly mammals.
Sea lions generally inhabit and migrate in packs.  This characteristic has become a peculiar attraction for all of those who are interested in getting close to these beautiful animals.  Two birds one stone, getting close to sea lions and enjoy the marvelous landscape.
Getting close to these beautiful mammals
Sea lions are attracted to bays and warm coasts with calm waters.  It's because of this that the Sea of Cortez has become the home to several colonies in the Cabo region.  When you visit these friendly mammals in Land's End, you'll easily notice how they're accustomed to visiting travelers.  They've become sociable and friendly animals.  Sometimes they even pose for pictures!  They seem to enjoy the company of people, so you should be very respectful of their ecosystem and colonies.  It's because of this sociable behavior characterizing them that helps them adapt easily to live around every comfortable rock they can find.  Also, notice that they're very intelligent animals, think of them as sea dogs, with the same comparable charisma.
Tips to identify age and sexes of Sea Lions in Cabo:
Adults: Males are huge, almost seven feet long sometimes and weighing around 850 pounds.  They also have a ''crest'' that stands out almost 2 inches at the top of their heads.  Females, on the other hand, are about a third smaller than males and do not have the crest.  Also, females are of a lighter brown color than males.
Younglings: Sea lions that are one to three years old may look like females because of their lighter color and their smaller size, identifying without getting mixed up, can get complicated.  But hey, it's a start!
Calves: These are unmistakable for their small size, which is around 20-30 inches, and for their location. You'll always find them not far from the shore, as they're not very good swimmers just yet.
So, better be ready with binoculars and a good camera, because you'll want to have something to remember this experience, for life.  Take on this great adventure, if ecotourism is your thing and you enjoy nature, don't miss this opportunity.  This is the adventure of a lifetime with marine mammals and amazing landscapes.  Don't miss out, meet and greet the sea lions in Cabo!
Cabo Sailing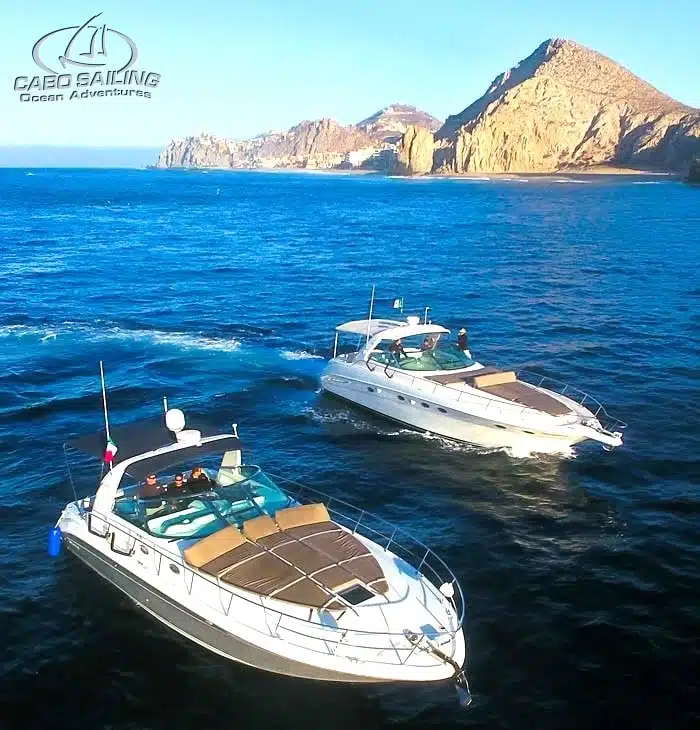 Relax on a comfortable yacht while your captain navigates the enchanting waters of the Sea of Cortez and the Pacific Ocean.   To elaborate, enjoy an array of incredible sailing experiences including day sailing, diving, sunset cruises, whale watching and visiting great locations like El Arco de Cabo San Lucas.  And, consider a cruise for family reunions, romantic cruises, or celebrating an event.
Cabo Sailing operates only with well-equipped, high-end luxurious sailboats and yachts.  All their vessels come with custom-made padded lounging areas, large shaded seating, and other amenities to make your experience safe, fun and comfortable.  Also, Cabo Sailing has over 10-years of experience in the waters around Los Cabos, so you can be assured of having the best and safest adventure.
To inquire or to book a sailing adventure, click CONTACT CABO SAILING to send us a message.  We'll get back to you right away!