During winter and early spring, it's the perfect time for you to plan a visit to Cabo.  You'll be coming down during prime whale-watching season.  The best months to visit this beautiful city for this activity are from December to April.  And, the Sea of Cortez becomes a birthing spot for the Humpback and Gray whales during this time.  These whales are raised in the cold waters of the Arctic sea during the summer.  And then, they'll make their way down to Baja California to nurse their young.  So, don't miss the opportunity to go Cabo whale watching.  And, see them swimming freely in the warm waters of the Sea of Cortez.
Keep reading to learn everything you need to know.  And. discover the best tips for your Cabo whale watching experience.
Be prepared, schedule ahead of time
First things first:  Schedule your Cabo whale watching tour as far in advance as possible.  These tours are often in high demand.  This is due to the short period of time that these creatures offer a wonderful opportunity for Cabo whale watching.  See them before they head back home in early spring.  So, if you're looking forward to this activity, schedule your vacation to Cabo during these months.
Cabo offers the best sailing experience too.  So, choose your favorite tour with Cabo Sailing.  They offer snacks, an open bar, and a highly trained crew.  Therefore, this is your opportunity to get close to these magnificent creatures on a whale watching tour accompanied by the experience of the sailing personnel in Cabo San Lucas.
Whales are beautiful and graceful beings you surely don't want to miss sailing along with.  Secure your tour place early and avoid the crowds!
Group Cabo whale watching expeditions
Humpback whales and Pacific Grays migrate to the Sea of Cortez in Cabo to breed their calves every winter.  A lot of people are very interested in this unique activity and, because of this, Cabo offers a variety of safe and fun whale watching tours.  These tours leave from the Marina in Los Cabos, sailing from there to Pelican Rock.  Once in Pelican Rock, visitors can swim and snorkel in the beautiful blue waters to see the bright tropical fish reefs and then head on to whale watch.  There'll be plenty of whales during this time of year, sometimes there's no need to go far deep in the water to get to see them.
No crowds, private Cabo whale watching tours
There are also private tours available if you prefer going on your own or with your family and friends only.  You can easily see whales near the shore during winter, so your boat will not have to go far offshore.  You can also choose to get more out of your whale watching tour adding snorkeling or a sunset sail to the trip.
Make sure you keep whales unbothered as they come close to the boat.  The boat's engines are turned off and sails will be used so that you can follow the whales and get closer to them ensuring a breathtaking experience.  Every whale tour crew is highly trained, they'll teach you about the behavior of the whales and much more fascinating facts.  They're aware too of the importance of respecting nature and guaranteeing the safety of their passengers.
The best recommendations for your Cabo whale watching experience
You're probably wondering what you need to do to enjoy at its best this experience.  The most important thing you can do when you're whale watching is:  don't forget to follow all the important instructions from your guide and crew members of the boat you are in.
Enjoy this experience to the max
Your boat's crew will know what the weather conditions are going to be like, and they can advise you where to sit and how to act around the whales.  Every crew will always make sure that the whales aren't being threatened. They know how to approach these large creatures without invading their territory and making them get defensive.  You don't have to worry and, the best advice to give is:  Look for this unique experience and schedule a whale watching trip as soon as possible, and don't miss out!
Some useful tips for your whale watching tour:
Use sunscreen on exposed skin, and make sure to reapply often
Wear sunglasses that offer adequate UV protection.  This can also help you see the whales better!
Make sure you have taken the proper health precautions and you have had the right vaccinations before traveling, if applicable.  The Centers for Disease Control website will be able to guide you with health advice for your specific destination.
Protect your camera, if carrying any.  Take plastic bags to protect your camera by wrapping it when it is in your camera bag.  Use a lens hood and protective filter to avoid water damage from splashing waves.  When you're not using your camera, make sure that you keep the lens cap on it.
Do not approach whales if you're swimming, snorkeling, or kayaking.  Although they aren't aggressive animals, they're very big and powerful, so they could cause serious injuries if they slap their tails or breach.
Don't get too close to the rails on the boat, nor lean over the sides.
Always respect nature and obey any instructions that are given by the crew. The crew is highly trained and will teach you to respect whales and other wildlife.
Don't forget these tips and recommendations, and I can promise you'll have the most amazing time enjoying this once-in-a-lifetime experience: Cabo whale watching!
Cabo Sailing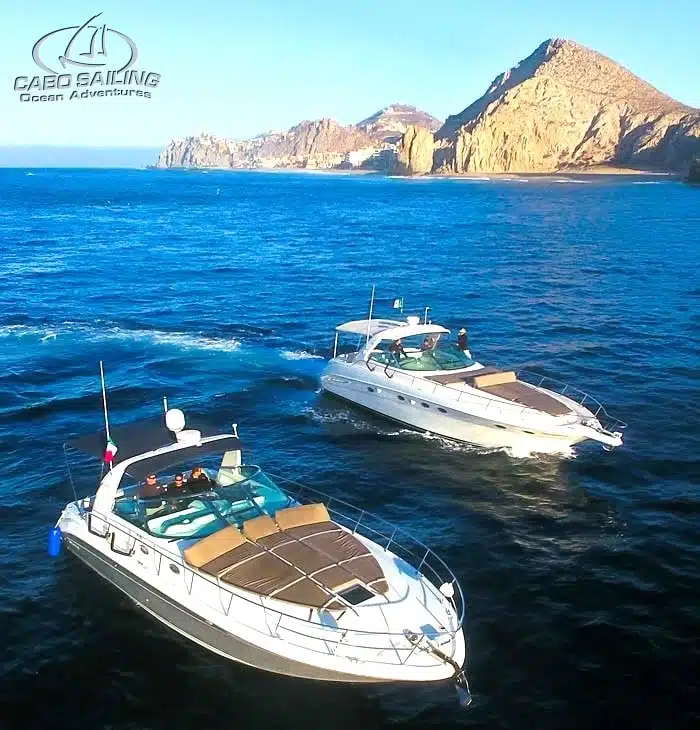 Relax on a comfortable yacht while your captain navigates the enchanting waters of the Sea of Cortez and the Pacific Ocean.   To elaborate, enjoy an array of incredible sailing experiences including day sailing, diving, sunset cruises, whale watching and visiting great locations like El Arco de Cabo San Lucas.  And, consider a cruise for family reunions, romantic cruises, or celebrating an event.
Cabo Sailing operates only with well-equipped, high-end luxurious sail boats and yachts.  All their vessels come with custom-made padded lounging areas, large shaded seating and other amenities to make your experience safe, fun and comfortable.  Also, Cabo Sailing has over 10-years of experience on the waters around Los Cabos, so you can be assured of having the best and safest adventure.
To inquire or to book a sailing adventure, click CONTACT CABO SAILING to send us a message.  We'll get back to you right away!