So you know you want to go to Cabo San Lucas, but when should you plan your trip? Each time of year has its benefits and drawbacks — learn more here.
Best Time to Visit Cabo San Lucas
If you are planning a trip to Cabo San Lucas, you are probably wondering when would be the best time to take your trip. You can decide when to travel based on the activities available at different times of the year, or based on how crowded or expensive the area will be.
December to April
If you plan on a visit to Cabos from December to April, you can expect to encounter heavier crowds and higher prices. During this time of year, the area sees temperatures in the mid-70s.
As the season nears an end, the temperatures are climbing up to the mid-80s. Rates for a hotel room in the area range from $300 to $600 per night at some of the more popular resorts in the region.
Spring breakers make their way to the area during March and April via Baja, California, so finding a place to stay in downtown Cabo can be even more challenging during those months.
If you are planning to visit Cabo San Lucas for watching the whales then you must visit during the December to April period.
This is the time when the whales return to the waters off the coast during their annual migration.
During this period, you will also have the opportunity to experience various festivals. For example, the San Jose festival is in mid-March and the Semana Santa is in April.

May through June
Cabo San Lucas is in its best during the months of May and June. If you manage to book early, you can get some of the best discounts during this short period. The wintertime crowds will have left and it is still early for the summertime storms. and for the other part, storms season has passed, heavy crowd has yet to arrive. As such, you will end up getting good deals and escape the crowds.
To get the best rates, start your hotel search by late winter. The springtime temperatures are comfortable, with the average spring temperatures in the mid-80s.
Additionally, you can visit during early May for the famed Cinco de Mayo festival, and the GastroVino Baja Food and Wine Festival is also held during May.
July to September
When the summer months approach, there is a slight chance for a hurricane. Rainy days are a sure thing from July to September, and the temperatures are not ideal unless you like it extremely hot and humid. During this time of year, the area often sees temperatures in the 90s.
One advantage is the summer discounts. Even some of the highest end resorts offer their best deals during this time. By late September, the worst of the hurricane season has concluded.

October and November
As the peak season is approaching, the hotel rates start increasing. To save money, book a few months in advance. You could end up with room rates as high as the winter rates if you don't plan accordingly.
As this time of year is the prime season for blue marlin, sailfish, tuna, and wahoo, it is the time of year when many fishing tournaments are held in the area, which in turn, will bring in more people and reduce the number of rooms that are available.
However, if you love fishing, this is your prime time!
Things to Do in Cabo San Lucas
Swimming
Swimming is one of the most popular pastimes in Cabo. However, you must understand that swimming is limited to the safe swimming spots away from the Pacific undercurrents, which can be deadly if underestimated.
Nonetheless, there are still quite a few places where you can swim in peace. Lover's Beach and Medano Beach are the two top choices in Cabo San Lucas, while Santa Maria, Chileno and Palmilla bays are wonderful peaceful spots to swim as well.

Scuba Diving and Snorkeling
If you are looking for something a little more exciting and interesting than a swim, then grab your gear and head underwater. Cabo San Lucas is famed for its scuba diving and snorkeling spots. There are a number of these spots spread all over the coast. Diving gives you the opportunity to get up and close with the bountiful marine life here.
Hire a Luxury Yacht
Yachting is another popular activity in Cabo San Lucas. Hiring a yacht for the day can make your trip a lot more memorable. A yacht can take you to all the beautiful places around the coast including the magnificent El Arco.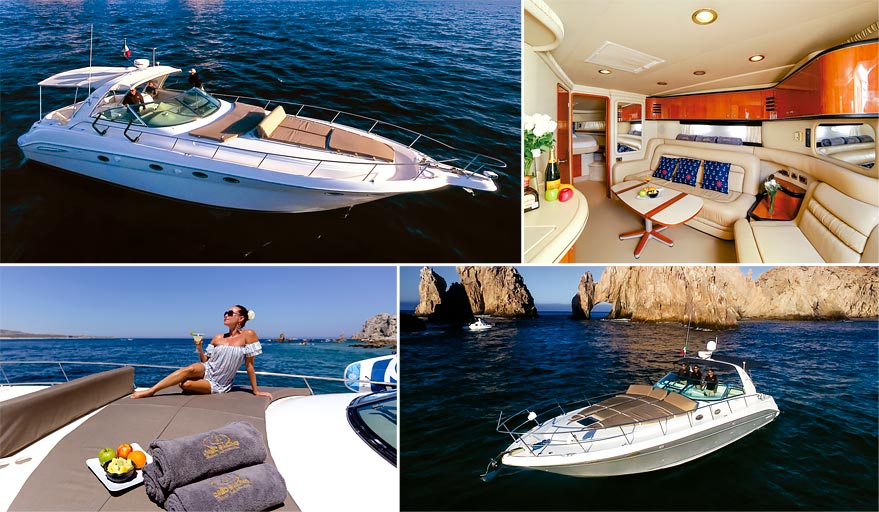 Additionally, you can dive down directly from the yacht, provided you are an experienced scuba diver or have an instructor with you. Of course, the luxurious yachts add a level of comfort as you take in the sights.
Explore Nature
Cabo San Lucas and the neighboring areas are brimming with the gifts of nature. From coral reefs in the seas and arroyos in the outskirts, there are a lot of natural sights to see and experience. Of course, the beaches are spectacular as well.
Pump Up the Adrenaline with Water Sports
There are several exciting water sports in Cabo San Lucas that you can try apart from scuba diving and snorkeling. You can head out on a jet ski or opt for parasailing. SUP (stand up paddling) is another adrenaline-pumping activity that you can try.
Visiting Cabo San Lucas at the right time will give you the opportunity to participate in all of these activities. However, you need to plan out all the details in advance so as to get the best.
Plan Ahead for The Best Experience
Make sure you plan your trip for a time when you can do the activities that you most enjoy, and book your room as far in advance as possible to secure the best possible rates.
With the proper planning, you can have a fantastic, stress-free vacation on your visit to Cabos San Lucas.
Booking your activities in advance can also help you save a considerable amount on your vacation as well. If you are considering a visit to Cabo San Lucas, contact Cabo Sailing Ocean Adventures to book some activities for your family during your stay.
You can enjoy sailing, sunset cruises, scuba diving, and snorkeling adventures throughout the year.