If you're looking for the best bars to have a drink in Los Cabos, you've come to the right place.  There are three different ways to have a drink in Cabo, and the way you do it will depend on where you go.  This beautiful place in South Baja, where the strong Pacific meets the beautiful Sea of Cortez, provides many drinking options.  First, there's Cabo San Lucas, which offers you an incredible Cabo nightlife.  then there's the tourist corridor that stretches for about 20 miles between Cabo San Lucas and San Jose del Cabo that offers a more classy vibe, with upscale resorts, bars and restaurants.  Then, you'll find San José del Cabo, with distinctive places with their own personality and culture.
Are you looking for the place where most tourists go to drink tequila with loud music?  Cabo San Lucas is your best option!  Are you trying to find some craft beer and artisan mezcal accompanied by some jazz music in the background?  San José del Cabo might be your best choice.  Read on to get the low down.
The coolest places to have a drink
No matter what your decision is when going for some drinks in the Cabo region, you'll find exactly what you're looking for.  Here I'll list some of the best bars to hang out and have some drinks the local way, when down in Cabo.  Hang around these spots long enough, and you might even consider living there full time!
The Rooftop at the Cape
As your day on the beach comes to an end, you can keep enjoying the sight of Cabo San Lucas and its famous rock formation "El Arco ", from this building six-stories-high.  Clearly, giving you the perfect view of the coastline, this rooftop terrace with lush greenery, flowing fountains, and sunken lounge with a fire pit creates a relaxed communal vibe.  With a bar and a beer garden on its premises, expect a variety of regional handcrafted beer and cocktails.  The 360-degree view the Rooftop offers is unattainable by no other means than visiting this one-of-a-kind place, it's definitely worth the visit!  Enjoy best on the weekends with live music and a DJ making music until two a.m.
La Lupita is one of the best bars in Cabo
Taco joint and mezcal bar, it can't get better than this, right?  Found in the heart of the art district in San José del Cabo, La Lupita has its gastronomy representing the flavors of Mexico.  Offering a like-no-other experience of the best quality food, all kinds of tacos of course, and showing off some local producers of wine and mezcal.  Undoubtedly these are two things that make a mixture that goes along perfectly for a night out, mostly if you consider yourself an adventurous eater.
Don't worry about going wrong with this place, as you'll find visitors and locals visiting this colorful Cantina.  With a great mezcal list on its menu and a fine selection of traditional taco options, make out the perfect combination for yourself.  Eat, drink and enjoy the music on its patio from Tuesday through Saturday and don't forget to make a reservation!
Drift San José mezcal bar
Located in the hearth of the Drift,  a boutique hotel in San José del Cabo, this tasting bar features a large selection of rare artisan mezcal, microbrewery beers and wines from all over Baja.
Let yourself be surrounded by this minimalist dream.  With its white walls, cozy illumination, and an open-air mezcal bar into the courtyard of the Drift, it'll make you feel just like in a very stylish backyard party.  Choose from a huge variety of small batches of mezcal and get to know the local vibe with the people coming and going in this quiet retreat, as it is more known by its locals than tourists.  This place is open only on Thursdays and Saturdays for the public.  You can tell the exclusivity!  Definitely, one of the best bars in Cabo with its pleasant and welcoming vibe.  Enjoy a different pace while going out in this very chic mezcal bar.
Mixology at the best bars in Cabo
This weekend-only bar it's the place to be if you're looking for a dancefloor to move your feet, but not quite to go crazy with the music.  Mixology Fusion Bar has the concept of a secret club, with a secret location and admittance with a password.  It has become a hip place to be in San José del Cabo's art district.  It creates an environment of seduction from the vibe the exclusivity gives you.  The privacy and safeguard of the house is a trademark of the place.  Nevertheless, don't worry too much about forgetting the password after too many mezcal shots someplace else!  The clandestine spirit in Mixology is not as fussy as you'd think.  So, don't get overwhelmed by the privacy of the place and enjoy this one-of-a-kind experience in San José del Cabo.
Cabo Sailing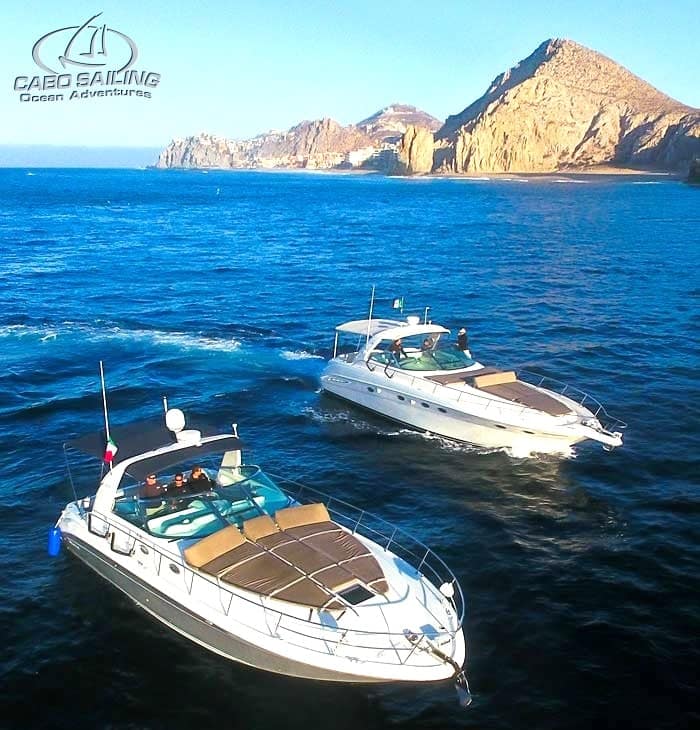 Relax on a comfortable yacht while your captain navigates the enchanting waters of the Sea of Cortez and the Pacific Ocean.   To elaborate, enjoy an array of incredible sailing experiences including day sailing, diving, sunset cruises, whale watching and visiting great locations like El Arco de Cabo San Lucas.  And, consider a cruise for family reunions, romantic cruises, or celebrating an event.
Cabo Sailing operates only with well-equipped, high-end luxurious sail boats and yachts.  All their vessels come with custom-made padded lounging areas, large shaded seating and other amenities to make your experience safe, fun and comfortable.  Also, Cabo Sailing has over 10-years of experience on the waters around Los Cabos, so you can be assured of having the best and safest adventure.
To inquire or to book a sailing adventure, click CONTACT CABO SAILING to send us a message.  We'll get back to you right away!