Fishing is one of the activities you can do all-year-round in Cabo.  And, different seasons offer different advantages and opportunities.  So, discover how to enjoy the wealth of endemic species all around Land's End when fishing in Cabo.
Due to the fame of the Los Cabos region as the nirvana for fishermen, its popularity has grown exponentially over the past few decades.  In this post, you'll uncover the reasons to go to Los Cabos for some serious sport fishing!  And most importantly, you'll learn why fishing in Cabo is a must.
Fishing in Cabo
The Cabo region started as small fishing villages.  It's been nature's gem, offering amazing fishing opportunities for anglers from around the world.  And, Its unique aquatic ecosystem makes it the most diverse in the world!  On one side, you have the beautiful Sea of Cortez.  On the other side, you can't miss the majestic Pacific Ocean.  You'll find the Baja California peninsula surrounded by prolific waters that fuel immense marine wildlife.
Being now a very accessible fishing destination, the Los Cabos region has become a place to try your hand at some world-class fishing.  Whether you decide to fish onshore or offshore, these waters will promise you a bountiful day almost every day while fishing in Cabo!
Reasons why you must go fishing in Cabo
To anyone lucky enough to experience these waters in person, there's something you'll notice right away.  The southern tip of Baja California has various ways of leaving the visiting anglers breathless.  Even if you're highly experienced, the draw of fishing in Cabo is huge!
You won't be able to fish anywhere else the way it's done in Cabo.  So, keep reading to see why.
The weather and natural landscapes
An ever-popular location like Cabo is always receiving crowds daily.  The main reason:  great weather.  With its amazing warm weather, its beautiful beaches, the familiar atmosphere, and the gorgeous landscapes, Cabois a piece of heaven.  Among the glittering waters, fishing in Cabo is also a travel experience all on its own.  You'll be amazed by the incredible views.  And don't forget to take a close look at the magnificent fish hiding beneath the surface of the Sea of Cortez or in the Pacific Ocean.
The fishing grounds
Remember, you'll be fishing in the Sea of Cortez, which is extraordinary.  To explain, it's the most prolific bodies of water in the world.  Or, you might decide to go fishing in the Pacific Ocean.  this is the biggest ocean in the world with an enormous diversity in marine wildlife.  There, you'll find over 5,000 species of fish, mollusks, and crustaceans.  In contrast, both bodies of water have their own special attributes.  They make them the perfect fishing ground, not only for Los Cabos but for the world!  Give these two different challenges a try as soon as possible.
Tons of fish to choose from when fishing in Cabo
As mentioned before, fishing in Cabo is great for more than just regular fishing.  The sea and ocean there both offer amazing number opportunities for anglers.  The most popular fishing species you'll find are Dorado fish, Roosterfish and Yellowfin tuna.  Just tell the ship captain what you're interested in fishing.  They'll surely know the best places to catch them!  Furthermore, Los Cabos is also known as the "Marlin capital of the world."  You'll find striped, blue and black Marlin in great numbers!  As you can tell, Cabo delivers many fishing opportunities.  It's important that you check the fishing calendar for more information about the seasons to find the specific fish you're looking for.  The endless variety of species makes it an easy and fun spot to spend an unforgettable time at sea!
Easy fishing regulations
In case you're new to fishing in Cabo, it's important to understand fishing permits and regulations.  Worry not!  It's a rather easy permit to get and rules are straightforward.  The sport-fishing license is mandatory for any non-resident 16-years or older. You'll find the corresponding office to do so on any pier you're planning visit.
The permit prices are around eight-dollars a day, 21-dollars a week and 35-dollars for a full month.  Although, if you're going on a fishing charter, worry not, as most of the time your ticket will cover the licensing for the people on board.  However for fishing from shore, you'll not require any permit.  You just have to be careful to throw in your fishing line from a safe distance of at least 250 meters (820 feet) from any swimmers.
If you haven't gone fishing in Cabo, you're definitely in for a special treat.  Find yourself in one of the most exciting vacation spots and the best place to fish in Mexico.  Now you know why Fishing in Cabo is a must.
Cabo Sailing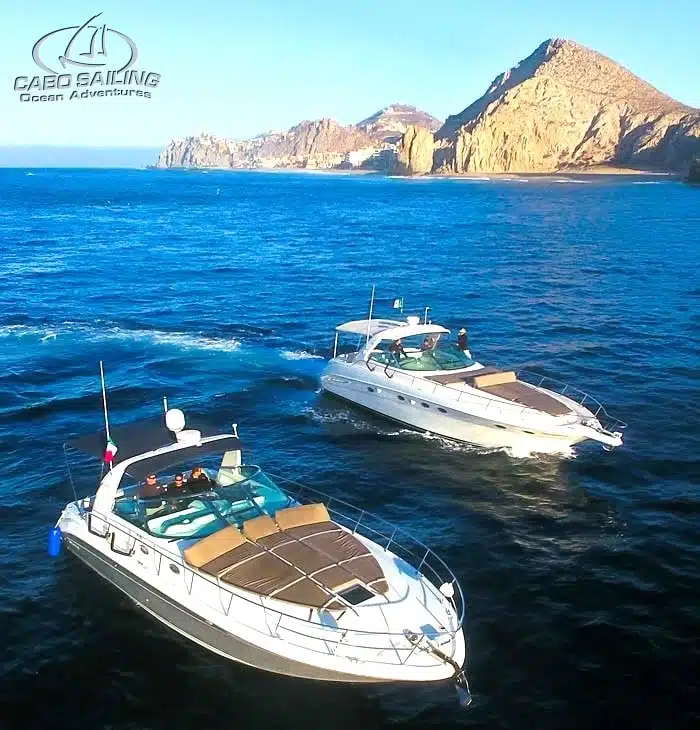 Relax on a comfortable yacht while your captain navigates the enchanting waters of the Sea of Cortez and the Pacific Ocean.   To elaborate, enjoy an array of incredible sailing experiences including day sailing, diving, sunset cruises, whale watching and visiting great locations like El Arco de Cabo San Lucas.  And, consider a cruise for family reunions, romantic cruises, or celebrating an event.
Cabo Sailing operates only with well-equipped, high-end luxurious sail boats and yachts.  All their vessels come with custom-made padded lounging areas, large shaded seating and other amenities to make your experience safe, fun and comfortable.  Also, Cabo Sailing has over 10-years of experience on the waters around Los Cabos, so you can be assured of having the best and safest adventure.
To inquire or to book a sailing adventure, click CONTACT CABO SAILING to send us a message.  We'll get back to you right away!