Cabo San Lucas is greatly known not only for the beauty of its beaches and the amazing city vibe it surrounds you with.  It is also known for the wild partying that goes on in this place, the safe and fun good old partying.  If it's this last part you're specifically looking for, besides dipping your feet in the sand and enjoying the marine wildlife of the Sea of Cortez, then this is a post you'll want to read, as I'll remind you what's so great about a Cabo San Lucas Spring Break.
City's culture
The communities around Cabo are beautiful, there's no denying that.  When you visit, you'll get an idea right away as to how people live in this region. Keep in mind that they are not only tourists; it is their homes and their lifestyle.
Glorious weather for a Cabo San Lucas spring break
Mexico is known to have warm steady weather throughout the year.  And, Cabo is no exception.  Above all, it's simply perfect for a Cabo San Lucas spring break.  The weather is warm enough and not uncomfortably hot. Added to all this, don't forget the nice breeze of the sea which calms the heat.
Tacos and beer
If you travel to Cabo for spring break, you'll find the food to be the best gastronomical experience you've ever had.  Simple, delicious, and fresh, this is a way you can describe fish tacos or just about any kind of tacos.  The seafood that you'll find there also is finger-licking good!
Beach time on your Cabo San Lucas spring break
The beaches around Cabo San Lucas are extremely seductive.  You'll fall for them the very first second you visit them.  The white soft sands where you can sun-bathe are irresistible for everyone, especially in spring break. You'll feel the sun rays amazing against your skin.
Unmatched Sunsets
The sunset there is something truly special you shouldn't miss to see in Cabo.  Prepare to be mesmerized by the view of the sun setting against the sea.  The beautifully colored skyline will be reason enough to take your breath away. Check out the Cabo sunset cruises so you can enjoy this view from the front row.
Local people
You'll find that Cabos' people are really kind. No matter if you're a local or a visitor, they are tremendously kind.  Locals want you to have a good time and will do anything to make it happen. And of course, some local party people could come across your way too.
Cabo San Lucas spring break pool party
As much as you love the ocean, you also get the opportunity to relax at a pool.  Swimming pools around Cabo are amazing, and there is a huge variety of sizes and styles depending on what you're looking for.  So, comfort yourself in calm waters during your Cabo San Lucas spring break!
Waves & waves
The waves of Cabo works for everyone.  Are you looking to surf?  Get deeper into the sea and ride the waves.  Do you want to swim safely in calm waters?  Keep yourself nearshore and enjoy the tranquility of the pristine warm waters to swim.  From the distance, you can still enjoy the waves with its crashing sound while you sunbathe in the tranquility of the sand along the coast.
Artsy place
If the enjoyment of art is your thing, don't doubt to look for the local artists and their studios around Cabo.  Talent and more talent is what you'll find to appreciate, compare and even buy if you're interested.  The art scene there is something like you've never seen before.  The unique colors, embroidery, and the quality of 100% Mexican art is something that you need to check out for yourself!
Its beauty in nature
The beautiful landscapes of Cabo will draw your attention to nature. You'll come across colorful flower fields that almost seem unreal.  Hike able mountains and rock formations out of this world too!  And, of course, you can experience the perfect and untouched coastal beauty.
Undoubtedly a great gateway for your spring break.  Now that you know the diversity of things that you can do in Cabo, I assure you, you'll plan to visit again soon!
Cabo Sailing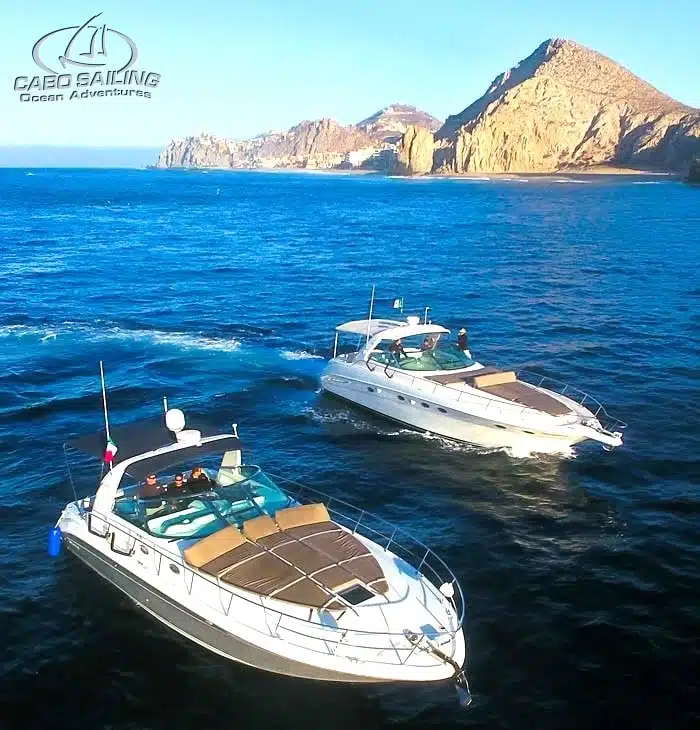 Relax on a comfortable yacht while your captain navigates the enchanting waters of the Sea of Cortez and the Pacific Ocean.   To elaborate, enjoy an array of incredible sailing experiences including day sailing, diving, sunset cruises, whale watching and visiting great locations like El Arco de Cabo San Lucas.  And, consider a cruise for family reunions, romantic cruises, or celebrating an event.
Cabo Sailing operates only with well-equipped, high-end luxurious sail boats and yachts.  All their vessels come with custom-made padded lounging areas, large shaded seating and other amenities to make your experience safe, fun and comfortable.  Also, Cabo Sailing has over 10-years of experience on the waters around Los Cabos, so you can be assured of having the best and safest adventure.
To inquire or to book a sailing adventure, click CONTACT CABO SAILING to send us a message.  We'll get back to you right away!