To visit the best vacation destination in Mexico, there are three ways to travel: driving, on a cruise ship, or fly to Los Cabos.  I'm talking specifically about how to fly to Cabo San Lucas, and in this post, we will focus on the fastest route to get there by plane.  What does the sixth biggest airport in Mexico have to offer and why is it one of the most recommended ways to fly to Los Cabos?  Keep reading and learn more about it!
Traveling to Cabo San Lucas
The three options to travel to Los Cabos, offer their own interesting pros and cons to look out for.  Driving offers a beautiful journey, but breaking down would put you in a tough situation with few services available.  A cruise ship has all the commodities so you don't have to worry about travel to Los Cabos, but it's mostly about your time on the ship than anything else.  You'll barely have time to experience the full extent of visiting Los Cabos.  That leaves us with the fastest way of visiting the region: flying to Cabo San Lucas. Flying to Cabo San Lucas is the best way to make the most of your experience, take it easy, and see all the Cabo tourist attractions in the area.
Now that you've decided to take a flight, let's go over the general information about the airport and flights. Furthermore, let's see what you can do with all the time saved flying to Los Cabos international airport.
Baja California Sur
The Baja California peninsula is the second longest in the world, measuring 775 miles in total length.  Being divided into two states this peninsula is Baja California Norte and Baja California Sur (North and South). The Los Cabos International Airport is on the southern tip of Baja California Sur.
What is the Los Cabos Region?
Los Cabos represents the fishing villages, which is now a place full of luxurious resorts, offering all kinds of services for the most exclusive clients. But, let's not forget that it all started as a fishing village founded Cabo San Lucas and San José del Cabo. Furthermore, together they shape the Los Cabos region. San José del Cabo is where you'll find the Los Cabos international airport.
The Sea of Cortez
As it was mentioned before how Hernan Cortez was considered the explorer that found Baja California for the first time, it's because of this that the sea next to it is called The Sea of Cortez.  It is considered the most biologically-diverse body of water on Earth and it extends almost to the US border.
In this amazing area, with its pristine waters, you can do all sorts of things like Cabo snorkeling and swim alongside exotic tropical fish.  If you're interested in fishing, there are a number of professional guides that will take care of you. While some visitors want to experience life under the ocean's surface, others are happy to embark on a Cabo boat tour and enjoy the culture of Los Cabos.
Los Cabos International Airport
Being the sixth largest airport in Mexico, Los Cabos International Airport receives about five million passengers a year. Over the years, that number has grown more and more!  There has been an increase of 15% in yearly passengers. The Los Cabos International Airport was renovated and expanded back in 1997. The Mexican architect, Manuel De Santiago-de Borbón González Bravo, expanded the airport so it has two terminals now. One operates the domestic national flights and the other one takes in all of the international flights. Feel at home and enjoy the facilities of the airport and the services within the Los Cabos International Airport terminals like:
Duty-free shops
ATMs
Currency exchange
WiFi
Luggage wrapping service
Disabled passengers' services
Car rental offices
Cabo VIP Lounges
If you must spend time within Los Cabos International Airport while traveling for business or pleasure, you must find the VIP Lounges. These offer a relaxing space to enjoy a soothing environment while waiting for your flight.  This spectacular place includes:
Private spa
Lounge area
Soda machine
Local and International drinks
Billiards table
There's so much to do in when you fly to Cabo San Lucas that you'll never want to leave. And getting into the amenities of the airport is only the beginning!
Cabo Sailing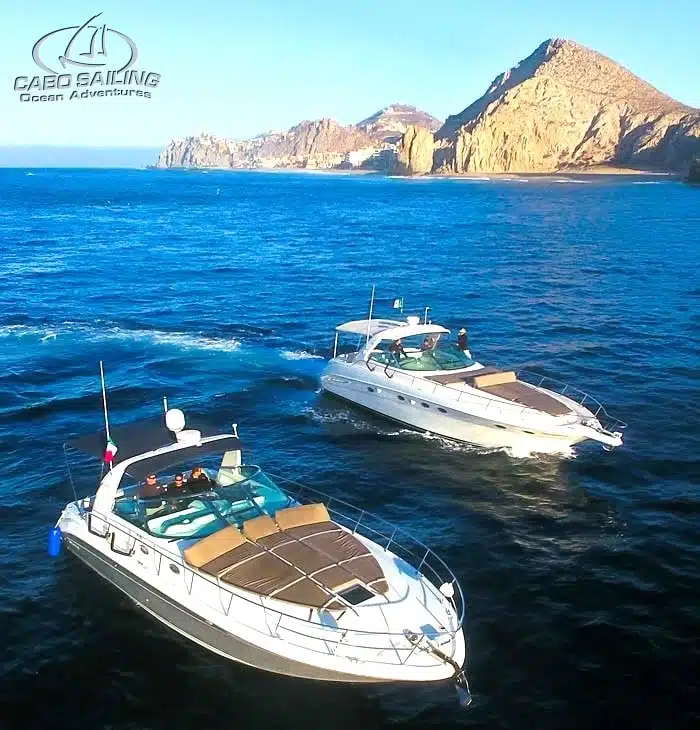 Relax on a comfortable yacht while your captain navigates the enchanting waters of the Sea of Cortez and the Pacific Ocean.   To elaborate, enjoy an array of incredible sailing experiences including day sailing, diving, sunset cruises, whale watching and visiting great locations like El Arco de Cabo San Lucas.  And, consider a cruise for family reunions, romantic cruises, or celebrating an event.
Cabo Sailing operates only with well-equipped, high-end luxurious sail boats and yachts.  All their vessels come with custom-made padded lounging areas, large shaded seating and other amenities to make your experience safe, fun and comfortable.  Also, Cabo Sailing has over 10-years of experience on the waters around Los Cabos, so you can be assured of having the best and safest adventure.
Book your Cabo boat tour today! Whether you want to go sailing in Cabo or take a private yacht in Cabo, we're happy to help with your unforgettable visit to Cabo San Lucas!