Todos Santos has lived a long time in the shadow of Cabo San Lucas. With a remarked contrast between cities, Todos Santos provides a superb distinction to the party vibe nearby. About one hour north of Cabo San Lucas, experience the outdoors.  Then, indulge in ecotourism like no other place.  Todos Santos is retreat from a stressful lifestyle.  And without a doubt, it's a heavenly place for those craving outdoor adventure.So, keep reading to learn more about the activities you can try in this beautiful place!
Whether you're up for some siesta or hungry dinner at a fine restaurant, Todos Santos has it.  Come explore miles of undiscovered beaches or take an extraordinary hike and kayak adventure. Then, surf, snorkel, scuba-dive, or go fishing. There's more than meets the eye. And surely, there's something perfect awaiting you in this magnificent place.
A brief history of Todos Santos
There was a religious Father named Jaime Bravo that back in 1723 established this southern-Baja location as ''Nuestra Señora del Pilar de La Paz''. It eventually grew into a mission named Santa Rosa de Todos Los Santos in honor of its benefactor, Doña Rosa de la Peña. At last, the mission was abandoned in 1749, and the town renamed to Nuestra Señora del Pilar de Todos Santos and pretty much kept the same population for the next 100 years.
How's Tourism?
It was in the early 1980s when tourism started to come down to this beautiful place.  It occurred after the Mexican government paved the Highway going from La Paz to Cabo San Lucas.  This same highway passes through Todos Santos, making it more accessible for everyone.  Ever since then, many artists, artisans, and craftsmen moved to this place for being an inexpensive city.  And, it's because of this that this rustic town became famous for arts and culture.  Besides, it's becoming a popular eco-friendly place for tourism.
Wildlife you can find in Todos Santos
The most remarkable species in Todos Santos is that of birds.  Its wonderful lineup of colorful flying friends is distinctive in the area.  You'll find there: oriole finches, western tanagers, northern mockingbirds, cactus wrens, hummingbirds, doves, turkey vultures, vermilion flycatchers, Cassin's kingbird, gilded flickers, blue herons, black-necked stilts, frigatebirds, osprey, and brown pelicans.  Definitely a bird watcher's paradise!  Also, in addition to the many birds, you'll see lots of insects.  No wonder why so many birds!  Reptiles are part of the Baja desert too.  And there are species of coyote, gray fox, raccoon, and bobcat.
With so much coastline, the Baja region is wealthy in marine mammals.  Be ready to see up to 7 species of whales.  Furthermore, sea lions, tropical fishes and dolphins are part of the environment around there.
Endemic flora of Todos Santos
Just for starters, there are approximately 125 plant species in Baja California that can't be found anywhere else in the world.  And, some of the most common desert plants in the region are Cirio,  Cardon, Century Plant, Ocotillo, Prickly Pear, Candelabra Cactus, Old Man Cactus, Barrel Cactus, Cholla Cactus, Creosote Bush, Datilillo, Elephant Tree, Organ Pipe Cactus, Palo Blanco, and Palm tree.
There's an interesting part of history in Todos Santos related to the flora of the region and farming.  This is that in the mid-19th century, Nuestra Señora del Pilar prospered for 100 years as a top sugar producer.  This provided great wealth for the area and made possible the construction of the wonderful colonial-style architecture you can enjoy today.  Unfortunately back then, a dry season ended with the sugar crop production in the 1950s, causing a massive financial decline in the region.  Searching for options in an economical lift, the farmlands were revived in Todos Santos, and a prosperous production of chili, avocado, papaya, and mango started successfully.
What to do in Todos Santos
The Baja peninsula is the place for several unique explorable eco-systems.   Throughout the year there are special activities you'd only be able to do there.  From whale watching to releasing turtles back to see, find your perfect fit and have a great time in Todos Santos.  Keep reading and learn more about what to do in Todos Santos.
Whale Watching
The best months to visit Cabo for this activity are from December to April.  The Sea of Cortez becomes a prime birthing spot for Humpback whales.  These whales will feed and grow in the cold waters of the Arctic sea during the summer, and then make their way down to the Baja peninsula to mate and nurse their young ones.  It's in spring, when the whales head north again, with their brood.  It's before they leave when you'll have the unique opportunity to see these majestic animals in their natural habitat.
Release sea turtles
Each summer, the beaches in Todos Santos are embellished with an amazing moment in wildlife.  Several turtle species, return ashore to make their nests and hatch eggs where more turtles will bear and make their way out to sea.  Volunteering for sea turtles in Todos Santos is the Eco-adventure of a lifetime!  Learn and help in the recovery of marine-wildlife in Mexico.  Volunteer along with experts and other people in data collection, nesting and incubation operations as you save the planet, one turtle at a time!
Cerritos Beach Club
Playa Los Cerritos is the most peaceful beach in Todos Santos.  And, for beach lovers, it embraces a special surfer vibe.  You can freely walk around, enjoy the soft shore, watch the sunset, and drink refreshing beverages while sunbathing, all in the same place!  This beach is your must-go-to for family gatherings, or just hanging out with friends.
Cabo Sailing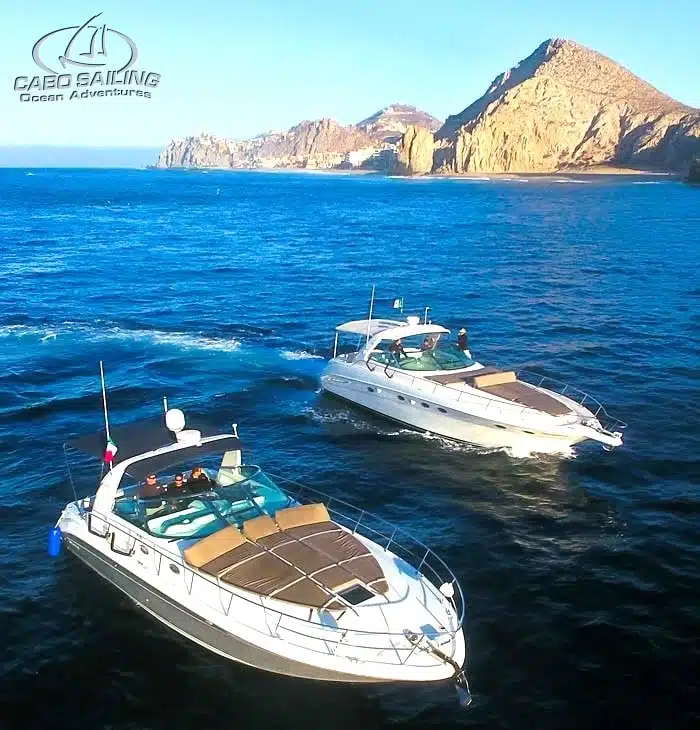 Relax on a comfortable yacht while your captain navigates the enchanting waters of the Sea of Cortez and the Pacific Ocean.   To elaborate, enjoy an array of incredible sailing experiences including day sailing, diving, sunset cruises, whale watching and visiting great locations like El Arco de Cabo San Lucas.  And, consider a cruise for family reunions, romantic cruises, or celebrating an event.
Cabo Sailing operates only with well-equipped, high-end luxurious sailboats and yachts.  All their vessels come with custom-made padded lounging areas, large shaded seating, and other amenities to make your experience safe, fun and comfortable.  Also, Cabo Sailing has over 10-years of experience in the waters around Los Cabos, so you can be assured of having the best and safest adventure.
To inquire or to book a sailing adventure, click CONTACT CABO SAILING to send us a message.  We'll get back to you right away!