In Cabo, there's a special place you shouldn't miss:  Chileno Bay.  This is an underwater paradise surrounded by undiscovered landscapes that only very few people have had the opportunity to experience.  Definitely, the adventure of a lifetime!  Keep reading and learn everything there's to know about exploring Chileno Bay in the heart of Los Cabos.
If you're already planning on going to Los Cabos, your schedule might include some adrenaline-filled activities.  Things such as surfing, kayaking, and snorkeling are a must when going there.  On the other hand, you could also be thinking about slowing your pace and chilling back.  Activities, like sunbathing, playing in the sand or just appreciating the sunset, must seem like a pleasant option.  Regardless of your plans, the great thing about Los Cabos is that it has it all.  More specifically, Chileno Bay is where you can do all of the mentioned above, all in one place.  Keep reading and discover what you could find and do in Chileno Bay, and have the greatest of your adventures in Cabo!
What makes exploring Chileno Bay so special?
The Foundation for Environmental Education is an organization that qualifies through some rigorous process, beaches, and reefs around the world to verify the high standards in terms of water and its cleanliness.  Awarding with a ''Blue Flag'' the organization grants the quality of these beaches.  In 2015  Chileno Bay obtained this Blue Flag certification and ever since people around the area receive management preparation, environmental education, security and the proper services according to the standards.  There are only 20 beaches in Mexico that have reached this certification.  No wonder why you should visit this incredible place once you're in Cabo.  Now you know what to expect when visiting Chileno Bay, and it's the unquestionable title that it's worth the fame of the place!
It's definitely one of the cleanest beaches in Mexico and with its pristine waters, there's so much you can enjoy here.  Don't matter if you like to kayak, snorkel or dive.  It's assured that this is another level of beach in Los Cabos!  It's one of the few beaches in Cabo San Lucas where you can gently swim on small waves or sunbathe in the white sand next to a palm tree.  Also, as part of the certification, you can feel sure to find safe and clean parking, palapas, toilets, and showers.  There are even lifeguards just in case!
Experience peace while exploring Chileno Bay
Tranquility and warm waters are the two things that characterize this special beach.  You and find it in the touristic corridor of San José del Cabo.  This beach is the perfect choice to visit and enjoy.  From the waves to ride surfing to the shade of palm trees to enjoy laying on the sand, there's an ample variety of things to try.  Being a beautiful bay near spectacular places like Cabo San Lucas, Santa María Bay, and Punta Palmilla, you should expect nothing but the best.
In this coastal paradise, you'll find too, incredible hotels providing the best services to visitors.  Your wellness is guaranteed!  Also, this is a beach that's perfect for diving and snorkeling because of its gentle waves and the crystal clear waters.  Visitors in this area love to take sunbaths while feeling the refreshing sea breeze.  With so many activities for you, discover Chileno Bay and enjoy one of the cleanest and most famous beaches in Los Cabos!
Local flora and fauna
The pristine waters of this bay are home to diverse marine wildlife.  With such an impressive coastline, the Bay is wealthy on marine animals.  Whales, sea lions, tropical fishes and dolphins are what you'll find on the environment around there.  It's because of the warm waters that different species feel attracted to the area.  Expect to see here pinto crabs, sea urchins, and lots of tropical fishes.  Very bright and colorful!  Outside in the contrasting desert reptiles are part of Baja too.  And there are species of coyote, bobcat and gray fox.
On flora, it doesn't fall short as you cand find up to 125 endemic species of trees, flowers, and bushes.  Some of the most common desert plants in the region are the Century Plant, Ocotillo, Prickly Pear, Candelabra Cactus, Old Man Cactus, Cholla, Creosote Bush, Datilillo, Elephant Tree, Organ Pipe Cactus, Palo Blanco, and the famous Palm trees.  On the sea, you'll find colorful seaweed floating to the rhythm of the waves underwater.  These species can't be found anywhere else in the world, that's what makes it such an amazing place.  Know it's up to you to live the amazing experience of exploring Chileno Bay in Los Cabos!
Cabo Sailing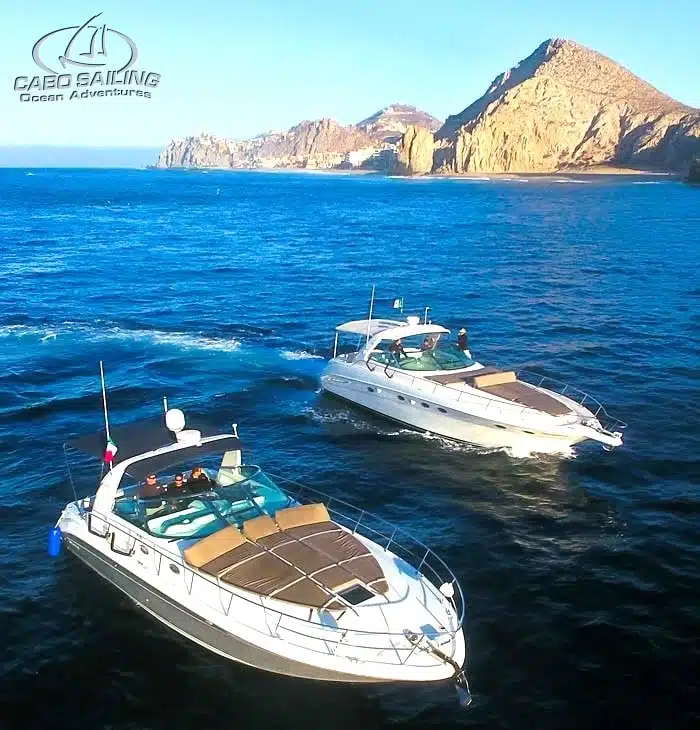 Relax on a comfortable yacht while your captain navigates the enchanting waters of the Sea of Cortez and the Pacific Ocean.   To elaborate, enjoy an array of incredible sailing experiences including day sailing, diving, sunset cruises, whale watching and visiting great locations like El Arco de Cabo San Lucas.  And, consider a cruise for family reunions, romantic cruises, or celebrating an event.
Cabo Sailing operates only with well-equipped, high-end luxurious sail boats and yachts.  All their vessels come with custom-made padded lounging areas, large shaded seating and other amenities to make your experience safe, fun and comfortable.  Also, Cabo Sailing has over 10-years of experience on the waters around Los Cabos, so you can be assured of having the best and safest adventure.
To inquire or to book a sailing adventure, click CONTACT CABO SAILING to send us a message.  We'll get back to you right away!