In East Cape, you'll find pristine white-sand beaches with world-class diving and fishing conditions.  Therefore, it's a popular destination for those seeking a rustic beachfront destination.  The cobbled streets leading to East Cape is a one-of-a-kind scenic drive in all of Cabo.  Not only this, but this dirt road passes dozens of virgin beaches for those who crave privacy and solitude.
Let the whimsical privacy of this secluded beaches surround you and make you feel as owning the place.  In simple words, some of these white-sand beach areas allow for limitless dress codes, if you know what I mean.  Just be careful avoiding deep-sand sections when driving around.  Getting stuck there can end up being a long pit stop until you find someone to help get you out.
Entertainment for everyone!
This untouched region has something special for almost anyone.  Either you're traveling with friends, family or even looking for a romantic getaway there's a little bit for everyone.  Let me tell you what's so special about this near-seal cape.
Diving at East Cape
Another great attraction developed in the past few years is snorkeling and diving, which are spectacular activities to do along the East Cape, especially at Cabo Pulmo National Park.  This marine sanctuary is home to eight species of live coral reef.  And, because of its protected status, Cabo Pulmo now boasts the highest concentration of marine life in the Sea of Cortez.  It even was called "The World's Aquarium" by Jacque Cousteau once, due to its huge biodiversity, the Sea of Cortez itself is the most biologically-diverse body of water on Earth.
Fishing at East Cape
Fishing at first was the original tourist attraction along East Cape.  Till the date, this region remains popular among ardent anglers.  Punta Colorada, for example, is one of the unique beaches.  It's perched above the surf overlooking the Sea of ​​Cortez.  And, it's known as the "roosterfish capital of the world."  Here you will find Bisbee's East Cape Offshore tournament.  A summer tradition in Buena Vista, for all the family, and of course, mostly for skilled fishermen to enjoy!
Rancho Buena Vista Hotel
The Rancho Buena Vista Hotel opened as a fly-in fishing resort back in 1952, and it was then when East Cape tourism began.  With a runway built next to the hotel special for all kinds of fishing techniques, bringing along a lot of fishing enthusiasts.  After opening, Rancho Buena Vista Hotel became a regular vacation spot for Hollywood stars like Bing Crosby, John Wayne, and Chuck Connor.  Even, President Dwight Eisenhower frequented this secluded hotel more than once.  After this, the word spread about this beautiful remote destination, making the East Cape area quickly grow in popularity.
At present, this historic hotel is a great place to stay for those who prefer a more rustic experience sticking to the countryside.  Although, if you're looking for a little merrymaking, there is an attractive bar to enjoy great cocktails on the beach too. Unfortunately, there is no restaurant at this location.  But of course, the views are magnificent, and the location is full of tranquility.  Therefore, this is a great location for those seeking vacation off-the-grid.
Cabo Sailing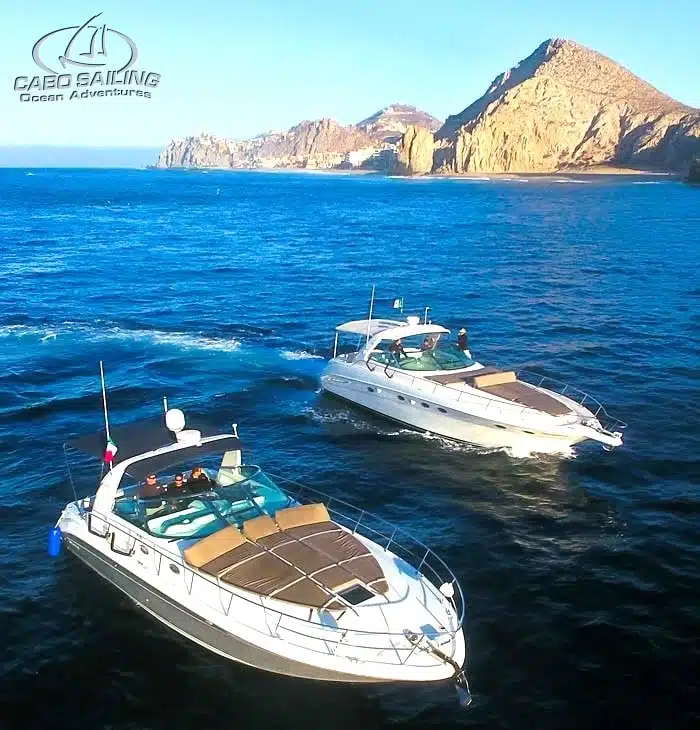 Relax on a comfortable yacht while your captain navigates the enchanting waters of the Sea of Cortez and the Pacific Ocean.   To elaborate, enjoy an array of incredible sailing experiences including day sailing, diving, sunset cruises, whale watching and visiting great locations like El Arco de Cabo San Lucas.  And, consider a cruise for family reunions, romantic cruises, or celebrating an event.
Cabo Sailing operates only with well-equipped, high-end luxurious sail boats and yachts.  All their vessels come with custom-made padded lounging areas, large shaded seating and other amenities to make your experience safe, fun and comfortable.  Also, Cabo Sailing has over 10-years of experience on the waters around Los Cabos, so you can be assured of having the best and safest adventure.
To inquire or to book a sailing adventure, click CONTACT CABO SAILING to send us a message.  We'll get back to you right away!