The Sea of ​​Cortez is one of the most fascinating bodies of water to explore.  With reefs, caves and sunken ships to around, it's not surprising that this Los Cabos has become one of the most popular diving destinations.  Here you can find some of the best places to dive just 15 minutes by boat from the Cabos' marina.  Since Los Cabos is located in the southernmost part of the Baja California Peninsula, here is the place where two important currents meet.  The Pacific Ocean and the Sea of Cortez enrich naturally the flora and fauna of the area.  Keep reading and learn more about the best places to snorkel and scuba dive in Cabo!
Known for its calm waters, this area has several attractions.   Find beautiful coral reefs, huge rock formations, and of course, the famous Arch in Land's End with a colony of sea lions included!  As it offers a large amount of plankton, this region attracts many animals.  And as such, when you practice diving or snorkel you'll be able to see all kinds of marine wildlife such as rays, sea turtles, sea lions, sharks, octopus, starfish, and many other colorful tropical fish.  Divers also love sand waterfalls, a natural phenomenon that houses exotic animals such as eels and lobsters.  Read more and learn about the best places to snorkel and scuba dive in Cabo.  Here we'll list some of the most popular dive sites in Cabo where you'll discover amazing places that are ready to be explored!
The best places to snorkel and scuba dive in Cabo
Snorkeling is the best way to get closer to colorful and vivid marine wildlife.  Warm and pristine waters on a sunny day are just perfect to explore the sea!  The Sea of ​​Cortez is full of biodiversity.  Its rich waters are home to more than 800 species of fish.  Furthermore, many are endemic, which means you can only find them here.  Definitely, this is a snorkeling and diving paradise!  You'll have to know first, that the best snorkeling and diving sites have:  calm and pristine waters and rock formations and reefs where marine life abounds.  According to this, here are some of the best places to snorkel and scuba dive that you can find in Cabo.
Santa Maria Bay
The Santa Maria bay provides large rock formations and ridges that lead to deep underwater canyons.  These large rocks and caves make this place the ideal diving spot.  Corals dance to the rhythm of the sea currents between the rocks, decorating the reef.  Expect to find various animals and invertebrate specimens along these rocks.  The bright colors of the royal blue and yellow damsels and the cuttlefish are like jewels in the rocks for you to discover.
Chileno Bay
Chilean bay is the best choice for novice explorers.  The great "finger reefs" arise from the bay for almost two miles!.   As here you'll find shallow waters, beginner divers can feel safer here.  Some of the fist you'll first see here will probably be the weakfish and the ''mulegino''.  These are very curious fish so they'll probably go and meet you!  Another very special fish to observe around is the yellowtail fish or the boxwood gulch. Although these are common in tropical waters, the variety that inhabits here is a unique endemic species.
Furthermore, brown eels and other types of eels love to make cracks in the reef their homes. It is always exciting to catch a glimpse of the elegant and winding moves of the eel.  Keep an eye out for the reef fish with its color and quantity, be surrounded by them!
What makes these sites the best for snorkeling?
First of all, The Sea of ​​Cortez is a meeting point for biodiversity.  As much plankton blooms to feed marine life, going from the giant blue whale to the microscopic kind too.  Masses of red krill have led to call the Sea of Cortez "the Vermilion Sea."  Some experts have positioned the Sea of ​​Cortez in the 6th place, of the 18 places that are most biodiverse in the world.  This happens because the Lower Peninsula mixes the best of two worlds.  Here where the Pacific Ocean collides with the Sea of ​​Cortez, a wonderful combination is made.  Maritime creatures of the open sea share currents with the unique animals that are only found in the Baja region.  Variety and abundance, what else can you ask for when you're looking to snorkel or dive?
Become a part of their world and enjoy the vast wilderness that the underwater environment offers.  Be ready to explore and live a once-in-a-lifetime experience. Discover the best places to snorkel and scuba dive in Los Cabos!
Cabo Sailing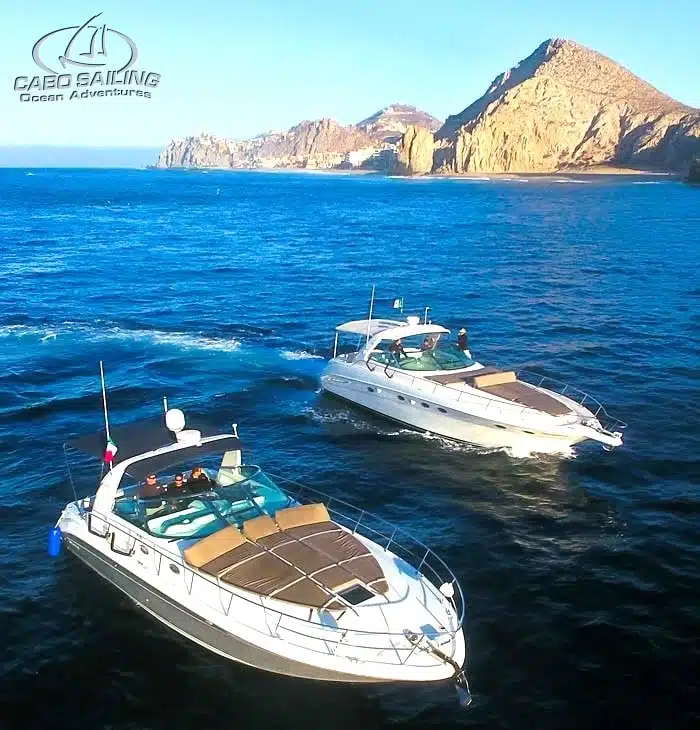 Relax on a comfortable yacht while your captain navigates the enchanting waters of the Sea of Cortez and the Pacific Ocean.   To elaborate, enjoy an array of incredible sailing experiences including day sailing, diving, sunset cruises, whale watching and visiting great locations like El Arco de Cabo San Lucas.  And, consider a cruise for family reunions, romantic cruises, or celebrating an event.
Cabo Sailing operates only with well-equipped, high-end luxurious sailboats and yachts.  All their vessels come with custom-made padded lounging areas, large shaded seating, and other amenities to make your experience safe, fun and comfortable.  Also, Cabo Sailing has over 10-years of experience in the waters around Los Cabos, so you can be assured of having the best and safest adventure.
To inquire or to book a sailing adventure, click CONTACT CABO SAILING to send us a message.  We'll get back to you right away!