Can you swim in Cabo? Absolutely! In this guide, we'll dive into the best spots to take a refreshing dip, explore key safety tips, and discuss the importance of Blue Flag beaches. Get ready to make a splash in Cabo's pristine waters!
On this article, click to go to the section:
As mentioned, yes, you can swim in Cabo. Cabo is well known for its water-based activities such as cruising, surfing, scuba diving, and snorkeling.
In regards to swimming, you actually need to be careful. Many of Los Cabos' beaches aren't safe to swim on, and entering the water is dangerous.
The beaches feature steep ocean-floor drop-offs, strong waves, and harsh undercurrents. These particular beaches are marked with red flags. Never attempt to swim in them, even if you pride yourself on your abilities.
However, while there are some challenges to navigate, it is still possible to swim in Cabo.
In this article, we'll discuss some of the issues and discover some of the top swimming-friendly beaches in the region.
Cabo's unsafe beaches are well-marked. Visiting those beaches, you'll see red flags, signs, or even manned by lifeguards. If you're unsure about the safety of the water check with the hotel staff or a local.
If you're not a strong swimmer or are anxious about swimming, consider joining one of Cabo's many snorkeling or scuba cruises.
The activity will take you to an area with safe, calm water. Experienced personnel will be present, will only point you to the safe waters, and will provide you with swimming aids.
Swimming Safety
To ensure a safe swimming experience, consider the following few factors:
Swim in Cabo with Marine Life
Cabo is well-known for its abundance of marine life. While largely safe, this factor needs to be considered before swimming. Cabo's coast is frequented by jellyfish and sea urchins as well as coral on the sea bed. Therefore, to avoid uncomfortable stings or scratches, water shoes and/or rash guard lotions are advised, especially for children.
Temperatures
In summer, the temperature of Cabo can reach into the 90s (Fahrenheit) with a humidity of 60% or more, which means it can feel even hotter with the heat index. This makes swimming even more tempting, as it is such a great way to cool off. However, it is important to always practice sun safety to make sure your holiday isn't spoiled by painful sunburn or heat stroke.
While it may feel cooler in the water, do not forget sun protection. These include hats and sunglasses. Do not forget to always take breaks in the shade and stay hydrated.
Reflections from the water increase the sun's rays. When you swim, you can be at greater risk of heat stroke and sunburn.
Sunscreen!
Using sunscreen in Cabo is essential, especially when swimming. Cabo's sun can be harsh, so you need to give your skin as much protection as possible, even on body parts like your legs and feet, which are underwater when swimming.
You need to select a sunscreen that is reef-safe with UVA and UVB protection. The minimum acceptable SPF is 15, but with Cabo's UV index, SPF 30-50 is much more suitable. Read the label on how often to reapply sunscreen to keep you protected.

Safe Beaches to Swim in Cabo
As mentioned, there are some great swim-safe beaches in Cabo San Lucas as well as further afield in the general Cabo region. Listed below are some of the top choices for tourists.
Médano Beach
Médano Beach, located in downtown Cabo, is the longest swimmable beach in the region. Perfect for first-time visitors and families, it offers a traditional resort feel with beachside bars and restaurants.
Lover's Beach
Lover's Beach, accessible only by boat, is a quieter and more peaceful option. Ideal for snorkeling, it provides a serene escape from bustling tourist spots.
Chileno Beach
Chileno Beach, situated near the resort and hotel area, offers good amenities like palapas, restrooms, and lifeguards. It's an excellent choice for a public beach experience.
Santa Maria Beach
Santa Maria Beach, known for its beautiful bay and crystal-clear waters, is perfect for swimming and snorkeling. It's a favorite among locals and tourists alike.
Palmilla Beach
Located in José del Cabo, Palmilla Beach is a short drive from Cabo San Lucas. With palapas available for rent, visitors should bring a picnic, as there are no restaurants nearby.
Cannery Beaches
Cannery Beaches, tucked away near the marina, offer a more local and authentic vibe. With fewer tourists, it's an ideal spot for a quieter beach day.
Cabo Pulmo Beach
Cabo Pulmo Beach is a pristine, swimmable beach situated within the Cabo Pulmo National Marine Park. It's known for its abundant marine life and excellent snorkeling opportunities.

Blue Flag Beaches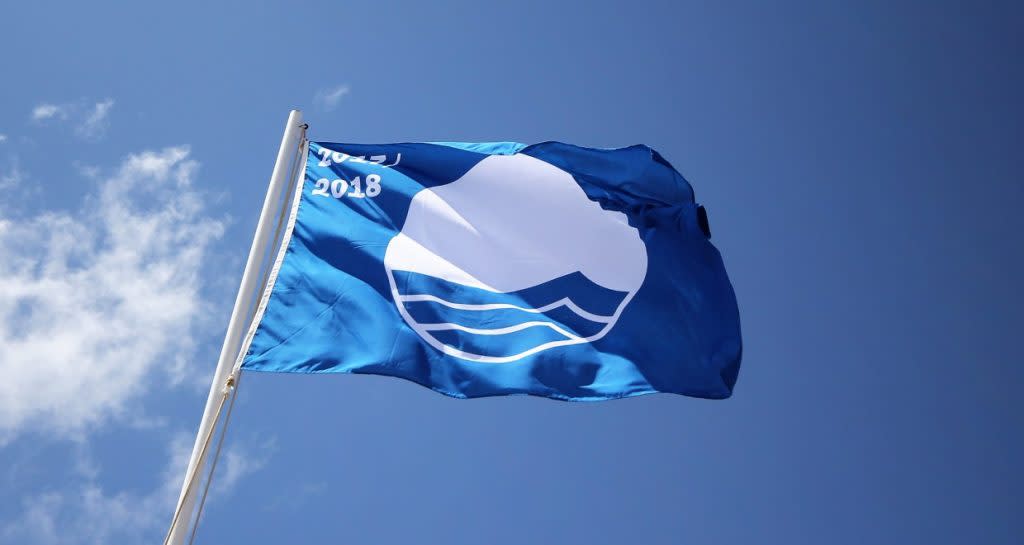 Blue Flag beaches are a symbol of excellence in coastal areas, ensuring that visitors can enjoy pristine waters, clean coasts, and the highest standards of safety and accessibility.
The Blue Flag program is operated by the Foundation for Environmental Education (FEE), a non-profit organization that promotes sustainable development through environmental education.
The FEE's Blue Flag program awards beaches and marinas across the world that meet strict criteria, which encompass environmental education and information, water quality, environmental management, and safety and services (Foundation for Environmental Education, n.d.).
Los Cabos Blue Flag Beaches
In Los Cabos, several beaches have been awarded the prestigious Blue Flag status, signaling their commitment to maintaining high standards of cleanliness, safety, and accessibility for all visitors.
These beaches are not only beautiful but also offer a high-quality experience for tourists and locals alike. Some of the Los Cabos Blue Flag beaches include:
Médano Beach: This popular beach is known for its calm waters, making it an ideal spot for swimming and water sports. Medano Beach also offers excellent facilities, including bars, restaurants, and restrooms.
Chileno Beach: Located near the hotel and resort area, Chileno Beach is a public beach with amenities such as palapas, restrooms, and lifeguards. It is a popular spot for snorkeling and enjoying crystal-clear waters.
Palmilla Beach: Situated in San Jose del Cabo, Palmilla Beach offers a more tranquil experience away from the hustle and bustle of Cabo San Lucas. Although there are no restaurants on-site, palapas are available for rent, and visitors can pack a picnic to enjoy on the beach.
By choosing to visit a Blue Flag beach in Los Cabos, you can be confident that the beach meets the high standards set by the Foundation for Environmental Education, ensuring a safe and enjoyable experience for all. For more information on the Blue Flag program and to find other Blue Flag beaches worldwide, visit the FEE's website 1.
[Foundation for Environmental Education. (n.d.). Blue Flag. Retrieved from Blue Flag Global]
Dive In and Enjoy!
With a few safety considerations, a day at the beach complete with swimming is possible in Cabo.
Whether you're looking for the holiday resort experience at Medano Beach, a more authentic experience at Palmilla Beach, or the best of both worlds at Chileno Beach, there is something for everyone.