Are you planning to host a bachelorette party in Cabo San Lucas or another distant destination?  Well, you've come to the right place.  In this complete guide, I'll help you through the process step-by-step.  Then, I'll show you how to finalize your plan and document your itinerary for everyone.  So, read on to learn exactly how to plan your getaway, wherever you choose to go.
Planning your bachelorette party in Cabo is difficult, especially if you're not sure where to start or what to prepare.  How do you decide on what to do?  And, how do you organize it?  When there's a group, organization is paramount if you want to get it right. Remember, this is a once-in-a-lifetime bash.  So, make sure you get it right ahead of time so your bachelorette party in Cabo will go swimmingly.
So let's begin…
Pre-planning your bachelorette party in Cabo
Start by gathering all of the important information that you'll need to determine what will work for everyone.  This part of the process is tedious, but very important.  So, let's get this out of the way first.  Then, we'll start planning your bachelorette party in Cabo San Lucas.
Setting the date for your bachelorette party in Cabo
All of the bride's maids and all of the friends and family who'll attend must each be available at the same time – there may be scheduling conflicts to address.  Therefore, make sure you set the date carefully so everyone can make it.
Write down three possible dates for your bachelorette party in Cabo.  Then, present your schedule options and discuss them.  And be confident.  You're in charge with planning this bash, so take charge from the beginning.  All of those who'll attend will give the bride-to-be their utmost priority.
Surveys help you make the best plans
Document everyone's preferences and requirements before you start your bachelorette-party planning.  In other words, ask each attendee the following questions:
What is your budget (if each person pays their own way)?
Do you have any food preferences?
What are your drink preferences?
Are you susceptible to motion sickness?
Should you bring anything specific like medications?
What are your three favorite activities listed in this post?
Also, what are your three favorite destinations listed in this post?
Now, take a few minutes and think about each attendee, one-at-a-time.  Then, write down any additional questions you can think of before you call them. Next, take good notes during your conversations.  Finally, look for commonality as best you can.  This'll help you determine where to go and what to do when you get there.
Important note:  Always remember that you're in charge of planning the bachelorette party in Cabo.  And, this excursion is all about the bride-to-be.  So, make sure her priorities are your priorities.  Then, take charge and don't let the other ladies interfere or jump in to help unless you're sure it will go well – planning by committee can be a total nightmare.
Finding the right flight to Cabo
If you're interested in maximizing funds for your bachelorette party in Cabo San Lucas, consider ways to save money on your flight.  To begin, I'll provide you with money-saving options that'll allow you to easily compare fares.  Then, read about the international airport in Cabo, which is located in San Jose del Cabo.
Money-saving options
Traveling is like a game of Twister.  For instance, when you travel is just as important as where you travel. In fact, your specific flight time can mean the difference of hundreds of dollars in airfare alone.  So, It's a good idea to be flexible.  Just think of it as saving more money for your bachelorette party in Cabo, which is the point of the trip.
When you use Hotwire, you usually get the best price.  And, they allow you to compare prices with other sites like Travelociity and Expedia.
Los Cabos International Airport
The Los Cabos International Airport was renovated and expanded back in 1997, providing two excellent terminals, Terminal One for the domestic flights in Mexico, and Terminal Two to handle all of the international flights.  And, air traffic has been increasing year-after-year, so they keep them nice and well-staffed for your convenience.  There, you'll find a wide variety of facilities and services within the terminals, like duty-free shops, WiFi, currency exchange, and other services.
Inside the terminals, there are VIP Lounges that offer a relaxing space to enjoy a soothing environment while waiting for your flight or to get your bearings before heading to your bachelorette party in Cabo San Lucas.  There, you'll find a private spa, lounge area, local and international drinks, and a billiard table.
To learn more about Los Cabos International Airport, check out Los Cabos International Airport: Fly to Cabo San Lucas for fun in the sun.
Pre-flight considerations
Be sure to call both your bank and your credit-card company to let them know where and when you'll be in Mexico.  That way, when you use either card, they won't get frozen with a security hold.  And, be sure to ask everyone in your group to do the same.  Nobody likes calling that 800 number on the back of their card to answer ALL of those questions confirming their identity, especially during an awesome bachelorette party in Cabo.
What to bring & what to buy once you arrive
Since this is a Bachelorette party in Cabo, it's a mission.  Your mission is to make sure the bride-to-be has the time of her life in Cabo San Lucas before she walks down the aisle.  Also, you'll be a tight-knit group who should stand out when you're there.  That means you all need to match.  And, that means you should be prepared ahead of time, so she won't be left wanting for anything during your excursion.
Start by asking the bride-to-be what is on her list of must-have items and what is on her off-limits list.  Then, follow the suggestions below to complete the list of supplies you'll need while you're spending your bachelorette pary in Cabo.
Bachelorette-party wardrobe and accessories
This is the fun part!  From matching swimwear and casual clothing to formal wear, the bride-to-be and her posse need to stand proud, together, no matter where you go or what you do as a tight-knit group.  And, the bride needs to stand out.  So, all of the ladies should either completely match or closely match and the bride-to-be should match in style, but not in color.
When you shop for the wardrobe items, try to keep the color scheme in line with the bride's wedding colors.  Usually, there are two primary colors for the wedding theme.  Then, pick a white or mostly-white version of each article for the bride-to-be.  Lastly, consider labels.  It's fun to put labels like "Bride" right on the swimwear, t-shirts, and accessories.
Accessories
Regarding the accessories, consider purchasing matching handbags for everyone.  Also, from head bands and waist bands to scarfs, accessorize with matching flare and put labels on those too.  And don't be afraid to be a little cheesy.  There will be other bachelorette parties in Cabo too, and they'll stand out similarly.  That way, you'll know who to mingle with when you're there and even make some new friends along the way.
Items to have on-hand while you're in Cabo
Some items should be purchased ahead of time and brought with you on the flight to Cabo.  But, you should travel light and buy some things once you arrive.  And fortunately, there's a Walmart on the way to Cabo San Lucas, from the airport.  So, make sure you stop there, no matter how tired you may be from your flight, or no matter how ready you are to start the bachelorette party in Cabo.  Having everything you need on hand, ahead of time, allows you to maximize the fun and minimize the stress.
Decorations
Make sure you buy decorations.  Custom decorations should be purchased ahead of time and brought with you.  But, Walmart carries many good decorations, so be sure to buy some for various occasions during your bachelorette party in Cabo.
Photo shoots need to happen often, and bachelorette-party photos should be decorated as much as possible.  So, keep this in mind for your hotel room, under the canopy on the beach, and other places you visit.  When you take the time to decorate before your little photo shoots, your lifetime of memories will be even better.
Games
Most bachelorette parties include games.  Be sure to plan for this ahead of time.  And, either bring some games with you or put them on the shopping list for when you arrive.
Creating your comprehensive itinerary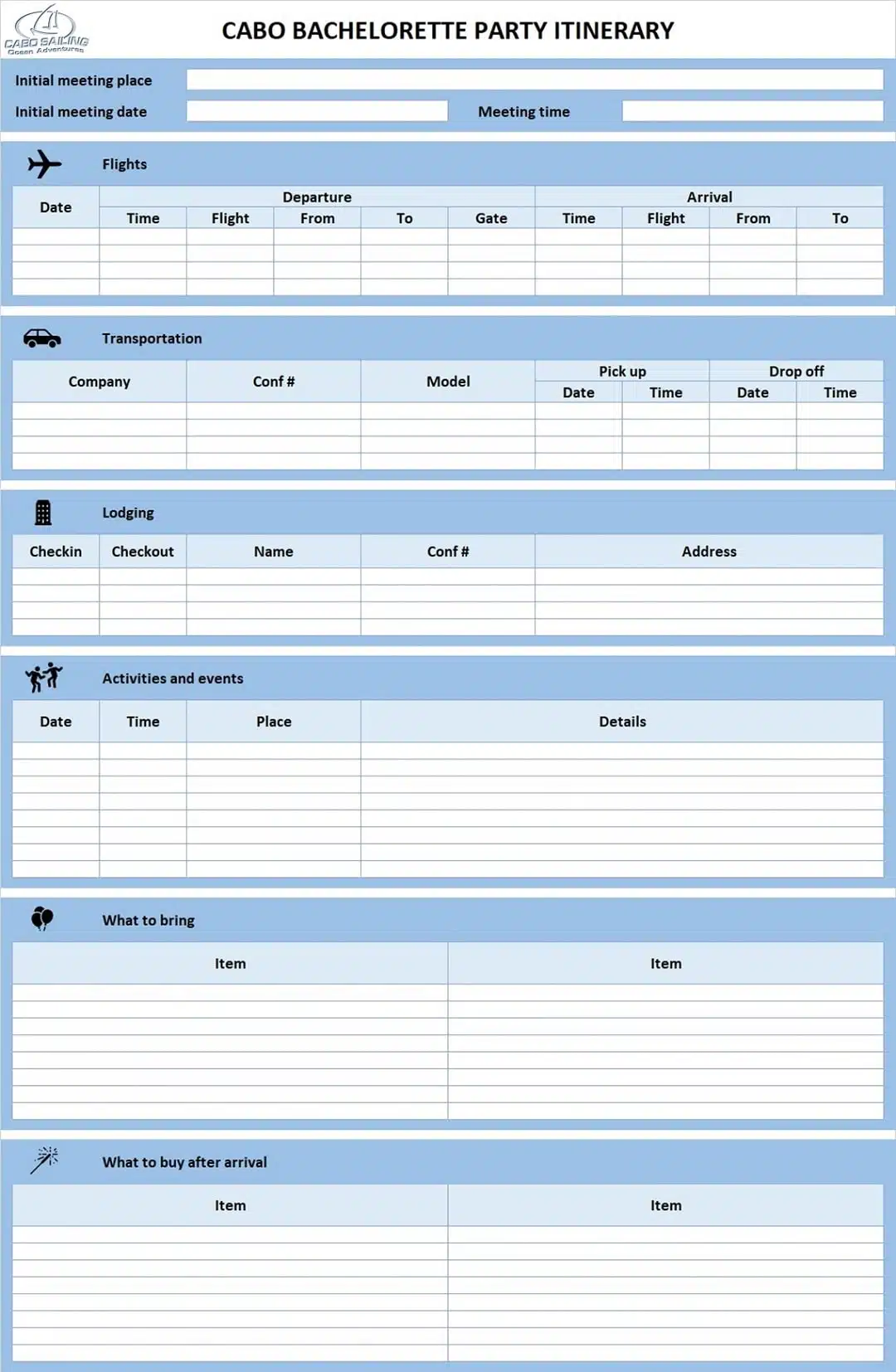 Simply put, an itinerary documents all of the information you'll need during your bachelorette party in Cabo, all in one place.  It's a carefully-choreographed mix of everything you'll be doing and everywhere you'll be going while in Cabo San Lucas.
So let's get started…
Flight information
Put this at the top.  And, be sure to include both flights to and from Cabo.  Lastly, it's a good idea to list everyone's name for reference.
What to bring on the flight to Cabo
Now that you've determined everything you'll need on-hand during your bachelorette party in Cabo, carefully list each item to bring with you on the flight right on the itinerary.  Then, double-check with each attendee before departing.  Literally, have each lady open their suitcase and show you the items they're supposed to bring.  There's nothing worse than remembering that you brought something but discovering that you didn't.  So, confirm, confirm, and then confirm by actually looking.
What to buy when you arrive in Cabo
This will be the next line-item on your itinerary.  List every item you wish to purchase once you arrive in Cabo.  Shopping lists eliminate memory problems.  After your group arrives in Cabo, it'll be hard to remember specifics.  So, be prepared ahead of time.
Transportation info
Whether you'll be renting a van or arranging for transportation, make sure you determine this ahead of time.  Then, document the details in your itinerary.  And, be sure to include transportation to every place you'll be going.  Finally, check availability and make reservations ahead of time so you don't end up stranded anywhere in Cabo.
Lodging details
On this itinerary item, document the name, address, local phone number, and the name that the reservation is under.  Include a small map image too.  This will ensure that everyone has their home location documented, just in case anyone steps off the beaten path and gets lost.  Also, make sure every lady has their own room key.
Schedule
This section of your itinerary has two purposes.  For one, it's your calendar for the bachelorette party in Cabo.  But also, it details each place you'll go and each activity you'll be doing together.  So, put names, addresses, days and times for each and every item on your schedule.
Emergency information
Document everyone's emergency contact information along with any medical requirements like prescriptions.  Then, include information about where to go in Cabo if there's ever a medical need.  Find some good information about medical care in Cabo by reading:  Los Cabos medical care: Discover the wealth of healthcare options in Los Cabos, Mexico.
Gather all funds ahead of time
One of the easiest ways to handle your bachelorette-party finances is to ask each attendee to pay up front for everything:  hotel, meals, transportation, activities, and all of the items you'll be purchasing before you leave and after you arrive,  That way, you'll have the funds available at all times.  And, you won't have to ask anyone for money after your bachelorette party in Cabo is over.
Where to host your Cabo bachelorette party
Now that you've gotten through the most tedious part of planning your bachelorette party in Cabo, it's time to work on your most important task: Deciding where to stay.  First, there's an important question to ask yourself and the entire group:  Do you want this to be like a slumber party, or does everyone want their own room.  The answer should be simple…SLUMBER PARTY!  But, that may not be the case with your group.  So, just keep this in mind when considering what rooms to book.
Check out Top five places to stay in Cabo San Lucas to help you decide on where to spend your bachelorette party in Cabo San Lucas.
What to do in Cabo San Lucas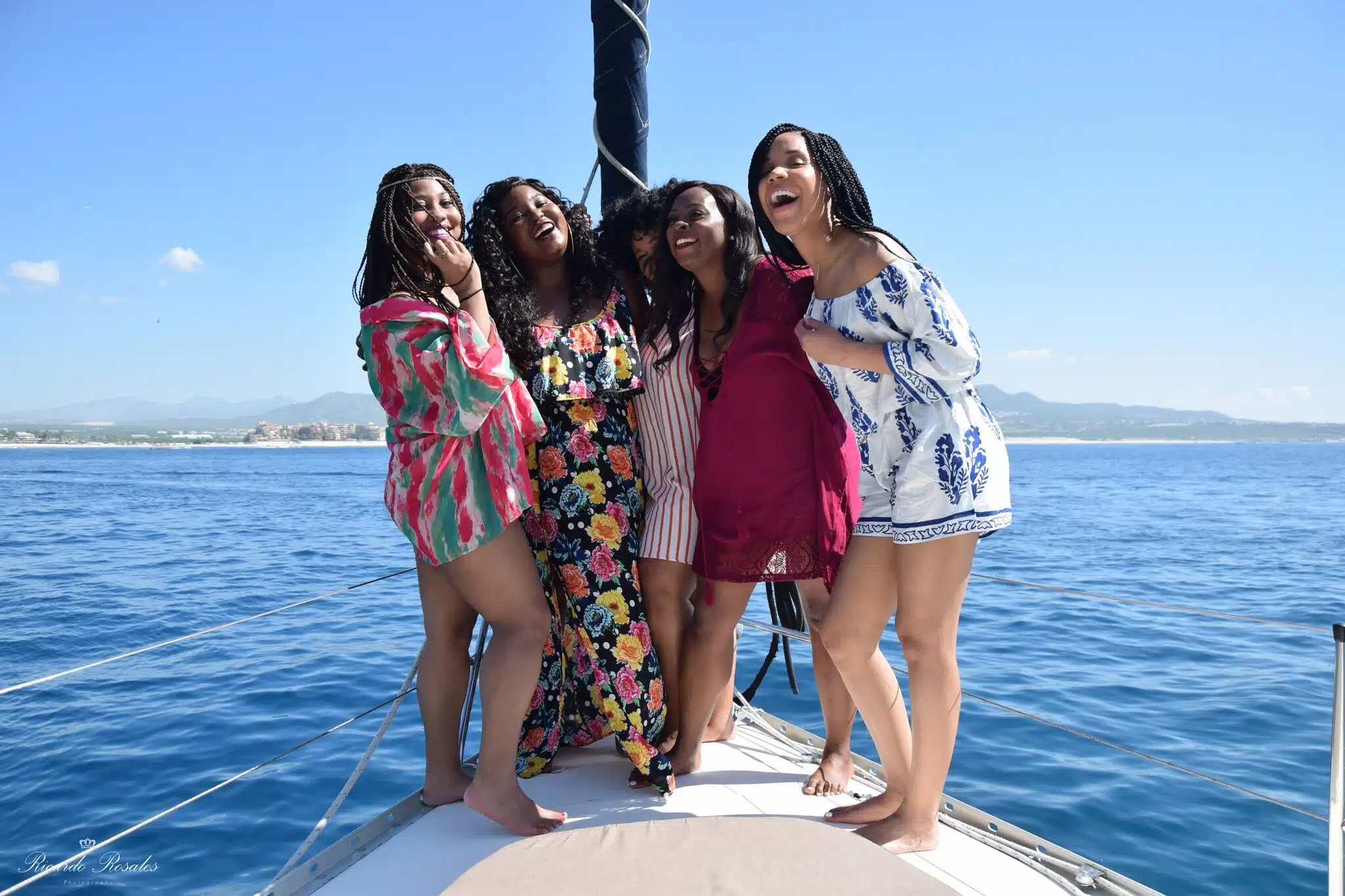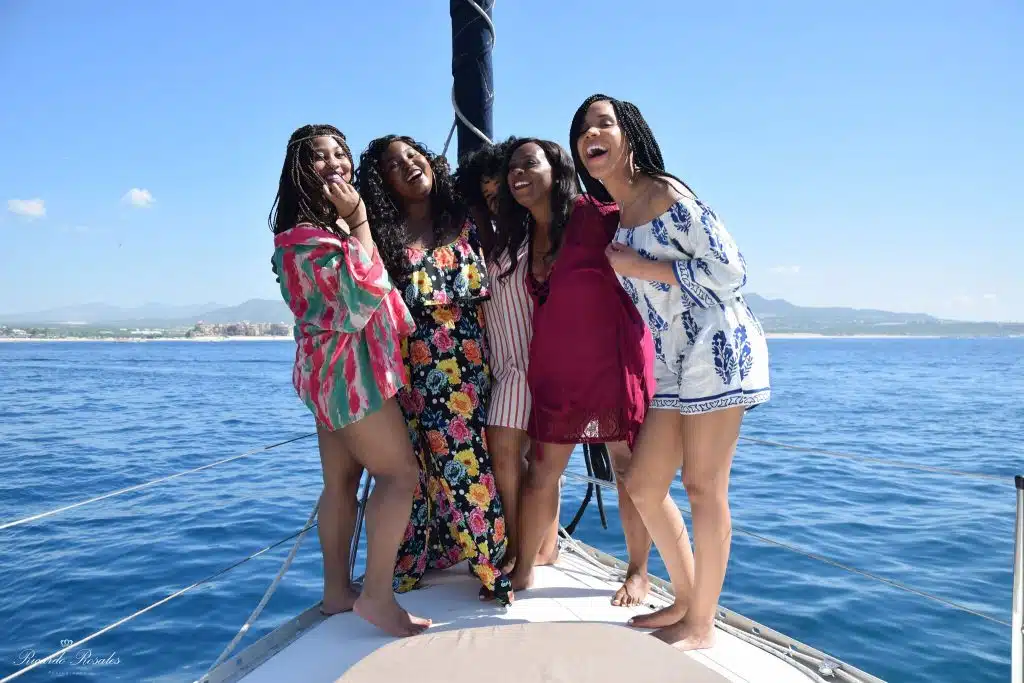 Now for the best part.  Where to have fun, where to eat, and where to dance the night away during your bachelorette party in Cabo.  Below, you'll find links to posts that detail the best things to do, the best places to eat, where to dance the night away, and the best places to stay while you spend your bachelorette party in Cabo San Lucas.  So, be sure to check those out to see your best options.
For more great options in Cabo, take a look at: The top five exciting things to do in Cabo San Lucas.
Where to eat and enjoy the fiesta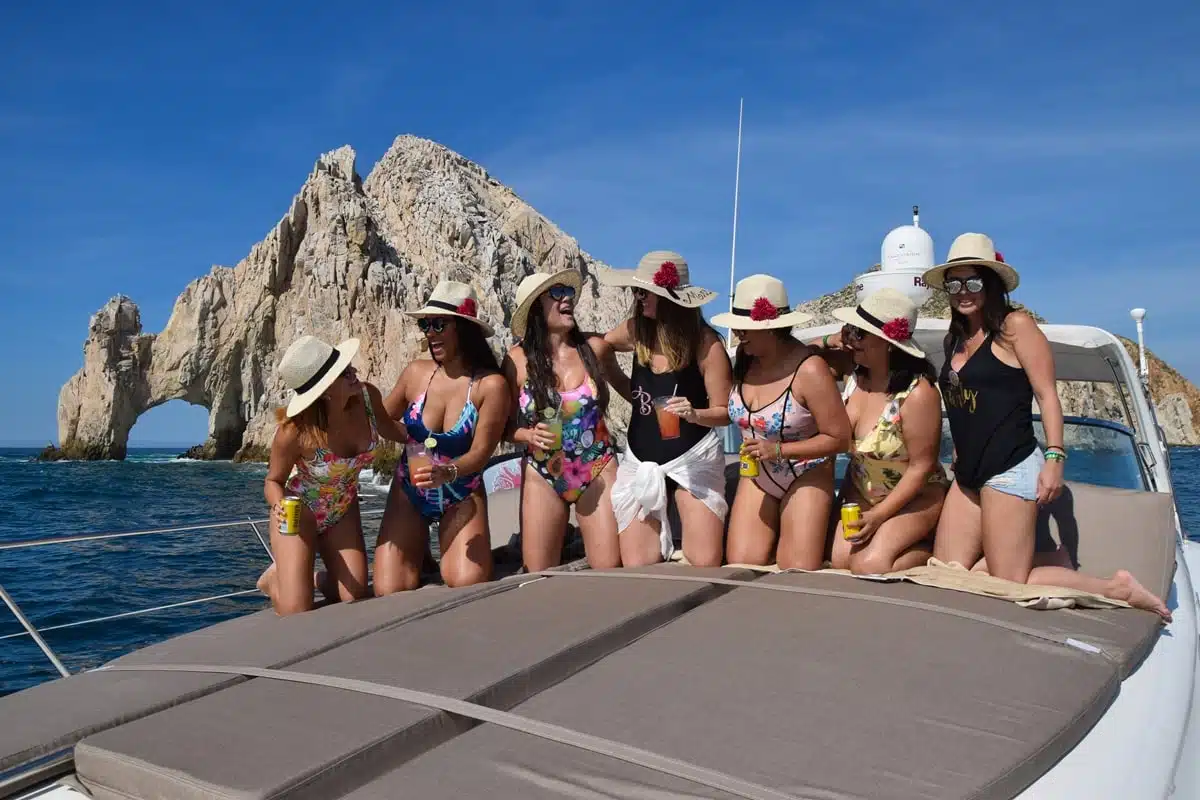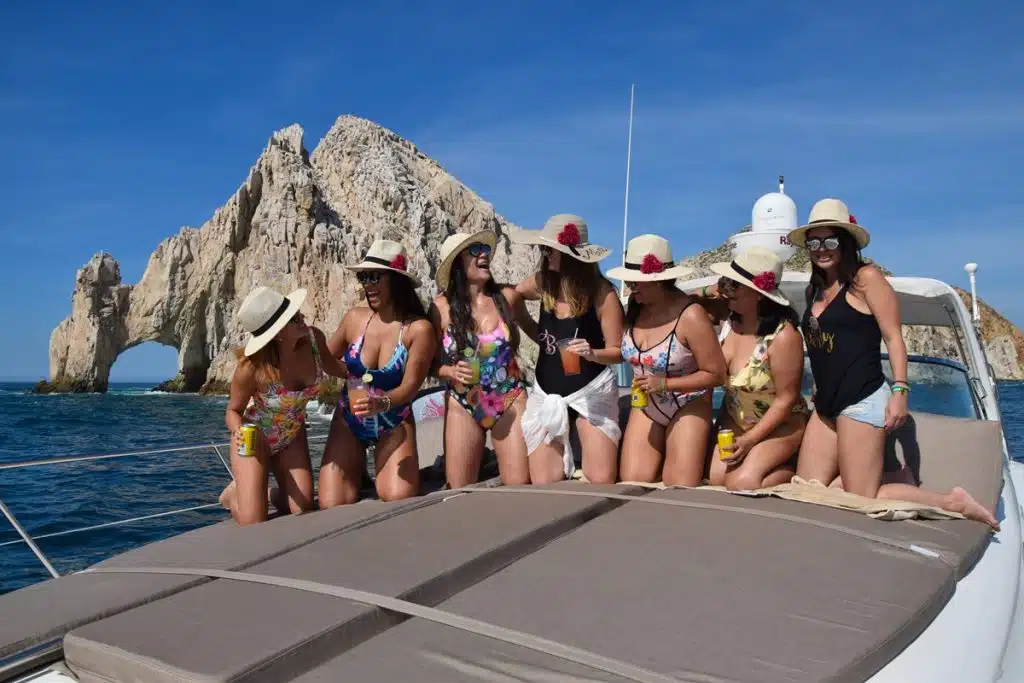 While you're in Cabo, you'll need to know where to eat, drink, and enjoy your bachelorette party in Cabo at a few famous nightclubs in town.  So, check out Where to eat in Cabo and where to enjoy the great Cabo San Lucas nightlife to find some great places to add to your agenda.
Cabo Sailing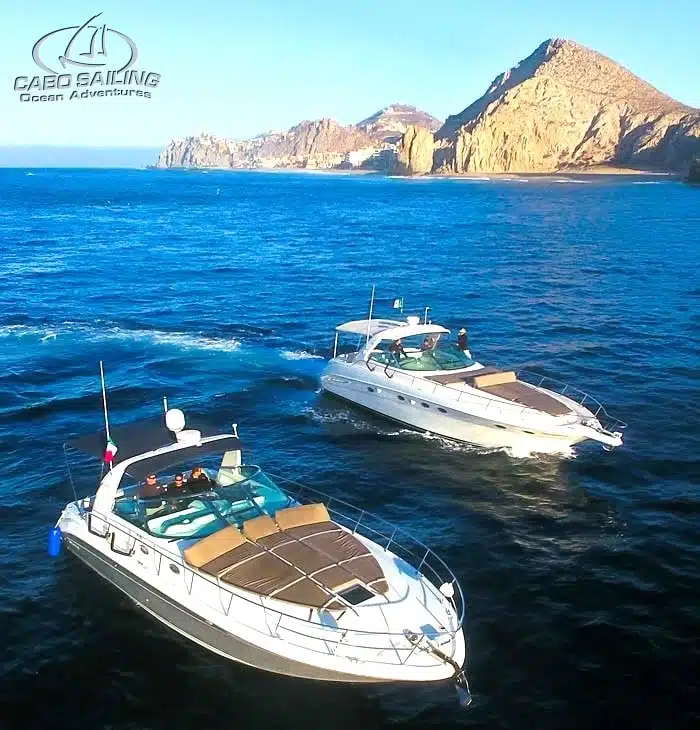 Relax on a comfortable yacht while your captain navigates the enchanting waters of the Sea of Cortez and the Pacific Ocean.   To elaborate, enjoy an array of incredible sailing experiences including day sailing, diving, sunset cruises, whale watching and visiting great locations like El Arco de Cabo San Lucas.  And, consider a cruise for family reunions, romantic cruises, or celebrating an event.
Cabo Sailing operates only with well-equipped, high-end luxurious sail boats and yachts.  All of their vessels come with custom-made padded lounging areas, large shaded seating and other amenities to make your experience safe, fun and comfortable.  Also, Cabo Sailing has over 10-years of experience on the waters around Los Cabos, so you can be assured of having the best and safest adventure.
To inquire or to book a sailing adventure, click CONTACT CABO SAILING to send us a message.  We'll get back to you right away!