If you're planning to travel to Cabo San Lucas, you've come to the right place since you're going to eat there.  And, you must enjoy the best experience, wherever you go in Cabo.  From restaurants to nightclubs, discover where to eat in Cabo and where to enjoy the Cabo San Lucas nightlife.
In this article, you'll learn about the most notable places to visit for dining and dancing.  Also, you'll see a place that you must visit to truly understand its beauty and delight.  It's called Flora Farms, and they provide a "farm-to-table" experience for you and your entire group.  So, read more to see where to eat and party in Cabo.
El Squid Roe
Is it a dance hall?  Or, is it a restaurant?  El Squid Roe is three stories of pure party adrenaline, overflowing with drinks, dancing, and great food.  Located near the marina in Cabo San Lucas, El Squid Roe is a fiesta icon.  And, its popularity is unrivaled.  So, come experience the most exciting Cabo San Lucas nightlife at El Squid Roe.  You'll have the best night ever!
The Giggling Marlin
This is the place to go for great food, great drinks, and great fun!  There, you'll find an often rowdy, and sometimes risque floor show, where you can eat, drink, and party to your heart's desire.  The Giggling Marlin serves awesome Mexican dishes in addition to fresh seafood. And, be sure to try the Seafood Orgy, a combo of lobster, shrimp, scallops, crab, and clams.
Cabo Wabo Cantina
Come head down to that "sleepy town, south of the border" and visit Cabo Wabo Cantina!  But first, read this quote from Sammy Hagar in Van Halen's hit song Cabo Wabo:
"If you go there once, you'll be there twice – lots of pretty girls, coming by the dozens – the white sand sure makes a tan look nice."
Established by Sammy Hagar of Van Halen, back in 1990, Cabo Wabo Cantina is located on the south-east end of Cabo San Lucas, Mexico.  And, he created this famous cantina and restaurant to provide a place to "embrace all that makes you happy."
Mango Deck
Located in the heart of Cabo San Lucas along Medano Beach, Mango Deck delivers a remarkable view of the famous Arch of Cabo San Lucas.  There, the Sea of Cortez meets the Pacific Ocean, joining the largest body of water on Earth with the most biologically abundant.  To read more about this fantastic location, check out Uncover the intrigue at the Arch of Cabo San Lucas.
Mango Deck beach club is open seven days per week.  So, come and enjoy a great breakfast variety.  The breakfasts include giant omelets, pancakes, Mexican dishes, breakfast burritos, fresh fruit plates and a variety of healthy choices.  And, for recovering from the crazy CABO nightlife, visit our all you can eat Sunday brunch.  This features a wide selection of dishes including Mexican pancita or pozole.  Those are considered a great fix for a Mexican hangover.
Where to eat in Cabo during the day
Be sure to visit Flora Farms, an all organic farm-to-table restaurant with the most beautiful grounds, delicious food, and picturesque craft cocktails.  This is certainly where to eat in Cabo during the day.  But, please note that reservation are required there.
Flora Farms is a 25-acre organic farm in the foothills of the Sierra de la Laguna Mountains in San Jose del Cabo.  And, Flora Farms is home to Flora's Field Kitchen, the Farm Bar, Flora Farms Grocery, Shoppes at Flora Farms, the Culinary Cottages & The Haylofts, and Flora Farms Celebrations.  Also, there's the Farm Spa, which provides an intimate experience achieved through nature-based services in an extremely peaceful setting.
Where to eat in Cabo for dinner
When you're ready for dinner, head over to Edith's and its sister restaurant, The Office, which are both great.  At Edith's, enjoy a view of El Arco de Cabo San Lucas as you feast from their delicious menu.  To go into detail, It includes dishes like mesquite grilled filet mignon and shrimp enchiladas.  Then on the beach, The Office is a party-while-you-eat spot.  So, with your toes in the sand and music filling the air, enjoy a meal of sea bass fish tacos and baja burritos. And don't forget there's plenty of tequila to go around!
Cabo Sailing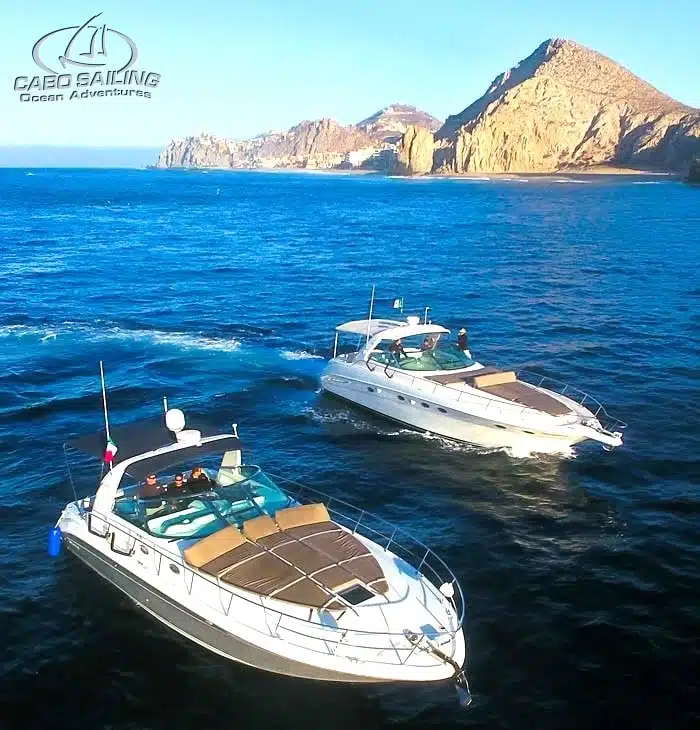 Relax on a comfortable yacht while your captain navigates the enchanting waters of the Sea of Cortez and the Pacific Ocean.   To elaborate, enjoy an array of incredible sailing experiences including day sailing, diving, sunset cruises, whale watching and visiting great locations like El Arco de Cabo San Lucas.  And, consider a cruise for family reunions, romantic cruises, or celebrating an event.
Cabo Sailing operates only with well-equipped, high-end luxurious sail boats and yachts.  All their vessels come with custom-made padded lounging areas, large shaded seating and other amenities to make your experience safe, fun and comfortable.  Also, Cabo Sailing has over 10-years of experience on the waters around Los Cabos, so you can be assured of having the best and safest adventure.
To inquire or to book a sailing adventure, click CONTACT CABO SAILING to send us a message.  We'll get back to you right away!