One can always be amazed when tasting street local food at a place, and doing so in Los Cabos is no exception.  You can always find lots of options that will help you to get the best eating experience.  When you're traveling the most important thing is to create memories and enjoy the moment.  Keep reading through this article and find the best dining experiences in Cabo.
One of the good things about Cabo is that it doesn't matter if you prefer to be in-land or enjoying your time over the sea, this place offers a variety of well-made dining experiences that you will love to try.  Here are some of the options for you to have an amazing eating experience.
Have a drink and see the whales
If some generous appetizers accompanied by a good selection of wines feel like your thing, imagine now doing so while traveling on a boat!  This is definitely the ultimate dining experience, and you can find it in Los Cabos.  Also, imagine sharing all of these moments watching some enormous whales!  This will be one of the biggest attractions you can experience in Los Cabos, literally.  Make sure to taste the incredible guacamole, the cheeses, and chips they serve in most of these cruise dining tours.  A fulfilling experience you can only live in Los Cabos.
Pelican´s rock offers dining experiences in Cabo
Snorkeling with sea lions and afterward eating at Pelican's rock is one of the things you must do when visiting Los Cabos.  As you do some deep-sea diving, you get the opportunity to observe the amazing colorful sea wildlife.  This is truly something that you won't experience often.  Pelican's rock is the house of sea lions and, of course, pelicans.  Having this incredible experience will require booking a snorkeling trip in advance.  With this, you'll get included a well-served lunch that'll keep you with enough energy to dive for almost three hours!  And of course, drinks are included so cheer for fun.
Claim victorious on a mountain bike tour
If what you're looking for is experience less related to the sea but still searching for something to eat, then a bike tour dinner included is the perfect thing for you.  And also there are plenty of routes to take.  One of the options is to do the mountain bike tour.  And although this may sound difficult its actually quite the opposite.  As a reward, you'll get an authentic celebration drink with some delicious traditional Mexican lunch!  Recover from some exercise in a great way.  
Camel safari with with dining experiences in Cabo
Do you want something less exhausting than riding a mountain bike?  Then you should try a camel safari!  Beginning in the town square of Los Cabos where you'll learn about the town's culture and gradually go deeper into the ecosystem's wildlife.  Eventually, you'll jump in the back of a camel to travel to a near hidden beach.  Enjoy, at last, a well-deserved Mexican lunch before heading back to town.  An interesting mixture of cultures in the same place, something you can enjoy only in Cabo.
A Baja-style lunch with whale sharks
If you feel a little more intrepid than the options before this one then swimming with whale sharks is your thing!   As dangerous as it sounds you shouldn't worry.  Despite being more shark than a whale, these animals are harmless.  You can definitely swim safely side by side with one of these creatures.  Be on the look for other animals too, such as dolphins and rays. Furthermore, you'll be able to enjoy a delicious lunch before returning.
Eat and sail to a perfect sunset
Have you ever wanted to relax while sunset sailing? Well, lucky for you that dream can come true by just booking a sunset cruise made specifically for you to relax.  Enjoy a variety of appetizers and an open bar while taking in breathtaking views of the sunset on the water.  It'll get hard to choose with the many options that you have to do in Los Cabos.  It doesn't matter what experience you want to live in.  The important thing is that you'll definitely have new stories to tell, and above all, you'll find the best dining experiences in Cabo.
Cabo Sailing with your dining experiences in Cabo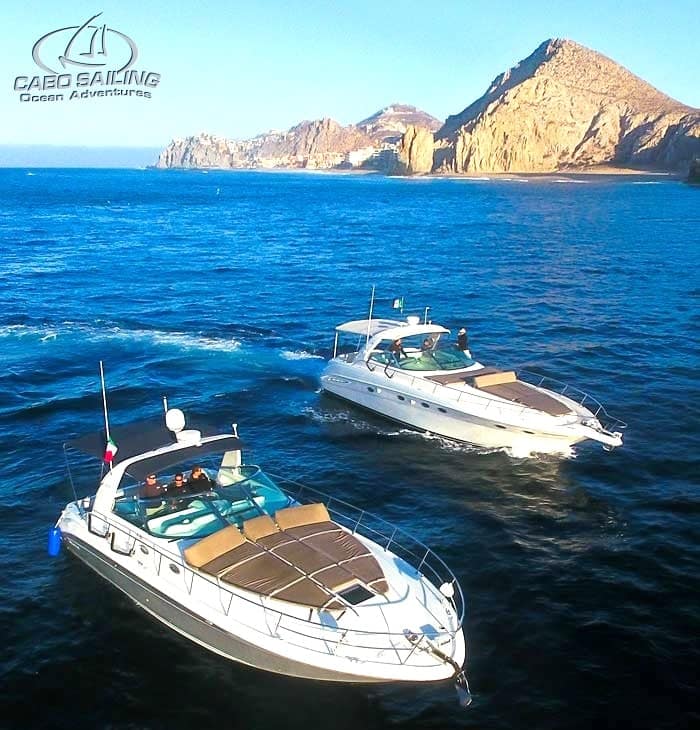 Relax on a comfortable yacht while your captain navigates the enchanting waters of the Sea of Cortez and the Pacific Ocean.   To elaborate, enjoy an array of incredible sailing experiences including day sailing, diving, sunset cruises, whale watching and visiting great locations like El Arco de Cabo San Lucas.  And, consider a cruise for family reunions, romantic cruises, or celebrating an event.
Cabo Sailing operates only with well-equipped, high-end luxurious sailboats and yachts.  All their vessels come with custom-made padded lounging areas, large shaded seating, and other amenities to make your experience safe, fun and comfortable.  Also, Cabo Sailing has over 10-years of experience in the waters around Los Cabos, so you can be assured of having the best and safest adventure.
To inquire or to book a sailing adventure, click CONTACT CABO SAILING to send us a message.  We'll get back to you right away!