Cabo San Lucas comes naturally as a romantic place and the reasons are endless.  This natural oasis is located at the southern tip of the Baja Peninsula in Mexico.  This is a place where the Pacific Ocean and the Sea of Cortez gently meet under the Arch in Land's End.  And of course, a sight like this is a favorite for travelers around the world.  This is just one of many examples of why Los Cabos has become such a romantic place to be with our special other.  Keep reading this article and learn the reasons to have a romantic getaway in Los Cabos.
Being with your special other is truly something special.  But traveling with your special other is an extraordinary experience.  As such, you probably want to make sure to make the best out of it.  It is why we can tell you that Los Cabos is one of your best options to impress your couple and be amazed together by the beauty of this paradise.  It doesn't matter if your planning a valentine's trip or a honeymoon, Los Cabos is a special place for lovers all year round.  Read on and find the activities you can try as two in this incredible city.
A romantic getaway in Los Cabos
If you're looking for a romantic way to go around the sights of Los Cabos, you'll find plenty of fun and charming activities.  One example of this could be as simple as enjoying a sunset together.  Definitely, nothing beats watching the last golden rays as you give your loved one a kiss.  Or, on the other hand, passing through the Arch in Land's End holding hands is a unique experience too.  Options are endless, and you make them as charming and romantic as you want.  Here's a list of some of the romantic things you can do together or that will definitely impress your loved one.
Lover's Beach
The name says it all, this beach is one of the most famous sites in Cabo San Lucas.  The legend says that its name comes from the fact that is the beach in front of the meeting point between the Pacific Ocean and the Sea of Cortez.  Such a meaningful background for it, how could it get any more special than that?  Although, to get to this special place it's needed a boat.  So rent one for two and start your romantic trip to Lover's beach!  Enjoy in this hidden cove some adventures for two as it becomes the perfect location for a romantic picnic.  Of course, bring your own food and drinks.  Have time to play in the waves, or to walk along the shore.
The Arch at Land's End
If you're in Los Cabos you must visit the Arch.  Not only is it a very romantic place to visit but it's also the main landmark of Los Cabos.  If you don't visit this place is like you didn't come and visit the city itself.  This place is called ''Land's End'' because if a line is drawn from this point to the south, the next portion of the mainland it hits is Antarctica.  Definitely, this is another meaningful place to be with your loved one.  This also is another place you can only get by boat, just take one from the Cabo's marina and enjoy the trip, take some pictures.  Propose maybe?  There's nothing more romantic than this setting of a landscape in the back.
Spa day for two
Los Cabos is a renowned place for having the best and most exclusive Spas in the world.  Imagine reserving one day at one of these luxurious places just for you and your special other?  You can definitely get a relaxing massage for two.  With so much going on in life you can always use the relaxing effect of a Spa.  Find them ready and waiting to cater to you,  that just want to be pampered while relaxing.  Plenty of resorts have on-site spas that you can easily get to without even having to leave your hotel.  Furthermore, into these services,, there are certain specialties that you might enjoy.  Go from treatments with organic products, to holistic treatments and anti-aging programs.  A lovely experience for two no doubt!
Sunset cruise
There's nothing as relaxing than watching a beautiful sunset, and there are plenty of places to get a great view of one in Cabo.  Although one of the best choices would be to take on a sunset cruise, you can still enjoy it from anywhere else.  The gentle waves of the Pacific Ocean and the Sea of Cortez provide a peaceful backdrop to the colorful setting of the sun behind the horizon.  Imagine this with some drinks, snacks or even your own private boat!  Enjoying a sunset out on the water is one of the best ways to relax in Cabo, and definitely one of the most romantic options too.
Horseback riding
For those who find the presence of animals relaxing, Cabo has horseback tours across gorgeous beaches and desert hills to meet your needs.  These tours take you along the Pacific Ocean or the Sea of Cortez as you ride a tamed beautiful horse matched to your riding ability. Of course, most of these tours include a quick lesson before getting to it.  So, don't worry about being a novice in horseback riding.  The rides are generally slow and gentle, with no galloping or exertion required, making them a nice, relaxing way to see the beautiful landscapes in and around Cabo.
You will undoubtedly find an ample variety of options and scenarios to enjoy a romantic trip with your loved one.  Find fun tours or just enjoy the sun laying on the beach together,  the romantic options are endless and that is why you can easily have a romantic getaway in Los Cabos.
Cabo Sailing offers the best romantic getaway in Los Cabos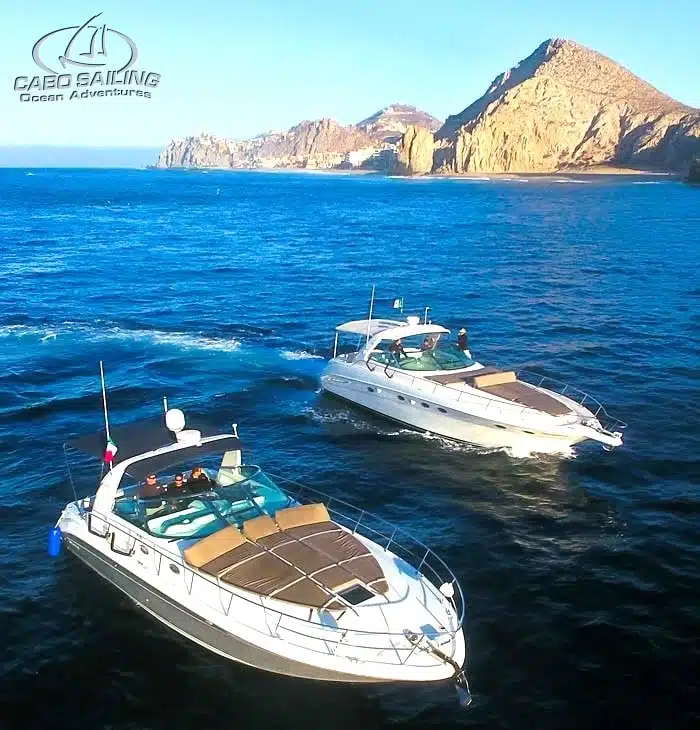 Relax on a comfortable yacht while your captain navigates the enchanting waters of the Sea of Cortez and the Pacific Ocean.   To elaborate, enjoy an array of incredible sailing experiences including day sailing, diving, sunset cruises, whale watching and visiting great locations like El Arco de Cabo San Lucas.  And, consider a cruise for family reunions, romantic cruises, or celebrating an event.
Cabo Sailing operates only with well-equipped, high-end luxurious sailboats and yachts.  All their vessels come with custom-made padded lounging areas, large shaded seating, and other amenities to make your experience safe, fun and comfortable.  Also, Cabo Sailing has over 10-years of experience in the waters around Los Cabos, so you can be assured of having the best and safest adventure.
To inquire or to book a sailing adventure, click CONTACT CABO SAILING to send us a message.  We'll get back to you right away!