Taking a vacation can get really scary when you start looking at the prices.  In Cabo, you don't have to worry about this as you can easily find plenty of cheap activities to do when you're there.  So yes, it's possible to visit Cabo on a budget.  So, read on to learn how to get the maximum experience on the minimum budget!
We all know that vacations can get very expensive.  Just to think of the flights, where to stay and what to eat would seem like a lot of money. However, worry not as the vacation of your dreams can be planned in Los Cabos, as this amazing destination offers all the means to have a memorable vacation at very affordable prices.  From free museum visits, cheap boats cruises or hiking in beautiful landscapes, this place has it all!
Keep reading and I'll tell you about all the cheap activities to choose from, and do when in Cabo on a budget!
Cabo on a budget? No Problem!
With all these great activities available, there's plenty for you to do in Cabo on a budget without spending a whole lot of money.  Whether you're interested in the great outdoors, art, culture or history, there're plenty of options for you to choose from!
Whale Watching tours
There are many whale watching tours available to get you close to see them and learn a bit more about this magnificent species.  Every year from December to mid-April, thousands of whales migrate south from the Arctic Ocean all the way to the Sea of Cortez in Cabo San Lucas. It offers visitors the chance to see nature's largest creatures in their natural habitat.  Most of these tours are shared with other tourists, making the boat trip very affordable!
Sunset Cruise
You don't need to be rich to have the opportunity to sip wine while sailing on the Sea of Cortez.  Before you throw the idea of boat cruises out the window, consider booking a shared cruise.  Although half the price of a private boat, these tours will include all the amenities of a luxurious trip: free snacks and food, an experienced crew, and an open bar.  It'll also give you the opportunity of having a beautiful view of the sunset and a feel of the sea breeze.
Swim in tropical waters
You can book a snorkeling tour or simply rent gear and swim out to your favorite beach without spending too much. With hundreds of tropical fish living so close to the shore, there's no excuse for not getting close to this beautiful environment. Snorkeling is definitely a must-do when in Cabo!
Boat trip to Lover's Beach
Despite its name, this isn't the secluded getaway you're thinking of, it's much better!  Lover's Beach is a fun destination on a small island where you can swim and sunbathe in peace.  To get to Lover's Beach and a couple of sites included as well, just take a glass-bottom boat for $10 roundtrip for an exciting ride.
Walk through the Cabo Marina
Vacation's all about relaxing and slowing down.  Take a walk around the marina and have a glance at some of the local shops with a beautiful sunset as a background, and guess what?  It's all for free.  As well as that there are imposing yachts docked and plenty of pelicans you can feed for entertainment.
Taco buffet
Try some of the local gastronomy and don't let your budget stop you. To say you were in Mexico you most try the world-famous tacos!  No need for sitting in a fancy restaurant to eat in Cabo.  This Oceanside destination offers very good seafood for an accessible price in every corner food stand.  Hit up one of the taco stands and get yourself a few fish tacos.  Not only are they delicious, but they're also around $1-2 dollars.  If tacos are not for you, don't worry!  There are plenty of other street vendors offering tasty dishes for only a few cheap bucks.
Hiking in Costa Azul Canyon
Costa Azul Canyon gives you the opportunity to explore and hike. Enjoy on these trails the chance to see the local flora and fauna.  If you're looking for a quiet, nature-filled activity, this is the perfect option for you.  The best thing about it's that it'll cost you only $2 dollars to get there. If you're looking for a spectacular landscape to enjoy, look no further!
Museum of Natural History in Cabo
A large whale skeleton and an enormous archaeology exhibition await for you to visit in this free museum on Plaza Amelia Wilkes.   Learn more about the local wildlife, and have the opportunity to see the two million-year-old zebra jawbone fossil! Its most famous attraction.
The Art Walk in San Jose del Cabo
Every Thursday from November to June the galleries in San Jose del Cabo art district open their doors for tourists to see the art from Baja California Sur.  Get a complete crash course in art accompanied by wine and cheese, just the perfect way to spend an evening without having to spend any money.  Although, there are plenty of great bars and restaurants in the art district if you are planning to spend a little something.
Estuary in San Jose del Cabo
This is an amazing bird and wildlife sanctuary that hundreds of bird species call home.  Find from ducks and coots to pelicans and hawks there.  With no doubt, this is one of the most beautiful places to see in Cabo.  If you enjoy nature, give yourself some time to visit these colorful feathered friends!
There are plenty of cost-effective activities to choose from so you have no excuses to make the best out of your next Cabo vacation trip!
Cabo Sailing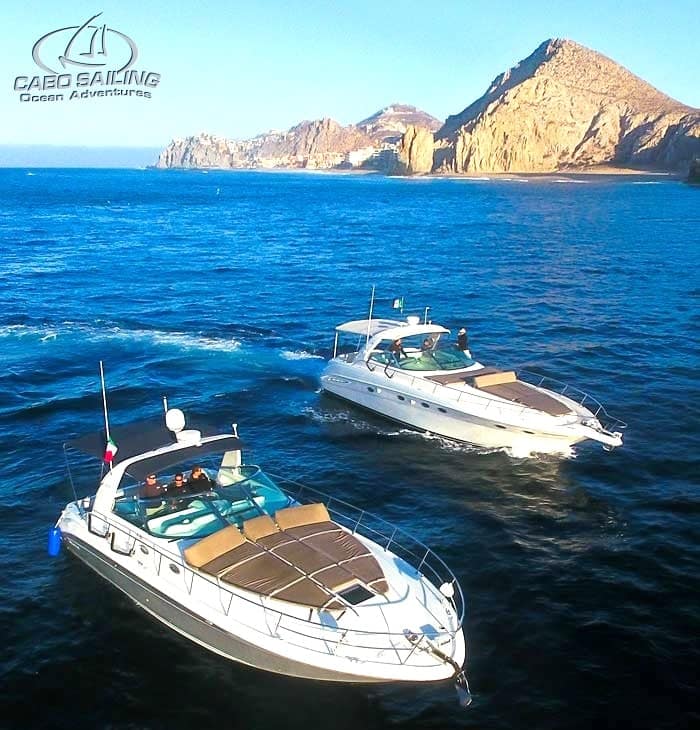 Relax on a comfortable yacht while your captain navigates the enchanting waters of the Sea of Cortez and the Pacific Ocean.   To elaborate, enjoy an array of incredible sailing experiences including day sailing, diving, sunset cruises, whale watching and visiting great locations like El Arco de Cabo San Lucas.  And, consider a cruise for family reunions, romantic cruises, or celebrating an event.
Cabo Sailing operates only with well-equipped, high-end luxurious sail boats and yachts.  All their vessels come with custom-made padded lounging areas, large shaded seating and other amenities to make your experience safe, fun and comfortable.  Also, Cabo Sailing has over 10-years of experience on the waters around Los Cabos, so you can be assured of having the best and safest adventure.
To inquire or to book a sailing adventure, click CONTACT CABO SAILING to send us a message.  We'll get back to you right away!