If what you're looking for as a senior traveler is the sun, the sand, and the sea, Cabo is a great option for you!  With so many activities for senior travelers in Cabo, this is undoubtedly the place for grown-ups.  Enjoy your extensive time off in this beautiful Mexican destination.  Here, I'll list of Cabo activities for senior travelers.  And, I'll reveal what this city has to offer for your relaxation!  As age sets in, it's possible to now have more spare time to rest and have fun.  Where and when you spend this time is totally up to you now!  With some expendable income and fewer responsibilities, it comes as no surprise that senior travelers are the ones who make the larger proportion of vacationers in Los Cabos.
Activities for senior travelers in Cabo
Going to Cabo, you'll find one of the common activities there has to do with water!  And having such beautiful beaches and outstanding views, this is undoubtedly the place to be for leisure.  But, it isn't all about sitting in the sand the entire day.  You can easily find an ample variety of things to do related to activities in and near the sea.  In the following list, we'll check some of the options in water activities for you!
Boat cruise
Cabo offers a whole range of cruising options, allowing you to explore the Sea of Cortez in comfort.  It goes perfectly with such a leisurely pace.  The best thing is, you can get tours for almost every hour of the day.  Take the ''early birds'' morning tour to enjoy great vistas of the morning sea.  For those who require a mid-day siesta, there's the option of afternoon cruises.  And last but not least, the famous sunset cruises to end your day the right way!  The Cabo sailing options are endless, and will perfectly fit around your schedule.  Don't forget to keep hydrated at all times.  And of course, always wear sunscreen.  So, be mindful of these things, as it's easy to forget in a luxury cruise enjoying such incredible views.
Snorkeling
If you're more on the active side kind of persona, then you might feel like doing a snorkeling trip.  One of the favorite Cabo activities for seniors, as it has an enormous variety of aquatic events and activities, such as snorkeling to observe hundreds of exotic tropical fish.  Snorkeling you'll be able to discover the Sea of Cortez and its underwater world.  Considered one of the most biodiverse in the world, the Sea of Cortez allows you to get up, close and personal with the wildlife that calls this place their home.  Also, you can consider snorkeling a great and gentle whole-body exercise.  As the water makes your body weight lighter, you can float around freely, relieving pressure on joints and muscles.  But, at the same time, you'll be doing a complete workout that'll leave you feeling refreshed and rejuvenated when you go back ashore.
Snorkeling trips last around two to three hours.  And, you can choose the perfect time of the day.  So no matter your reason for traveling to Cabo, snorkeling is the perfect balance between exercise and relaxation!
Whale Watching
One of the most famous activities to do in Cabo is whale watching.  And, there's no reason why you shouldn't enjoy a whale-watching tour, regardless of your age.  Although, the whale-watching season is from November to March, and its peak during December and January as you can start to see baby whales!  Cabo is visited by many breeds of these ocean giants for several months.  So, schedule your tour and have a once-in-a-lifetime experience.  Don't worry about much physical mobility on the tour, as the professional staff will provide you with the best seats and specific help you may need.  Bringing binoculars is also a plus as you can get a clear view of these oceanic encounters.
Activities for senior travelers in Cabo ashore
Even if the beautiful Sea of Cortez is a must-see in Cabo, you have also a diversity of activities to do ashore and keep enjoying this place.  Enjoy the outstanding views of the beaches and the city altogether from the safety of being ashore.  From relaxing activities to ease you off to action-packed activities there's much more to do in Cabo than just the well-known water activities.  Keep reading and learn more about what you can do ashore in Cabo.
Golfing
Cabo offers many golf courses, and most are very easily accessible.  Providing gentle exercise, a sunbath, and a fun sport to practice all at once!  Golfing will also provide unexpected opportunities to face endemic wildlife and fauna.  Again, don't forget to keep yourself hydrated and seek shade as much as possible; don't give away your concentration to these things.  Hole in one and enjoy!  This is definitely one of the favorite Cabo activities for seniors.
San Jose Estuary
Just a little bit further inland you'll find the must-visit San José estuary.  Home to more than a hundred species of exotic birds, including some endangered species, this place offers amazing scenery to be amazed by.  Take an infinite number of mental pictures, as these elegant birds show you their grace on their natural habitat.  If you're a keen bird watcher from long before then this will be a treat for you.  Enjoy this nirvana of birds without taking too much effort.
Downtown Cabo
There's a world of shops and places in downtown Cabo as you stroll around enjoying this unique scenery.  You'll discover a world of local and international food cuisine and some local wineries and breweries to have a drink to accompany the experience.  As you pick a souvenir for your family, you could even be able to enjoy the local fauna roaming around the street.  Hummingbirds, iguanas, desert falcons, you name it!  Los Cabos it's full of surprises.
Explore the coastline
If you don't want to be too far from the coastline but still don't want to get your feet wet, Cabo also offers miles and miles of gorgeous coastline for you to explore.  Drive, bike or walk, let yourself go in between these stunning rock formations and outstanding ocean panoramas.  In Cabo, a simple walk can become an awe-inspiring experience!
As this article shows, as a senior traveler visiting Cabo there's plenty of activities for you to decide on.  Never get away from the Sea of Cortez or enjoy its views from the distance ashore, it's up to you to decide what suits you best.  Live your best life doing one of these Cabo activities for seniors!
Cabo Sailing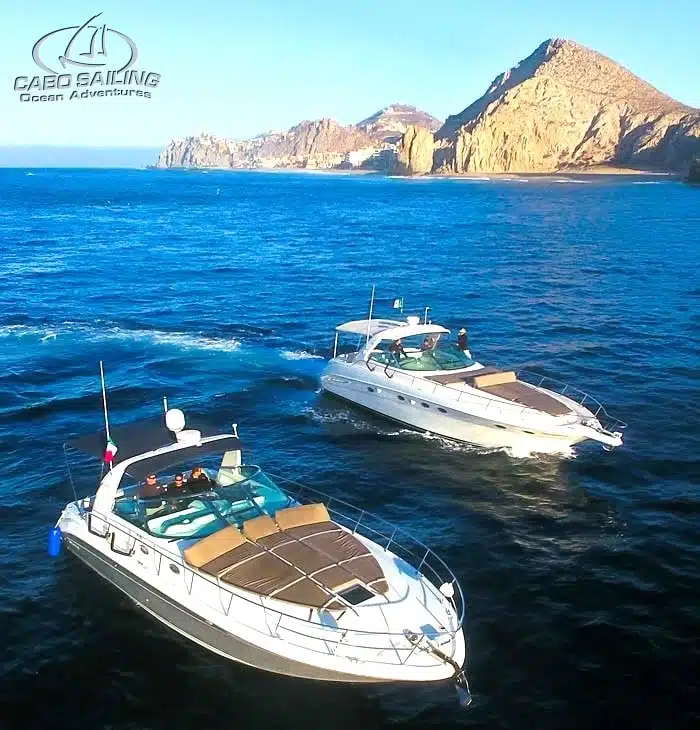 Relax on a comfortable yacht while your captain navigates the enchanting waters of the Sea of Cortez and the Pacific Ocean.   To elaborate, enjoy an array of incredible sailing experiences including day sailing, diving, sunset cruises, whale watching and visiting great locations like El Arco de Cabo San Lucas.  And, consider a cruise for family reunions, romantic cruises, or celebrating an event.
Cabo Sailing operates only with well-equipped, high-end luxurious sail boats and yachts.  All their vessels come with custom-made padded lounging areas, large shaded seating and other amenities to make your experience safe, fun and comfortable.  Also, Cabo Sailing has over 10-years of experience on the waters around Los Cabos, so you can be assured of having the best and safest adventure.
To inquire or to book a sailing adventure, click CONTACT CABO SAILING to send us a message.  We'll get back to you right away!