If you're planning a trip to your next golfing destination, look no more!  And consider Los Cabos the place where you'll discover the breath-taking Cabo golf courses on this peninsula.  I'll list the best ten golf courses that provide not only the best in panoramic views.  And, each provides luxurious real-estate options and exquisite course layouts.
Some Cabo resorts have more than one of these world-class golf courses on their premises.  That's the strongest demonstration of the popularity of Los Cabos as a famous golfing destination.  Once you read about these ten championship courses in Los Cabos, on the southern tip of Baja California, you'll definitely consider this Mexican getaway your next golf destination.
Read through to learn more about each of these Top-10 Cabo golf courses!
#1 Dunes Course at Diamante Cabo
This magnificent 18-hole Cabo golf course weaves through undulating Pacific sand dunes.  And, it provides panoramic ocean views from almost every hole.   Dunes Course also shares some similarities with the classic style courses in Scotland.  But, the weather in Cabo San Lucas is warmer, the sand is whiter, and the sea is a deeper blue.
Diamante's Dunes Course, ranked #36 in the world by GOLF Magazine and ranked #1 course in all of Mexico by Golf Digest in 2016, weaves its way through spectacular Pacific dunes.  Also, it boasts amazing views of beach and ocean from nearly every hole.  This course sets the bar really high with this amazing first course of the list.  In addition to that, truly an awe-inspiring 14-acre practices facility for you to have an unforgettable golf experience.
And don't forget that Dunes at Diamante is more than just a pretty course.  It's an immensely exciting adventure for players to enjoy every aspect the resort has to offer.  For example, there's a Slider Bar with mini sandwiches and refreshments before tee time.  Also, there's a retail center, on-course comfort stations at every third hole, and the signature service of Diamante Cabo.  Besides the incredible golf course, the whole experience is something remarkable for a lifetime.
#2 El Cardonal at Diamante Cabo
In 2014, Diamante opened up Tiger Woods' first golf course design: the 18-hole El Cardonal course, being the second championship golf course created at Diamante Cabo.  Tiger Woods made this course long enough to challenge experts, yet open enough to provide good options for beginners.  Influenced by the old-style courses of Southern California that he grew up playing, Woods created a course that requires strategy, slowing the gameplay and making it a premeditated and peaceful course to golf in.  It truly is a fun test for golfers of all skill levels.
Tiger Woods himself said: "I set up the golf strategy to make golfers think and make choices. Regardless of your handicap, there are going to be different ways to play every hole. Angles of approach are going to be very important and will dictate the type of shots you should consider. I love this kind of golf."  El Cardonal course at Diamante is a challenging and rewarding golf experience that you'll want to go over and over again.
Also, as mentioned earlier, this Cabo golf course restores the need for a golf strategy by providing good shot options at each hole.  So, it's really an existing test for golfers of any skill level.
#3 Nicklaus II in Puerto Los Cabos
This Jack Nicklaus signature course opened its doors just recently in April of 2018.  It's similar to the Nicklaus-One course design style at Quivira.  It covers a dramatic elevation change, the holes six through nine ascend to a higher ground working their way down to the Sea of Cortez.  And, this course showcases the most spectacular views found on Puerto Los Cabos.
#4 Cabo golf at Quivira
Opened five years ago, Quivira Golf Club has quickly established itself as one of the best new courses in the world.  The astounding 7,085-yard layout was recently voted one of the "World 100 Greatest Golf Courses" in Golf Digest Magazine.
The layout of this Jack Nicklaus Signature Cabo golf course starts on the beach, a little bit above sea level.  Then, it episodically climbs to a higher ground where you can see your inspiration grow as the breath-taking views increase.  You'll see a wonderful diversity from cactus and arroyos to dunes and cliffs along the way.  It's incomparable! This golf course was conceived as an exclusive amenity for Quivira owners and guests of Pueblo Bonito Resorts.  Quivira Golf Club offers the best beachfront location of any other golf course in Los Cabos.  It provides spectacular ocean views from every hole.
#5 Tiger Woods' Oasis Short Course
With the common goal of expanding the game of golf, Tiger Woods and Diamante teamed up to create a 12-hole short golf course.  It's called Oasis Short Course and is the third course at Diamante Cabo.  This course at Diamante provides a fun, casual experience for golfers of all skill sets and ages.  You'll find a beautiful, family-friendly Cabo golf course sitting within lush vegetation containing hundreds of palm trees.  Grassed entirely with Bermuda grass, the course provides golfers a true oasis in the open desert landscape with colorful vegetation.  Also, it circles an eight-acre water feature, making for a truly stunning setting.
#6 Chileno Bay championship Cabo golf Course
Situated in the foothills above the Beach Club and Park, this Tom Fazio-designed championship golf course provides it all.  Chileno Bay's golf course is both playable and holds enticing challenges.  To begin with, you'll see the spectacular coastline along the Sea of Cortez and the rugged Sierra de la Laguna mountain backdrop at every hole.  After that, the course is nicely playable and it delivers formidable challenges.  You'll discover that the unique routing will slowly take you toward the mountains of El Sauzal.  Moreover, take in the ocean views at each one of the 18 holes.  And, not only this but after playing around, members can enjoy a drink at The Golf House.
It's also fast becoming the spot for breakfast and sunrise-watching.  It offers a full suite of amenities, including a bar and grill, Member Shop, and practice areas.  The Golf House is a comfortable place to take in the incredible hilltop views.  And, they all come with the signature service of the house staff.
#7 Cabo Real golf course
The first six holes on the back nine of this course are located within the spectacular mountainous terrain of the surrounding Sierras.  You'll be immersed with the ocean, desert, and mountain views from every hole of the Cabo Real golf course.  Also, there're nine spectacular beachfront holes along Cabo Real Golf Club's three-and-a-half miles of Sea of Cortez coastline.  Finally, the front nine provides broad fairways that work their way down to the Sea of Cortez, a remarkable short par-four fifth hole.
#8 Cabo del Sol Ocean Course
Designed by Jack Nicklaus, this masterpiece it's a world-class layout that touches the ocean in several holes throughout the course.  The 18-hole Cabo del Sol Ocean Course has been captivating world-class golfers since its opening in 1994.  This golf course stretches over a mile along the rugged coastline of the Sea of Cortez.  As you wrap-up your game by the end of the course, you'll be playing "the three finest finishing holes in all of golf," according to Nicklaus.  And, the signature hole is on the 17th, a par-3 nestled among bunches of cacti, large boulders, and a menacing cove.  Truly an amazing experience surrounded by the stunning views of the Sea of Cortez.
#9 Cabo del Sol Desert Course
According to the January 2018 issue of Golf Digest, the Cabo del Sol Par-72 Ocean Course "Placed 70 in Golf Magazine's list of World 100 Greatest Golf Courses."   Blending panoramic views with challenging holes, Cabo del Sol's 18-Hole Desert Course designed by Tom Weiskopf appeals to players of all skill levels.  Starting with the scenery, this Cabo golf course meanders through abyssal gullies that look like small canyons.  These changes in elevation and dramatic bunkering make the Desert Course a distinguished piece of the Cabo del Sol golf experience.  And throughout, you'll gaze upon a majestic mountain backdrop while trekking through a wild desert landscape. Best of all, every hole boasts wondrous views of the Sea of Cortez.  This is the way this public golf course holds its higher regard.
#10 Greg Norman's Cabo golf course
The Greg Norman signature-design course at Puerto Los Cabos is a par-36 golfer's dream.  And when it comes to golf course design Greg Norman is recognized as one of the world's leading designers renowned for meeting the highest standards in creativity, innovation, and sustainability.  The Rancho San Lucas Golf Club is a Greg Norman Golf Course Design that'll feature a spectacular Island Green and awe-inspiring ocean and desert views for a unique golf experience.  With panoramic views of the Sea of Cortez and a beautiful mountain backdrop, the rolling-hill fairways are a picturesque experience.  In addition to all this, the course begins over 400 feet up the sea level working your way closer to the breeze and views this spectacular course has to offer.
Cabo Sailing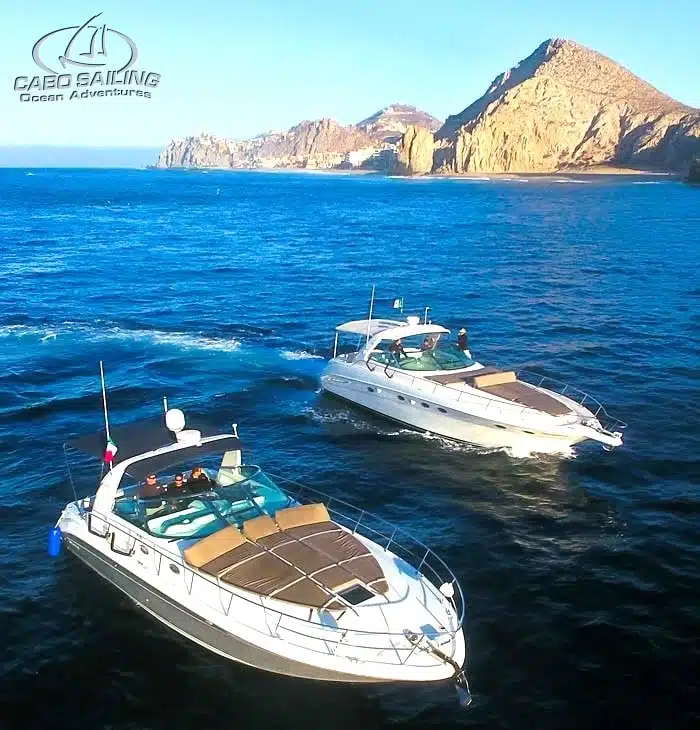 Relax on a comfortable yacht while your captain navigates the enchanting waters of the Sea of Cortez and the Pacific Ocean.   To elaborate, enjoy an array of incredible sailing experiences including day sailing, diving, sunset cruises, whale watching and visiting great locations like El Arco de Cabo San Lucas.  And, consider a cruise for family reunions, romantic cruises, or celebrating an event.
Cabo Sailing operates only with well-equipped, high-end luxurious sail boats and yachts.  All their vessels come with custom-made padded lounging areas, large shaded seating and other amenities to make your experience safe, fun and comfortable.  Also, Cabo Sailing has over 10-years of experience on the waters around Los Cabos, so you can be assured of having the best and safest adventure.
To inquire or to book a sailing adventure, click CONTACT CABO SAILING to send us a message.  We'll get back to you right away!