In Land's End, on the edge above one of Mexico's greatest golf courses, there's an exclusive residential enclave like no other.  And Quivira Old Lighthouse Club, the private, gated, and beautiful community, is just what you're looking for.  Apart from this, there's much more that makes this exclusive Los Cabos community stand out above the rest.  So, read on to uncover a vantage point that really is on top of Land's End.
The past and the present blend together perfectly, with the rustic style of the old-world and the charm of genuine Mexican heritage, creating the perfect environment for residents of Quivira Los Cabos.  In conclusion, the natural landscape, the white-sand beaches, and crystal-clear waters offer unique experiences and unforgettable moments for the residents.
Where is it?
Quivira Old Lighthouse Club located above Land's End, it's only ten minutes from downtown Cabo San Lucas.  There, you'll experience the best Mexico has to offer.  From great Cabo San Lucas nightlife to some oceanic adventures like fishing, Cabo San Lucas has it all.  And, if you are not driving but flying instead to this beautiful location, Quivira Old Lighthouse Club is only a 30-minute drive from the SJD airport in San Jose del Cabo.
El Faro Viejo
Erected back in 1905 the Old Lighthouse was built to guide striving men of the sea around Land's End.  And, it's exactly here where the Pacific Ocean meets the Sea of Cortez.  In addition, because of the beautiful rock formations like El Arco de Cabo San Lucas: The arch that marks Lands End, and the majestic cliffs below, the Old Lighthouse location is truly spectacular.
The spectacular views in Quivira Old Lighthouse Club
Let's say you were to describe the views of the Sea of Cortez on one side and the Pacific Ocean on the other with just one word.  So, I assure you that the word would probably be "panoramic."   And, because of how the spectacular rock features have been mentioned, this turns it into a vantage point perched over Land's End, revealing the nature of the Baja Peninsula.  In other words, there's nothing like ocean views from three-out-of-four sides – 270 degrees of the panorama. See? Panoramic.
After you spend some time overlooking the encompassing ocean views in awe, just look down.  And when you do, you'll see how the beautiful white-sand beaches stretch for miles.  At this time, the Quivira golf course and beautiful Quivira communities will come to life as you take in the views from above them.
Quivira Old Lighthouse Club amenities
Guard-gated entrance
Jack Nicklaus Signature Golf Course
Resort hiking and biking trails (bikes are available)
Easy access to Quivira's restaurants, spas, and Q-Life events and experiences
Old Lighthouse Club – for exclusive owner's access
Private, gated guardhouse entrance
Family center
Cliff House Restaurant
Oceanfront Sunset Bar
Quivira Golf Course amenities
Jack Nicklaus signature golf course
7,085 yards, Par 72 with 350 feet of elevation change
Voted one of the world's 100 greatest golf courses
A golf club with a pro shop and dining
Eight ocean-view holes
Oceanfront holes
Four comfort stations
Driving range
Which are your Real-estate options?
These 14 exquisite home-sites are nestled on top of fine-grained orange dunes, providing beautiful layers to the panoramic views. And, these spectacular custom home-sites stand nearly 300-feet above the ocean below.  Also, right now, real-estate options are being offered through a Founder's Reservation program.  To be specific, these ocean and golf-view home-sites are priced from $2M+.
Cabo Sailing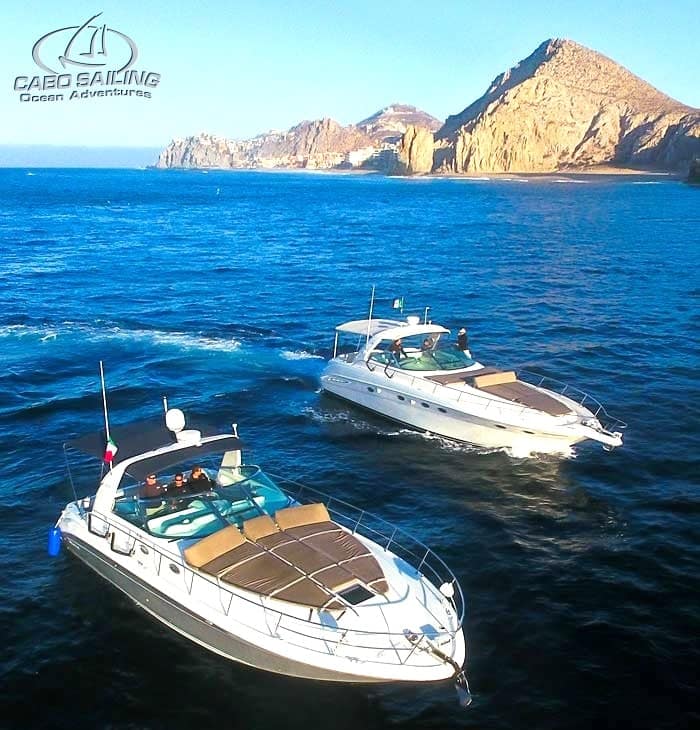 Relax on a comfortable yacht while your captain navigates the enchanting waters of the Sea of Cortez and the Pacific Ocean.   To elaborate, enjoy an array of incredible sailing experiences including day sailing, diving, sunset cruises, whale watching and visiting great locations like El Arco de Cabo San Lucas.  And, consider a cruise for family reunions, romantic cruises, or celebrating an event.
Cabo Sailing operates only with well-equipped, high-end luxurious sail boats and yachts.  All their vessels come with custom-made padded lounging areas, large shaded seating and other amenities to make your experience safe, fun and comfortable.  Also, Cabo Sailing has over 10-years of experience on the waters around Los Cabos, so you can be assured of having the best and safest adventure.
To inquire or to book a sailing adventure, click CONTACT CABO SAILING to send us a message.  We'll get back to you right away!