Cabo San Lucas is undoubtedly one of the best cruise destinations in the world.  Discover more of what comes when you take a Cabo San Lucas cruise; it's like a dream come true!  Arriving here is just the beginning, as your guide tour opens up a world of fun and adventure right in front of your eyes.  Best of all is, from dusk 'til dawn, it's all in one place!
Read on to discover the many adventures Los Cabos San Lucas has waiting for you and then learn about the amazing cruise-line options you have to book what fits you best.  All in all, one of the best trips you can make to such an amazing city that has it all!
Starting your day
All the cruise ships going to Cabo San Lucas will anchor on the Bahia San Lucas on the Sea of Cortez.  From there, people are moved in smaller boats to the Tender dock.  Where you can safely start your day full of adventures in Los Cabos San Lucas!  You might want to start your day overlooking the morning view of the marina.  With all the Mexican breakfast delights and reasonable prices, there's no going wrong for a great start like this.  Whether you feel like having omelets, waffles or a traditional Mexican plate, you'll find a great selection of dishes for the most important meal of the day.  And so it starts the day's prediction for an amazing time in Los Cabos San Lucas.
Should I take a tour?
Once you hit Cabo's marina, you'll be surrounded by options on tours and organized excursions to different spotlights in town.  There'll be advantages and disadvantages for every activity; it's up to you to decide what's best for your liking!  Keep reading and here I'll list the pros and cons of some of the most relevant tours and excursions you'll find starting your day in Los Cabos marina.
Cruise organized excursion
The pros are that it will go along with the cruise schedule perfectly.  Without interfering with your departure or arrival times, it's a great way to make the best of Los Cabos without worrying too much about times.  These excursions usually start after you arrive at Los Cabos marina from the cruise, and they just take it from there. No rush, no worries.  But, now for the bad part, is that most of these excursions are not included in your cruise package and are often expensive, of course, you won't be the only one trying to enjoy this adventure and you'll be running on the schedule of your tour guide for the rest of the day.
Self-Booked Excursion
Searching the adventures for yourself can cause you some trouble, as you are dependent on the times the cruise allows you, and the schedules the excursion offers.  Also, you'll have to check the availability of what you specifically want to do and if it's safe to do so.  But, if you are on the adventurous side, always making the best with what you have, this is definitely an amazing option that will fit you perfectly.  The costs self-booking your tours are definitely lower and you have way more options to choose from.  One of the best things about booking something for yourself is the flexibility you have to decide times, prices and activities.
What to do? Daytime activities
Los Cabos region used to be the nest of fishing villages, with a very low pace lifestyle.  Now being luxury-tourist destinations you'll find that Cabo San Lucas and San José del Cabo represents all that you could ask for coming down to a vacation in Mexico.  When you visit there's nothing you could not find here, these places have it all for a wonderful vacation.  Here, I'll list just some of the many things you can uncover to do during the daytime in Los Cabos.  Don't waste time and spend a great time with your family and friends form the cruise. 
Glass-bottom boat ride
This is one of the most recommended activities for visitors.  For $10  per person, you can take a tour to Lover's Beach an outstanding hideaway for everyone on the adventurous side.  These tours will take you past the famous Arch, around Land's End and over to the rougher waters of the Pacific Ocean side in Cabo San Lucas.  The most incredible thing about this ride is that you'll be able to see sea lions, tropical fishes, and exotic birds.  Even whales!  The views are breathtaking, so don't forget your camera!   If asked, the boat captain can drop you off at Lovers Beach or at Medano Beach, but you'll have to jump into the water to swim for a little bit before reaching these magical spots.
Stroll around town
After being dropped at the marina you can easily walk into town.  Wander around, get lost and find yourself again!  There are about hundreds of stores, cafes and places to be around.  Prices are negotiable, people's open to conversation and you are welcome to venture around.  No better way to enjoy the local lifestyle than diving straight to it.
Medano beach
As you walk straight from the marina following the sea line, you'll eventually get to one of the most beautiful beaches in Cabo:  The Medano Beach.  Just walk along and stop at any beach bar or restaurant that seems interesting.  It'll all depend on your likes as you can find some loud and busy places or just a quieter bar to sip on a beer.  All of these places allow you to enjoy a beautiful view of the beach and its pristine waters.  Ask for food and drinks, so you can use the beach chairs and restrooms without a problem.   Water sport rentals are also available from several vendors on the beach.  Or, if you prefer to shop effortless, just sit back and relax in your chair as the walking vendors pass by offering you a variety of products, without you having to move a finger!
Fishing
If you're interested in the art of fishing, you are in the perfect place to do so!  The good news is, you don't even have to be a professional. As the local fisherman and guides take care of you in a very professional way, there's no need for you knowing a single thing about fishing in Cabo.  You'll be properly guided and instructed in this old practice of fishing.  Fish like the pros and claim your fish!
Golfing in Los Cabos
Jack Nicklaus, the famous designer came down to Los Cabos just to find himself amazed by its beauty.  It was with this that he decided right away to build a golf course, accompanied by the luxurious service and status of the Quivira resort.  Nicklaus' sixth golf course in Mexico, it's one of the best yet too! You can also learn more about the best golf courses in Cabo reading this article.
Night activities
You've now done whats best to do in Cabo during the day but it turns out you still have some time left before you need to go back to your cruise.  What should you do now?  Well, there's nothing to worry about as I assure you, this city has it all!  Look no further and keep reading for the activities you can enjoy when the sun is setting but the day is not quite over yet.
Sunset Cruise
Cabo offers a whole range of cruising options, allowing you to explore the Sea of Cortez in comfort.  The best thing is you can get tours for almost every hour of the day.  But nothing like taking the famous sunset cruise to end your day the right way!  The Cabo sailing options are endless, and will perfectly fit around your schedule.  Travel either in a luxury cruise or an affordable boat, both ways will lead you to enjoy such incredible views.
Nightlife in Cabo San Lucas
The beautiful Cabos region, where the Pacific meets the unique Sea of Cortez you can find a tourist corridor that stretches as much as 20 miles and offers you an incredible sight of the Cabo nightlife.  Are you looking for a place to drink tequila with loud music?  Or, are you trying the local craft beers and mezcal with some Jazz music in the background?  Los Cabos San Lucas has you covered both ways!
Cabo San Lucas cruise liners
Here I'll list the cruise lines making constant trips to Cabo San Lucas and docking there, allowing you to live an all-inclusive trip on a top-quality service cruise, and also the time to live the Los Cabos experience almost as a local.
Some of the Cruise liners are:
Carnival Pride, Diamond Princess, Island Princess, Royal Caribbean Vision of the Seas, Celebrity Infinity, Seabourn Legend, and Crystal Symphony.
Now you know, and there are no more excuses for you not to take that desirable all-inclusive Cruise trip to one of the best cities in Mexico!
Cabo Sailing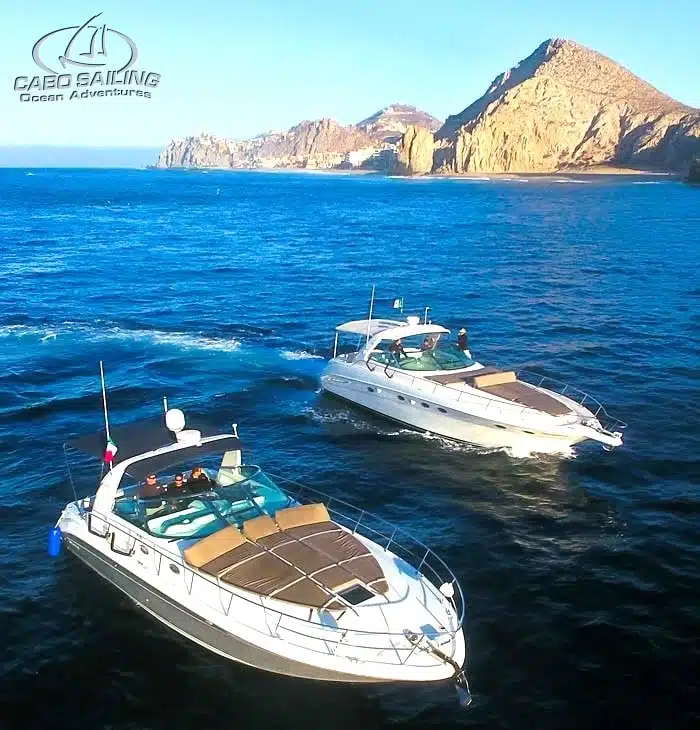 Relax on a comfortable yacht while your captain navigates the enchanting waters of the Sea of Cortez and the Pacific Ocean.   To elaborate, enjoy an array of incredible sailing experiences including day sailing, diving, sunset cruises, whale watching and visiting great locations like El Arco de Cabo San Lucas.  And, consider a cruise for family reunions, romantic cruises, or celebrating an event.
Cabo Sailing operates only with well-equipped, high-end luxurious sail boats and yachts.  All their vessels come with custom-made padded lounging areas, large shaded seating and other amenities to make your experience safe, fun and comfortable.  Also, Cabo Sailing has over 10-years of experience on the waters around Los Cabos, so you can be assured of having the best and safest adventure.
To inquire or to book a sailing adventure, click CONTACT CABO SAILING to send us a message.  We'll get back to you right away!